Republicans 'Frustrated' As Trump Drowns Out Their Midterm Script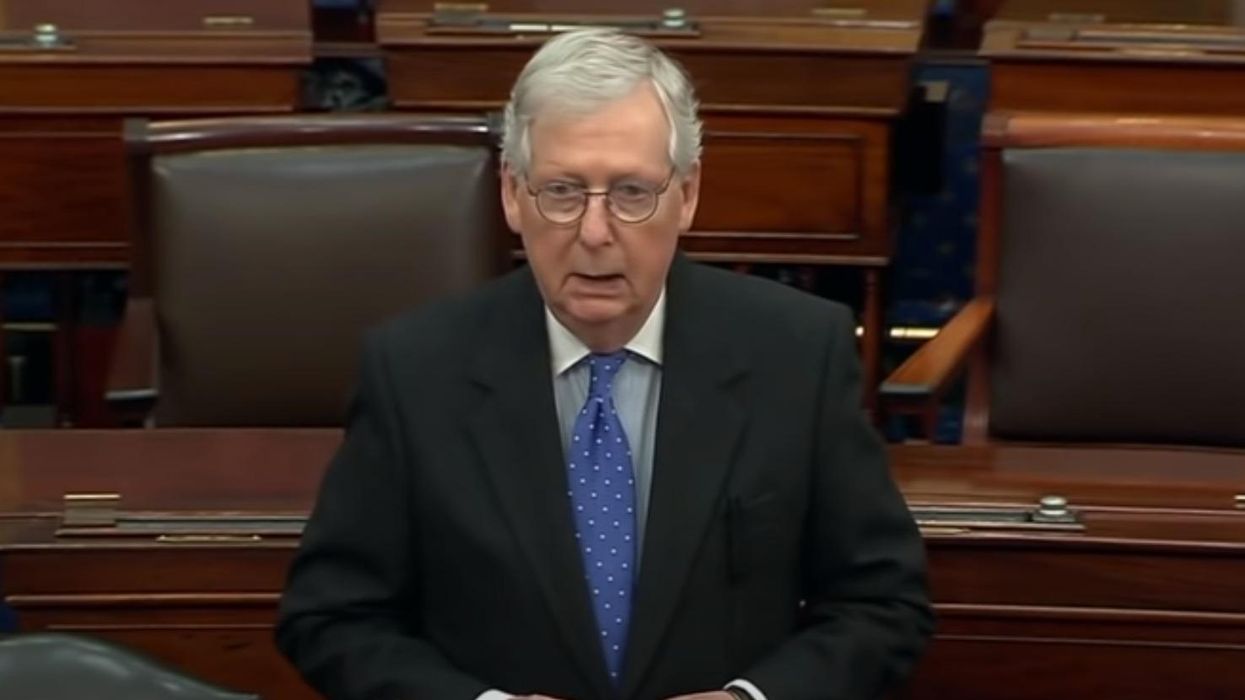 Youtube Screenshot
Republican consultants and commenters, the people whose livelihoods depend on the success of Republican politicians, had a plan for this midterm election: Stick to the traditional midterm message of the minority and bash the Democratic president and leadership. Exploit a shaky economy, high gas prices, and inflation, and paint President Joe Biden as a failure. That's not working so great for them because the orange elephant in the room just refuses to stop stomping on their plans. Even worse for them, Democrats are seizing the moment and running with it.
"There is enormous frustration," one person described as a "top Republican fundraiser" toldPolitico. "The question is, is there willingness to express that frustration," they continued. "I don't know the answer to that. But there is real frustration, and with the exception of people who are too stupid to understand the need to be frustrated, it is nearly universal." There are apparently an awful lot of Republicans who have not yet woken up to the need to be frustrated with Dear Leader.
But when even an unprincipled hack like Newt Gingrich sees the Trump problem, you know there are a lot of furrowed brows. Not that Gingrich is abandoning Trump—he just would rather no one running for office acknowledges Dear Leader's existence. "Republicans should focus on defeating Democrats, and every Democrat should have the word Biden in front of their name," Gingrich said. "The Republican focus should be to win the election in November. Trump will do a fine job defending himself. He'll be fine."
The problem is that Trump defending his classified document-stealing self is knocking every other message Republicans come up with off the front pages. He kicked off this week demanding that either he be immediately reinstated as president or that there be a do-over election. He followed that up Tuesday by posting 4chan and QAnon messages and conspiracy theories on his Truth Social account, everything from anti-vaxx comments to pushing the narrative that it was actually FBI and antifa attacking the Capitol on Jan. 6, 2021.
That feeds right into the message President Biden has turned to, blasting the "semi-fascist" MAGA Republicans who remain in Trump's thrall. During his speech last Thursday at a rally for Maryland gubernatorial candidate Wes Moore, Biden warned that the Republican Party was destroying itself and threatening to tear the nation apart. He's following that speech with another this week, where he will speak about "the continued battle for the soul of the nation" in a prime time address in front of Independence Hall.
It's a message with resonance, with "threats to democracy" becoming the top issue facing the country in a recent NBC News poll. That's ahead of inflation worries and the cost of living.
With gas prices experiencing a historic drop over the past two months, that worry is lessening for voters and becoming a far less salient talking point for Republicans. Not that they could stay on that message with Trump stomping all over it.
Voters are also stubbornly, persistently caring about abortion and planning to vote on the issue, dashing the expectations of plenty of pundits and Republicans. All of this is shaping up to be a difficult and Trump-dominated few months of campaigning for Republicans. They're still in a position to take the House, and while the Senate is looking better for Democrats, it's still a fight.
But it's a fight for which Democrats are well positioned. I mean, even The New York Times has decided to take some time away from talking to Trump supporters in Rust Belt diners to talk about it. "Republicans in disarray," reads a recent headline there. "The G.O.P. is still favored in the fall House races," politics editor Blake Hounshell writes, "but Trump and abortion are scrambling the picture in ways that distress Republican insiders."
Let's keep them distressed.
Reprinted with permission from Daily Kos.