Republicans Hammer Heritage Foundation Immigration Study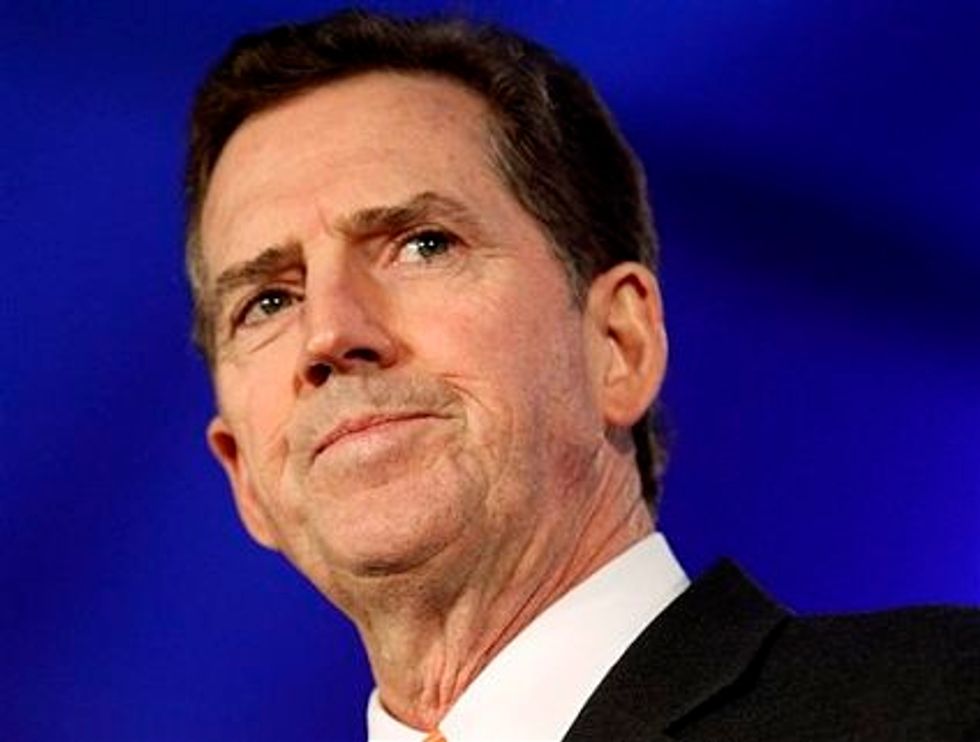 The conservative Heritage Foundation think tank released a heavily disputed study Wednesday, claiming that immigration reform would cost taxpayers a minimum of $6.3 trillion over the lifetimes of the 11 million immigrants who could gain legal status — only to see several Republicans speak out against it, in the latest example of how reform is dividing the GOP.
The study, which was written by Robert Rector and Jason Richwine, states that "over a lifetime, the former unlawful immigrants together would receive $9.4 trillion in government benefits and services and pay $3.1 trillion in taxes," and stresses that this $6.3 trillion deficit "should be considered a minimum estimate."
The authors argue that, once immigrants become eligible for more government benefits such as those contained in the Affordable Care Act, the fiscal cost of the bill would skyrocket. "Those who claim that amnesty will not create a large fiscal burden are simply in a state of denial concerning the underlying redistributional nature of government policy in the 21st century," they write.
The report is very similar to Rector's 2007 argument, which pegged the cost of immigration reform at $2.6 trillion.
Heritage Foundation president Jim DeMint — formerly Senate leader of the right-wing movement that is now working to derail reform — elaborated on the report during a Monday appearance on Fox News.
"The number over the 50-year lifespan of an amnesty for unlawful immigrants, it's $6.3 trillion to the American taxpayer," DeMint told host Martha MacCallum. "And we know over time that this is going to increase more debt, increase taxes. That has a depressing effect on our economy. And we know that unlawful immigrants — once that they have amnesty — are going to replace the jobs of many Americans and depress their salaries."
DeMint and the Heritage Foundation's claims almost instantly faced a backlash from conservative politicians and economists who question the study's methodology, and argue that the bill would cost less and raise more revenue than Heritage says. In April, the Cato Institute offered a prebuttal to the Heritage study, noting that Rector counted households instead of individuals, employed static scoring rather than dynamic scoring, and ignored changes to immigration enforcement costs, among other criticisms. In sum, the Koch-founded think tank concluded that the study is "fatally flawed."
Similarly, after the report was released, Senator Jeff Flake (R-AZ) — a "Gang of Eight" member — tweeted that the new study "ignores economic benefits," and features "no dynamic scoring."
House Budget Chairman Paul Ryan concurred, noting in a statement that "the Congressional Budget Office has found that fixing our broken immigration system could help our economy grow," adding, "A proper accounting of immigration reform should take into account these dynamic effects."
Douglas Holtz-Eakin — who served as director of the Congressional Budget Office under President George W. Bush, and as chief economic policy advisor to Senator John McCain's (R-AZ) 2008 presidential campaign — trashed the Heritage study at length in a column for the National Review. As he defended reform as a conservative idea, Holtz-Eakin cited a different Heritage study from 1984, which concluded that "immigrants not only create new jobs indirectly with their spending, they create new jobs with new businesses, which they are more likely than natives to start." The study also stated that "it is frequently alleged that immigrants no sooner arrive in the U.S. than they become public charges, draining welfare money from the U.S. taxpayers and paying no taxes. Solid evidence gives the lie to this charge."
The dust-up demonstrates how immigration reform splits the Republican Party. Although influential Republicans such as senators McCain and Marco Rubio (R-FL) have joined the Republican National Committee in stressing the party's urgent need to renounce the extreme platform that doomed it among Latino voters in 2012, many on the party's right flank remain unconvinced by the case for reform.
If DeMint and his allies are successful in killing the reform plan, then the political consequences for the party could be dire. Recent polling has found that an overwhelming majority favors immigration reform with a path to citizenship; if the bipartisan Senate plan goes the way of the bipartisan background check plan, then Republicans will struggle even more to convince voters that they are not hopelessly out of touch — and that they deserve to be returned to the White House anytime soon.
AP Photo/Patrick Semansky, File