Republicans' Healthcare Disaster Revealed That They Are In Fact Willing To Blow Themselves Up Politically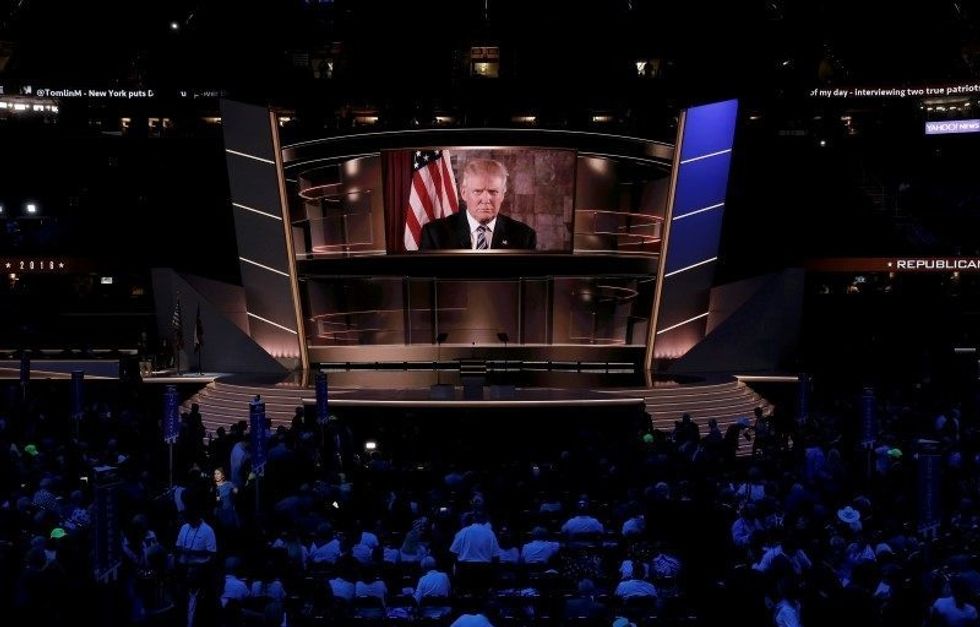 Reprinted with permission from Alternet.
As House Republicans are considering another Obamacare repeal, they are being goaded by ideologues who haven't learned much from last week's failed attack on the Affordable Care Act and Medicaid.
"The resolve of our conference to repeal Obamacare and replace it has never been stronger," House Majority Whip Steve Scalise, R-La., gamely told reporters early in the week that ended with President Trump escalating a Twitter-based war of words with the far-right Freedom Caucus.
Beyond that spat between grown men acting like playground bullies, the Republicans pushing for another Obamacare repeal still don't get it, or enough of them don't, how gutting the ACA would unsettle large swaths of older voters in their red-state base, let alone the rest of America.
A midweek email blast commentary from The National Review's Jim Geraghty typifies this blind spot.
As he parses House Speaker Paul Ryan's performance, the focus of GOP infighting until Trump started tweeting about the Freedom Caucus, Geraghty draws on other right-wing pundits. Look at what they emphasize and ask yourself what's missing.
Geraghty quotes, "my friend Kurt Schlichter: It's the tactics that Ryan has botched; he's shown no aptitude for the basic blocking and tackling of legislating and consistently falls back on the errors of the past." Then he goes to "my friend Jonah Goldberg: On Saturday morning, Trump placed the blame squarely on the House Freedom Caucus, the 30-odd members of Congress who reportedly kept changing their demands."
This post-mortem that builds toward the conclusion that good conservative ideas needed to be a repeal bill but weren't. It suggests that what was skipped in the first round but could resurface in another try.
What's missing from this appraisal? The answer is the real-life consequences that a free-market based hollowing out of the health care system will likely cause, especially the medical, financial and emotion impacts on older Americans.
Amazingly, a handful of red-state Republican-led legislatures and governors jump to that same conclusion.
The dust hadn't even cleared from last Friday's collapse of Ryan's bill gutting Obamacare and Medicaid funding and a handful red states—the same states that sued to block Obamacare—suddenly embraced the ACA's federally subsidized expansion of their Medicaid programs. This included Kansas, where the arch-rightwing governor is expected to leave for an overseas post, and Georgia, Idaho and Nebraska.
As more pragmatic stateside Republicans are seeing how Obamacare can help their lowest-income residents, the collapse of the House's repeal effort has prompted the political left to rally around the health care reform they wanted all along—turning Medicare it into a federally based single-payer system.
Health care isn't any issue. It is one-sixth of the economy. It affects the physical and fiscal health of millions of Americans. It's strikes more immediately closer to home than the selection of the next U.S. Supreme Court justice, although a corporatist majority court is the reason why so much in America, including health care, is tilted in favor of big business.
It is remarkable to see House Republicans actually considering a new effort to overturn Obamacare. The National Review Geraghty even goaded the White House to draw up the bill—before Trump launched his Twitter attack on the Freedom Caucus.
"Nothing prevented Trump or his team from writing up their own legislation that would enact their own replacement for Obamacare. (Nothing still prevents them now!)," he wrote. "During the campaign, Trump promised he would repeal the law entirely, eliminate the individual mandate, permit the sale of health insurance across state lines, allow individuals to fully deduct health-insurance premium payments, require price transparency from all health-care providers and allow consumers access to imported, safe, and dependable drugs from overseas. The AHCA didn't include most of that."
Democratic strategists have rued the exit from their party of older, mostly white baby boom voters in the past decade—people who voted for Bill Clinton in the 1990s but in recent elections were swept up by the Tea Party and Donald Trump's nostalgic and white-centric hype. Now they see a way to reverse that.
"One of the key voting blocks Democrats will need to win the House and hold the line in the Senate is seniors," Doug Thornell, a veteran Democratic strategist, earlier this week told The Hill. "Republicans are doing everything they can to help us with that effort."
Are House Republicans really going to resurrect an Obamacare repeal? The Democrats will need all the help they can get to try to regain a House majority in 2018. Let's see them try.
This article was made possible by the readers and supporters of AlterNet.