Republicans' Long Term Strategy Is To Limit Voting Rights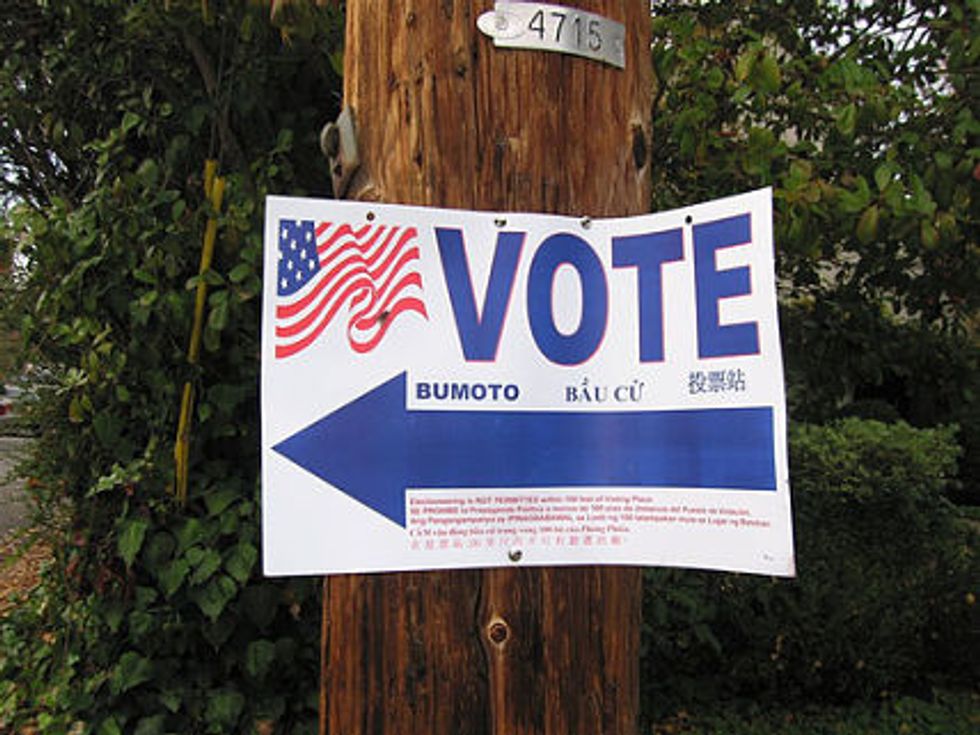 According to political prognosticators, the presidential race is once again a toss-up, settling into a familiar pattern after weeks in which President Obama seemed to be gaining a modest lead. The pundits are wrong to suggest a new dynamic: The race has always been too close to call.
That's always been the contour of this campaign — periodic gaffes and brilliant debate performances aside. Republican strategists have long expected a close election; they prepared for it years ago. How did they do it? With Machiavellian strokes, GOP leaders around the country passed laws designed to block the ballot for a small number of voting blocs that tend to support Democrats.
It's no secret — and no surprise — that the strict voter ID laws in vogue in Republican circles target poorer voters, especially those who are black and brown. Black and Latino Americans tend to vote for Democratic candidates.
No matter how much the right yells "voter fraud," its spokesmen cannot conceal an ugly and old-fashioned strategy: Suppress the vote. Keep poor people of color from casting a ballot. Deny to certain citizens a fundamental democratic right. There is virtually no in-person voter fraud at the polls, and that's the sort of chicanery that voter identification laws ostensibly prevent.
Instead, voter ID laws are intended to help Republicans win elections. Because the GOP brain trust is excellent at executing a long-term strategy, its demographers saw the party's weakness years ago and began to plan for it. As the nation's ethnic minorities, especially Latinos, grow in number, the Republican Party would have to become more inclusive or face extinction.
President George W. Bush tried to make the GOP more inclusive, but he couldn't persuade the nativists in his party to back comprehensive immigration reform. Instead, the Republican base became more exclusionary, more jingoistic, more suspicious of diversity.
That's why voter ID laws became so important to the party's future. In a deeply polarized country, important races are increasingly decided by very narrow margins. In 2000, the popular vote was essentially tied. In 2004, Bush won the popular vote by about 2.5 percentage points over John Kerry. In such tight contests, Republicans need not disenfranchise large numbers of voters — just a few.
The GOP insists it just wants to protect "ballot integrity," but sometimes its lesser lights fail to stay on message. In June, Pennsylvania state House Majority Leader Mike Turzai, a Republican, proudly recited a list of accomplishments at a state party meeting. "Pro-Second Amendment? The Castle Doctrine, it's done. First pro-life legislation — abortion facility regulations — in 22 years, done. Voter ID, which is gonna allow Governor Romney to win the state of Pennsylvania, done."
Since young adults voted overwhelmingly for Obama in 2008, college students have also been the targets of stringent voter ID laws. In New Hampshire, for example, state House Speaker Bill O'Brien, also a Republican, pushed hard for a ban on college-issued photo IDs at the polls and an end to same-day voter registration in 2011.
Allowing students to register and vote on the same day, he later told a group of tea partiers, would simply lead to "the kids coming out of the schools and basically doing what I did when I was a kid, which is voting as a liberal. That's what kids do — they don't have life experience, and they just vote their feelings."
Neither Turzai nor O'Brien mentioned voter fraud.
If protecting the ballot from con artists were the real issue here, Republicans would zero in on absentee ballots, which have been at the heart of most of the biggest voting scams over the last several decades. The Commission on Federal Election Reform, headed by James Baker and Jimmy Carter, cited absentee ballots as the "largest source of potential voter fraud" in its 2005 report.
Curiously, rules for absentee ballots have been loosened in many states. That's because of the widespread perception that those ballots of convenience are more likely to be used by Republican voters.
The Republican Party ought to be ashamed of this ugly and un-American strategy. For all its talk about the sanctity of the U.S. Constitution, it seems to have little respect for one of its basic principles: the right to vote.
(Cynthia Tucker, winner of the 2007 Pulitzer Prize for commentary, is a visiting professor at the University of Georgia. She can be reached at cynthia@cynthiatucker.com.)