Republicans May Win The 2014 Battle, But They're Losing The War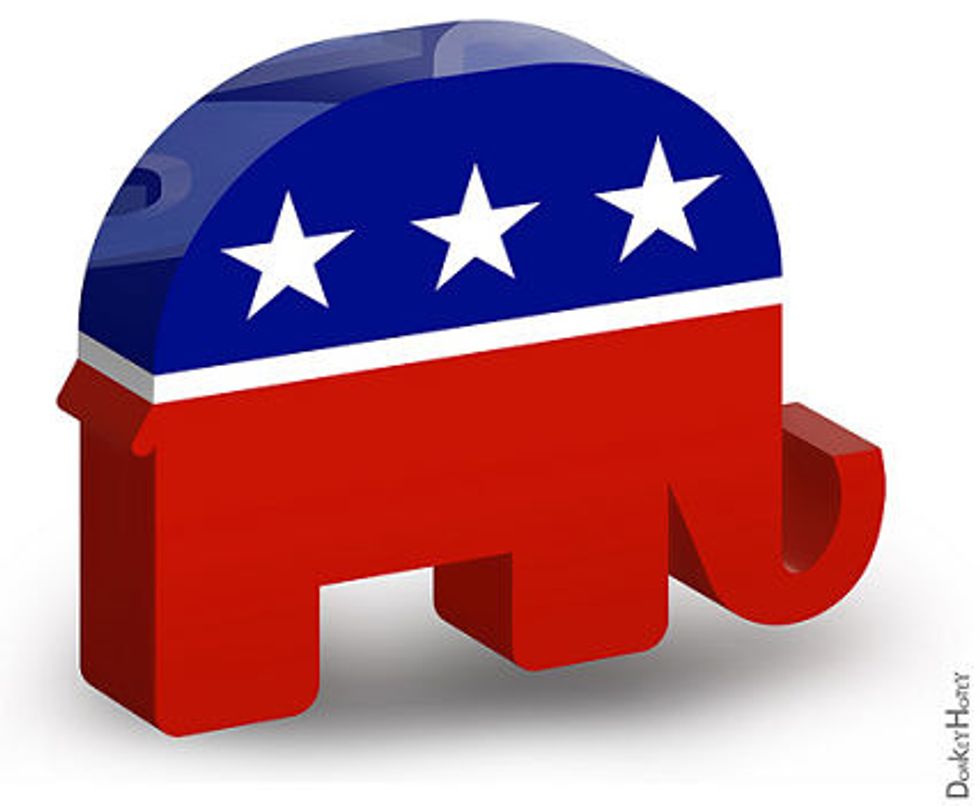 August 11 (Bloomberg) – As hundreds of U.S. lawmakers fan out to their home districts this month, there is a genuine political conundrum.
Approval ratings for Congress are at an all-time low, rivaling those of junkyard dogs. Republicans are seen as the main villains; the party's standing with the public keeps falling.
So what's the outlook today for next year's congressional elections? Republicans will hold the U.S. House, conceivably even adding to their 233-to-200 majority. They seem certain to pick up U.S. Senate seats, with an outside chance to gain the half-dozen needed for control.
There are many explanations: the voter profile of the off-year electorate, the way House districts are drawn, the fact that most of the competitive 2014 Senate races don't favor Democrats, the deteriorating enthusiasm for President Barack Obama.
Events could change those prospects. Republicans may overplay their hand by shutting down the government in a budget dispute this autumn or by undermining the U.S.'s good faith and credit in refusing to raise the debt ceiling. They overreached in 1998 with the planned impeachment of President Bill Clinton and ending up losing seats.
Voter Alternatives
Republican pollster David Winston foresees a good Republican year but warns it is far from assured: "There is an opportunity, not an outcome," he says. "Voters aren't looking for an opposition party; they are looking for an alternative."
To date, on issues such as Obama's health care measure — which House Republicans have voted to repeal or defund 40 times — they are short on alternatives. Still, Winston and others agree with the assessment of Cook Political Report's David Wasserman that the Republicans have a "built-in midterm turnout advantage."
Compare, as Wasserman does, the compositions of the electorate in 2010, a banner year for Republicans, and in 2012, when Obama and Democrats did well. Last year, almost 1 in 5 voters were younger than 30; two years earlier, this age cohort made up only 12 percent of the electorate. The reverse is true of those older than 65: One in 6 presidential-year voters were senior citizens; in 2010, it was 21 percent.
That makes a huge difference because more than half of young voters vote Democratic these days, and, with a few exceptions, similar percentages of senior citizens prefer Republicans. Older voters, Wasserman notes, "are less transient, have grown deeper roots in their local communities and pay much more attention to nonpresidential years."

A similar pattern when it comes to race and religion helps Republicans in off-year contests. The electorate is more white, more evangelical, and less black and Hispanic.
Redistricting, which Republicans dominated after the last election, gives an advantage to start, as Democrats tend to congregate more heavily in fewer districts.
As a result, though Democrats won the overall popular vote for the House in 2012, they ended up 17 members shy of the majority. To pick up that many seats, according to Mark Gersh, long the party's foremost analyst on House elections, they might have to win the popular vote by as much as three to four percentage points next year.
There are some heavily populated blue, or Democratic, states where seats are in play. Democrats, however, scored major gains last time in those states, such as New York and Illinois, picking off the low-hanging fruit.
Senate Races
The Senate isn't affected by redistricting, but this year, the draw is bad for Democrats. After New Jersey's special election in October, which Democrat Cory Booker is favored to win, 20 of the 34 seats that will be up next year are currently held by Democrats. Moreover, almost all the most competitive contests are in red, or Republican-dominated, states: Arkansas, Louisiana, West Virginia, South Dakota, Alaska and Montana — states that went decisively for Republican presidential nominee Mitt Romney last year.
The two Republican-held Senate seats that afford Democrats the best chance for a pickup also are in red states. In Georgia, the incumbent Republican is retiring and Michelle Nunn, the daughter of the popular former Democratic Senator Sam Nunn, is running. It isn't improbable that a right-wing Republican congressman will emerge from the crowded primary field. There is also Kentucky, where Mitch McConnell, the Senate minority leader, faces a Tea Party challenge from the right and would likely face the state's Democratic secretary of state in the general election. Even in the most favorable circumstances, Kentucky is a tough slog; Obama lost the state by 23 points.
Two Democratic Senate leaders, Nevada's Harry Reid and New York's Chuck Schumer, outsmarted themselves in one race, South Dakota, pressuring Brendan Johnson, a U.S. attorney and son of retiring incumbent senator Tim Johnson, not to run in order to clear the way for former Congresswoman Stephanie Herseth Sandlin. She didn't run and neither did Johnson, whom top South Dakota Democrats believe would have been the stronger candidate. Now, Republicans are heavy favorites to win that seat.
Adding to the headwinds is a malaise among core Democrats. The number of people who think the country is on the wrong track is growing, as are negative attitudes about the economy. Although the president is much more popular than Republicans, his job-approval rating — in the mid-40 percent range — is the lowest for any second-term president at this juncture since Richard Nixon. That makes it hard to gin up a base next year.
"Democrats are better off only in comparison to Republicans," says Fred Yang, a Democratic pollster.
Whatever the outcome next year, Yang says Republicans should remember that their problems are more deep-seated: "They may win some battles; they're losing the war."
(Albert R. Hunt is a Bloomberg View columnist.)
Photo: DonkeyHotey via Flickr.com