Republicans Are Misrepresenting Policy For The Sake Of Entertainment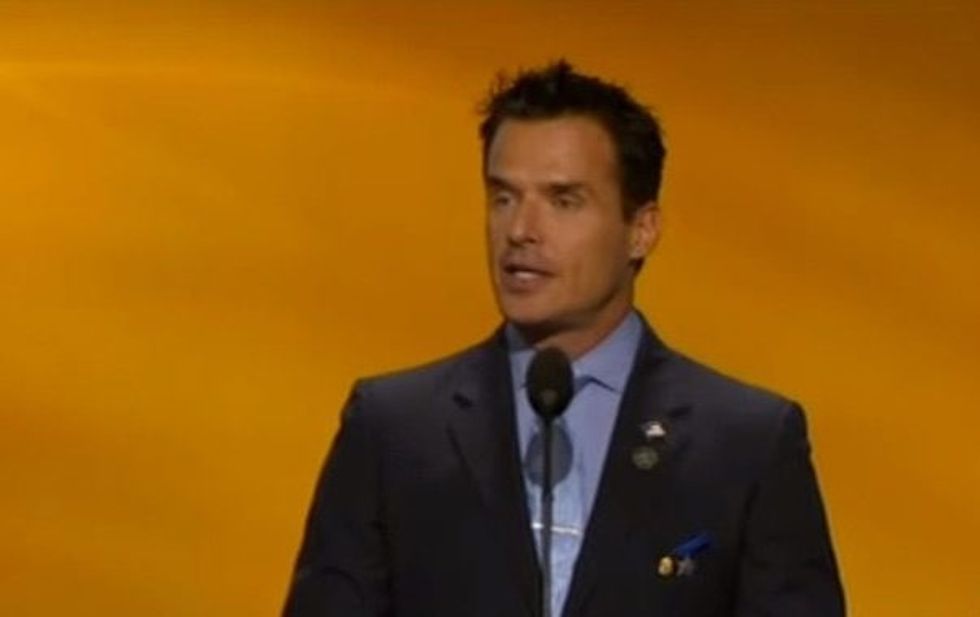 True to his promise of a more entertaining convention, Donald has "Trumpified" the Republican National Convention, replacing politicians with reality TV stars for the sake of ratings — and, perhaps, because there aren't many politicians who want to share a stage with Trump.
Apart from a plagiarized prime-time speech delivered by Melania Trump, Monday night's "Make America Safe Again" event was anchored by actors Antonio Sabato Jr. and Scott Baio, who lectured the crowd on how the GOP nominee will strengthen national security. (Who knew appearing on Happy Days taught you so much about politics?)
In Sabato's speech, for instance, the Italian-born actor detailed how he came to the United States legally and then became a naturalized citizen, saying, "others who want to come to the U.S. to live and work should follow the same rules" that he did.
But when a man whose claim to fame is appearing on a medical soap opera is rallying the convention crowd on the issue of immigration, it's clear that Trump's speakers serve little purpose other than erasing the convention presenting concrete policy points. This is consistent with Trump's equally policy-averse time on the primary campaign trail.
Nowhere is this more obvious in two speeches Monday, those of Baio and Willie Robertson, star of the reality TV show "Duck Dynasty."
Robertson, who found fame chasing waterfowl with a rifle on A&E, is not a bad poster boy for unrestricted recreational gun access. He hinted at this status during his speech when he referred to himself and the crowd as "regular folks like us who like to hunt and fish and pray." But his speech was otherwise a list of why he liked Donald Trump's personality, not how Trump will protect voters' gun rights.
Baio, on the other hand, uttered little more than a few attacks on Hillary Clinton, making the lack of viable Republican politicians and policy experts willing to speak at the convention increasingly obvious. The committee members and lobbyists who fought over the party's alarmingly conservative platform don't seem to want anything to do with presenting that platform to the American people.
On Tuesday night, for instance, one-time presidential candidate Dr. Ben Carson will be headlining a night that looks to focus on jobs and the economy, titled "Make America Work Again." While Trump cronies and lobbyists toiled in the shadows to set the party's economic platform, Carson — who for years sold supposedly magical health supplements — is the one who will be presenting (or entirely sidestepping) these policies to voters.
It wouldn't be surprising if Tuesday night were more filled more with rants against vaccines, transgender people, and the credibility of evolution than with the GOP's hopes to stimulate the American economy.
While Clint Eastwood famously performed an onstage political duet with a chair in 2012, he was one of just four individuals at that Republican convention whose credentials didn't come from business, politics, or family ties to the candidate, out of 84 speakers total. (The others were Tea Party actress Janine Turner and Olympian skier Christopher Delvin-Young, and the rabbi who gave an opening invocation.)
This year's program, though, is a clown car — and that's not just due to Trump's WWE-style entrance onto the stage on Monday. As the LA Times points out, many of the celebrities that Trump has selected to speak have done stints on reality television, just like The Donald himself: Sabato starred on "Dancing with the Stars" and his own dating show on VH1, while golfer Natalie Gulbis appeared on Trump's very own "The Apprentice," and Baio was on a curiously-named show called "Scott Baio is 45… And Single."
We'll also be treated to remarks from soap opera actress Kimberlin Brown, astronaut Eileen Collins, mixed-martial arts magnate Dana White.
Photo: Screenshot of Antonio Sabato Jr. via YouTube