Republicans Move On To Next Losing Battle: Forcing Sebelius' Resignation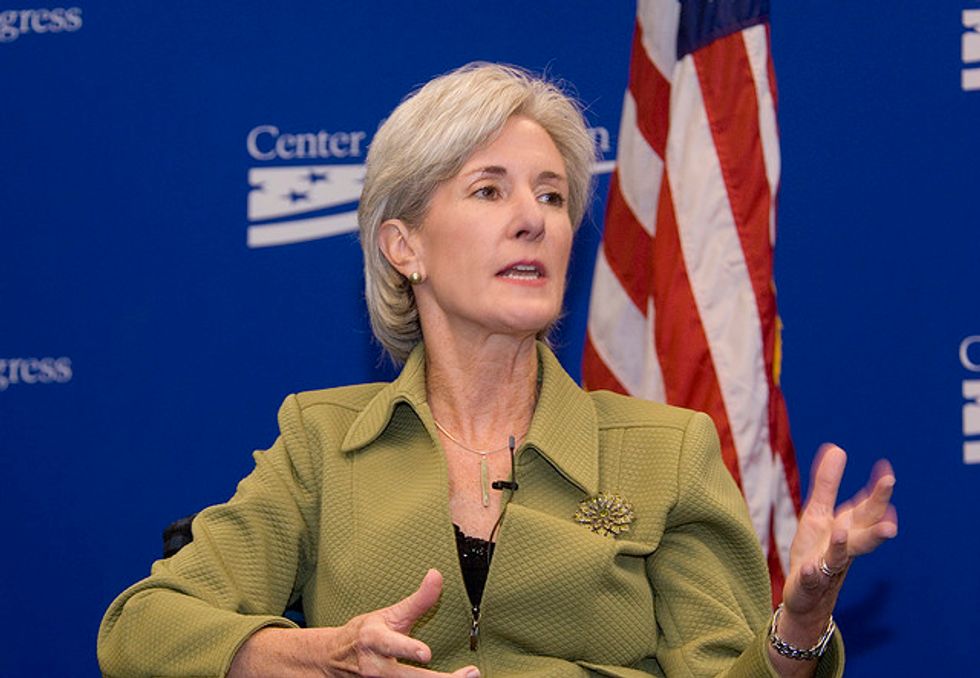 Having lost their attempt to extort concessions from Democrats in exchange for reopening the government and raising the debt ceiling, some Republicans are moving on to a new impossible battle: removing Secretary of Health and Human Services Kathleen Sebelius from office.
Last week, Senator Pat Roberts (R-KS) issued a statement "calling on the Secretary to resign," because of the "systematic, profound and indisputable" technical problems that the Affordable Care Act exchanges have experienced since launching on October 1.
The technological issues plaguing the health care reform's sites have prevented thousands from fully enrolling in the health care exchanges. Furthermore, the New York Times reports that a new study by a market research company suggests that traffic to the federal website has declined since the site's launch. While these issues have certainly not gone unnoticed by Washington, they were largely overshadowed by the government shutdown and the possibility of a debt default.
Now that President Barack Obama has signed a temporary spending measure into law, however, Republicans want to turn the spotlight back to Obamacare and its glitches.
Roberts blames Sebelius — whom he voted to confirm as head of HHS in 2009 — for the "complete failure of the exchange to enroll millions of Americans in health care plans as promised," and described her as "incompetent."
According to Roberts, "Americans are tired of the Sebelius spin," and "need a Secretary who can admit when enough is enough." He concluded that "in the absence of a full repeal of Obamacare," he would settle for "new leadership from top to bottom."
Roberts has been joined by Representative John Fleming (R-LA), who tweeted on Friday, "When will Sebelius be fired for ObamaCare trainwreck?"
Flemings also wants the healthcare law to be repealed, but says that "in the meantime, someone must be held accountable."
Again, Republicans are waging a fight that they will not win.
Because Sebelius works for President Obama, he would have to accept her resignation. And although the president admitted on Tuesday that the exchanges "had way more glitches than I think are acceptable," he recently expressed "full confidence" in the Secretary and is not asking for her resignation. Even if the president did ask Sebelius — who acknowledged that the "launch was rockier than we would have liked" on Wednesday — to step down, it would be impossible for Obama to find a replacement whom the Senate would confirm. Republicans would surely do their best to keep HHS rudderless in an effort to further undermine the Affordable Care Act's launch.
Photo: Center for American Progress Action Fund via Flickr