Republicans To Offer Condition-Free U.S. Debt Ceiling Hike
@AFP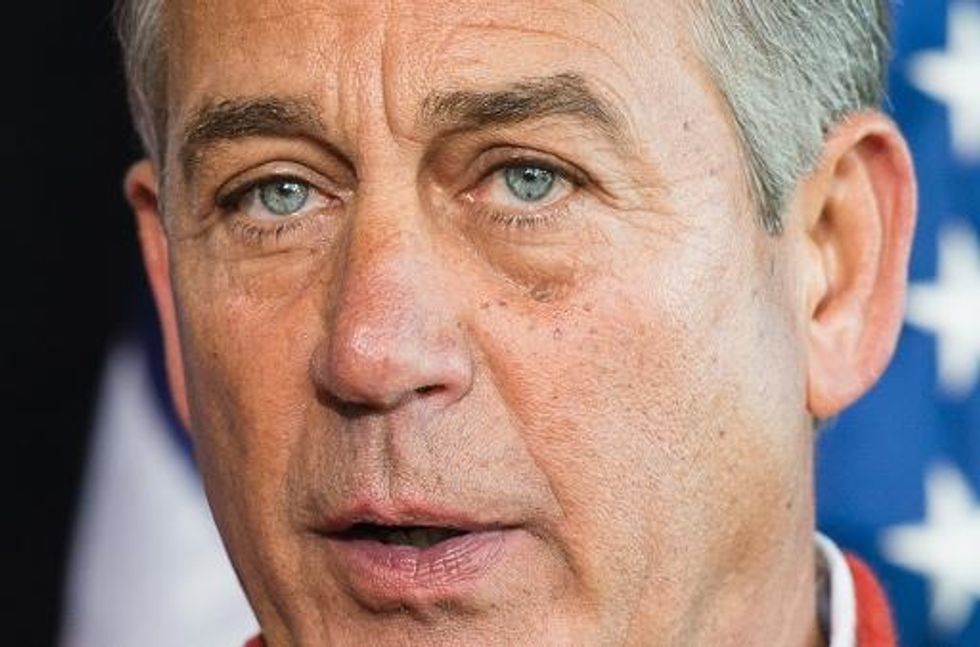 Washington (AFP) – House Republicans introduced a measure Tuesday to extend U.S. borrowing authority with no conditions attached, signalling they are stepping back from an election-year fiscal showdown.
House Speaker John Boehner, unable to gain sufficient support from his fractured party for a plan he unveiled Monday that would have tied the debt ceiling hike to a revision of military pension benefits, said he will now seek to pass a clean debt ceiling hike with help from Democrats.
The capitulation marks a clear victory for President Barack Obama in the wake of last October's crippling government shutdown that Americans blamed largely on Republicans.
Boehner described it as "a lost opportunity," telling reporters after a private meeting with his caucus that the two parties could have "worked together" to find cuts and reforms equal to or greater than the increase in the debt limit.
Boehner, the top Republican in Congress, said Obama was clearly "the one driving up the debt," currently at $17.3 trillion, and that the president will need to own up to it.
"The fact is we'll let the Democrats put the votes up and we'll put a minimum number of (Republican) votes up to get it passed."
The vote was due Wednesday but leadership aides told AFP it was shifted to Tuesday evening to avoid a snow storm threatening the U.S. East Coast.
The bill would then go to the Democratic-held Senate, which is likely to pass the measure.
U.S. Treasury Secretary Jacob Lew warned last week that the country would exhaust its borrowing authority by February 7, and that it could use extraordinary measures only until February 27 before the debt ceiling would need to rise or government would risk not being able to pay all its bills.
The White House has insisted for weeks that raising the debt ceiling was non-negotiable, and it did not want to see policy riders attached.
But Boehner made clear that his move to put forward a clean borrowing extension authority — reportedly until March 2015 — was not a done deal in a divided House of Representatives, and that Democratic Minority Leader Nancy Pelosi would need to rally her own troops.
"Our members are not crazy about voting to increase the debt ceiling," Boehner acknowledged.
"I made it clear to Ms. Pelosi yesterday that if we went this route, I would expect virtually every Democrat to vote for it, and she agreed."
Boehner hinted it would be a tough challenge to cobble together the 18 Republicans needed to support the measure if all Democrats backed it.
"We're going to have to find them. I'll be one," he said.
Lawmakers have little wiggle room. Congress is scheduled for a recess next week, leaving just a handful of legislative days until the February 27 deadline.
Gene Sperling, director of the White House National Economic Council, applauded Boehner's move.
"I hope the tactic of threatening default for budget debates is over, off the table and never to happen again," Sperling told reporters at a Washington breakfast, according to the New York Times.
He described the decision as "a boost for confidence and investment in the U.S."
Boehner's earlier plan would have scrapped a budget measure approved in December that slows the pace of raises in military pensions for certain retirees.
It was one of several he floated to fellow Republicans, including legislation tying the debt ceiling hike to constructing the Keystone XL pipeline, or to changes in Obamacare and Medicare reimbursements.
Several conservatives balked at the latest Boehner offer, and with Republicans unsure if Democrats would have gone along, Boehner was left with little choice but to throw in the towel or risk a potential credit default.
"It's the fact that we don't have 218 votes" in the 435-seat House, Boehner said.
"And when you don't have 218 votes, you have nothing."
AFP Photo/Jim Watson