Republicans Revive Mitt Romney's Favorite Medicare Attack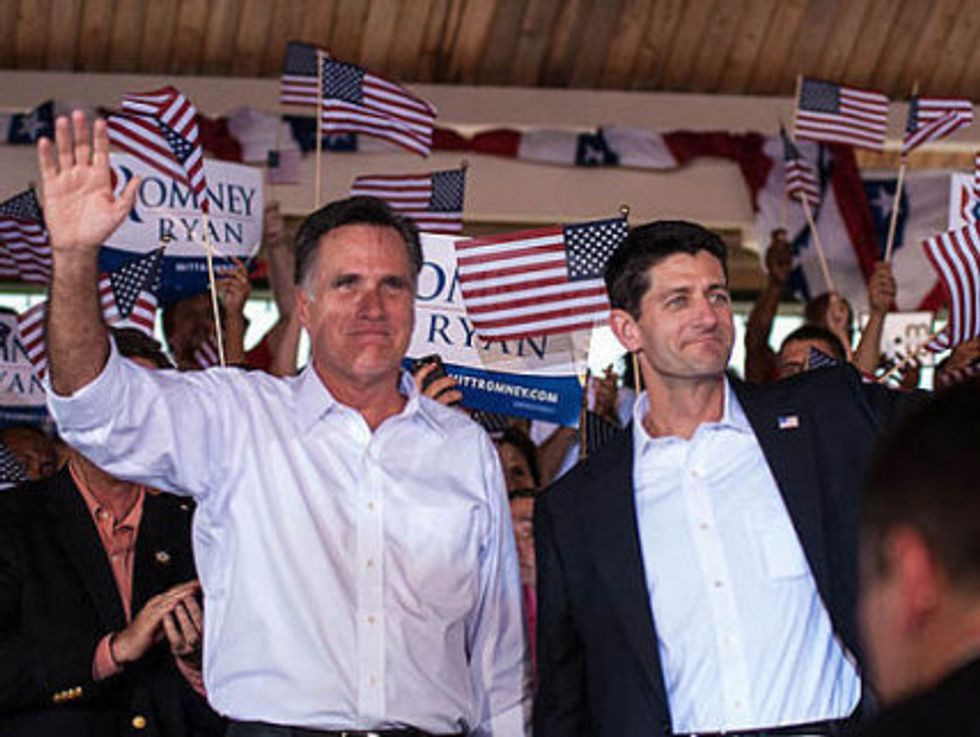 With HealthCare.gov substantially improved and new insurance signups surging, Republicans have been forced to pivot to a new line of attack against the Affordable Care Act. On Tuesday, the National Republican Senatorial Committee issued a series of news releases accusing Democratic candidates of cutting Medicare through their support of the health care reform law.
"As the ObamaCare disaster continues to unfold, Mark Pryor and National Democrats have resorted to deceiving seniors using their old and discredited MediScare playbook," reads the release targeting Senator Mark Pryor (D-AR).
"What's new this year is the blatant hypocrisy that Mark Pryor and his liberal allies in Washington are exhibiting," it continues. "Pryor's deciding vote for ObamaCare cut $717 billion from Medicare—including nearly $5.4 billion directly from Arkansas ($10,296 per Medicare recipient in Arkansas)."
CNN reports that the NRSC campaign will target Senators Pryor, Mark Begich (D-AK), Kay Hagan (D-NC), Mary Landrieu (D-LA), Mark Udall (D-CO), Tom Udall (D-NM), Dick Durbin (D-IL), Jeanne Shaheen (D-NH), Jeff Merkley (D-OR), and Al Franken (D-MN), along with Senate candidates Rep. Bruce Braley (D-IA) and Rep. Gary Peters (D-MI).
If this line of attack sounds familiar, it's because it was a centerpiece of Mitt Romney and Paul Ryan's case against the Affordable Care Act in the 2012 elections. The Republican ticket repeatedly accused President Obama of having "robbed" and "raided" $716 billion from Medicare to "pay for Obamacare, a risky, unproven, federal takeover of health care."
Of course, that attack ignored the fact that the overwhelming majority of the $716 billion actually represented reductions in how much Medicare pays hospitals and insurers, as WonkBlog's Sarah Kliff explained last August. Medicare benefits themselves are not affected.
It also ignored the fact that Ryan's own budget included the exact same $716 billion in cuts (with the implied promise of deeper cuts in the future to pay for trillions of dollars in new defense spending and tax cuts). He has also kept the savings in subsequent budget proposals. Nearly every Republican in Congress — including Rep. Tom Cotton (R-AR), Pryor's chief rival in his 2014 re-election bid — has supported Ryan's budget plans, significantly blunting the accusation's impact.
Nonetheless, House Speaker John Boehner's (R-OH) spokesman Brendan Buck told MSNBC that the attack is "a tried and true campaign hit" — ignoring that it totally failed to blunt the Democratic Party's sweeping victory in 2012.
There's no denying that Republicans had a good political month targeting the Affordable Care Act's rocky rollout. But the fact that they are already returning to this easily debunked attack, which was proven to be unpersuasive in the last election, raises the question of whether they are running out of fresh attacks against the law. And with repeal seemingly off the table, one wonders where Republicans will turn if good news about the law continues to trickle out.
Photo: monkeyz_uncle via Flickr