Republicans Rip White House In Shutdown Counter-Attack
@AFP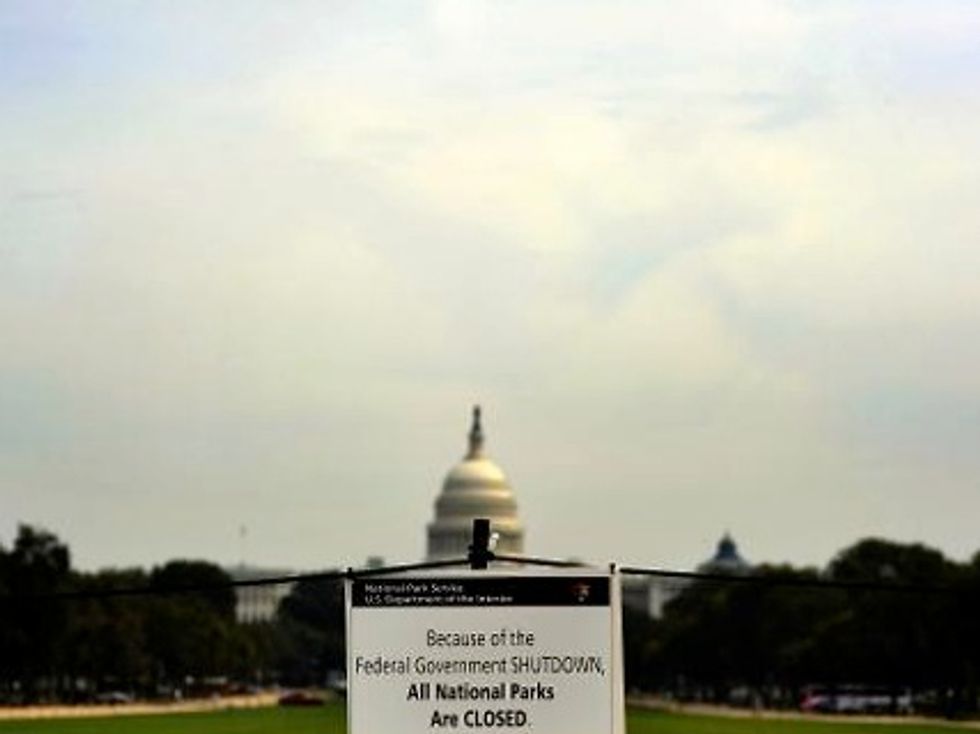 Washington (AFP) – Republicans launched an angry counter-attack Friday as the U.S. government shutdown dragged deep into a fourth day, with House Speaker John Boehner fuming: "This isn't some damn game."
President Barack Obama meanwhile digested an embarrassing blow to his foreign policy and the U.S. image abroad after he was forced to cancel plans to jet to Asia for a pair of diplomatic summits.
Boehner jumped at the chance to seize the high ground by citing an unnamed official who was quoted speaking dismissively of the shutdown, which has sent hundreds of thousands home without pay.
Summoning outrage at a news conference, Boehner said: "This morning, I get the Wall Street Journal out and it says, 'well, we don't care how long this lasts, because we're winning.'
"This isn't some damn game. The American people don't want their government shut down and neither do I," Boehner said, theatrically waving a copy of the paper.
The White House tried to contain the damage from the Journal quote, which dominated the media messaging war raging between Obama and his Republican foes on Capitol Hill.
Obama even staged a photo op — a rare stroll outside the White House to a nearby sandwich shop — to clean up the misstep, declaring "nobody is winning" from the first shutdown in 17 years.
"There's no winning when families don't have any certainty over whether they are going to get paid or not," Obama said.
"This shutdown could be over today," Obama said, calling on Boehner to call a vote on a temporary funding measure to reopen government operations.
Obama spokesman Jay Carney said on Twitter: "We utterly disavow idea WH doesn't care when it ends. House should act now, no strings attached."
Obama is refusing to negotiate with Republicans over budget issues until they pass a temporary bill to open the government and agree to raise the $16.7 trillion U.S. statutory borrowing limit — without which Washington could default on its debts for the first time ever later this month.
But Republicans are demanding the president enter into talks on their goal to defund or delay his health reform law — a step Obama refuses to take.

"I was at the White House the other night and listened to the president some 20 times explain to me why he wasn't going to negotiate," Boehner complained.
Obama on Thursday took the decision to cancel his visit to Bali for the APEC summit and Brunei for the East Asia summit, in what analysts described as a blow to his signature policy of shifting more diplomatic and military weight towards rising Asia.
"The cancelation of this trip is another consequence of the House Republicans forcing a shutdown of the government," said a White House statement.
"This completely avoidable shutdown is setting back our ability to create jobs through promotion of U.S. exports and advance U.S. leadership and interests in the largest emerging region in the world."
Obama had previously cancelled onward visits to Malaysia and the Philippines next week as it was impossible to put together his huge traveling entourage at a time when much of his White House staff has been furloughed.
The shutdown was caused by Congress's failure to pass a spending bill to fund government operations by October 1.
Hundreds of thousands of federal workers have been sent home without pay, monuments like the Statue of Liberty have been barricaded and national parks have been closed down.
No end is in sight to the impasse, which Obama on Thursday branded as a reckless Republican farce.
The House of Representatives was due Friday to vote on a string of measures to open favored areas of the government, including funding for suspended US intelligence operations, nuclear safety and Food and Drug Administration inspections.
The White House warned that in the unlikely event of the bills making it through the Democratic-led Senate and reaching Obama's desk, the president would veto them.
Democrats have warned Republicans they should simply open the entire government, not make piecemeal efforts to fund popular areas of government operations.
With the shutdown threatening to last through the weekend and into next week, there were no serious compromise efforts taking place on Capitol Hill.
AFP Photo/Jewel Samad