Lindsey Graham's State Of The Union Rebuttal: 'World Literally About To Blow Up'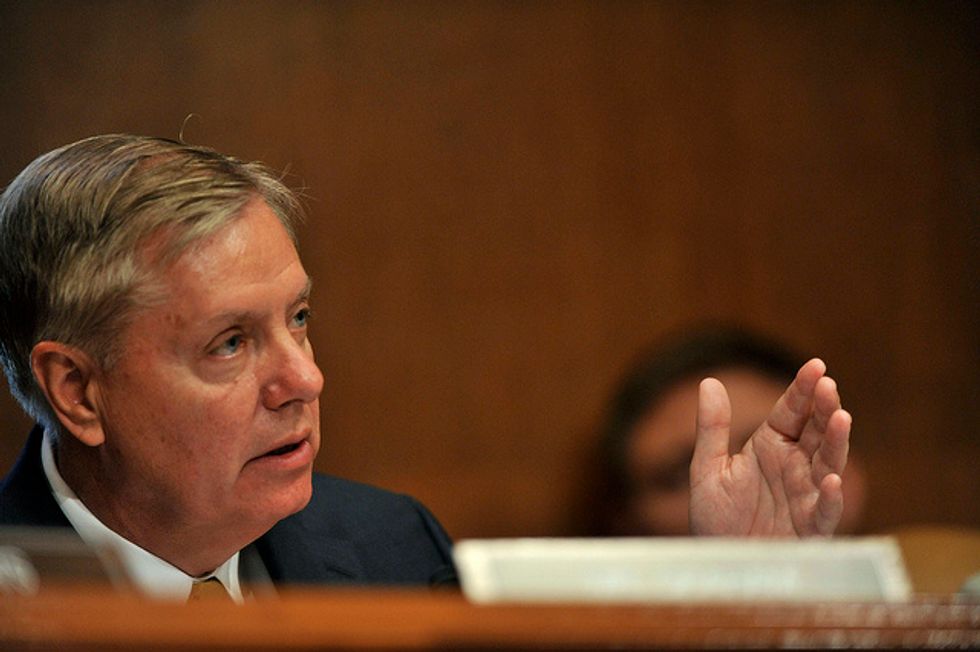 One of the leading foreign policy voices in the Republican Party wants to make something clear to the American people: President Obama is threatening the world's very existence.
After the State of the Union address on Tuesday night, Senator Lindsey Graham (R-SC) offered a hyperbolic response to the president's discussion of his Iran policy.
"The world is literally about to blow up," Graham said.
In his speech, Obama said he would veto any bill passed by Congress that calls for further sanctions on Iran's nuclear program. His opposition to new sanctions comes as his administration has opened new diplomatic efforts in Iran to curb the country's nuclear ambitions while easing crippling trade sanctions.
"If Iran's leaders do seize the chance, then Iran could take an important step to rejoin the community of nations, and we will have resolved one of the leading security challenges of our time without the risks of war," the president said in his speech. "But let me be clear: If this Congress sends me a new sanctions bill now that threatens to derail these talks, I will veto it. For the sake of our national security, we must give diplomacy a chance to succeed."
Aside from speaking about the possible rapture the Iran policy could set in motion, Graham also made a sweeping judgment of the entire Middle East, claiming the region is "moving towards chaos."
"Explain to me what happens if the Syrian conflict goes on another year and Assad continues to win," Sen. Graham said, referring to Syrian president Bashar al-Assad. "Iraq is disintegrating. The whole region is moving toward chaos, and we're doing nothing. We're talking about limiting drones?"
Despite the senator's bluster, the interventionist foreign policy that was once a hallmark of the Republican Party is no longer widely supported. The notion of intervening in the Syrian civil war, for example, was criticized by a number of libertarian-minded Republicans. Notable senators such as Marco Rubio (R-FL) and Ted Cruz (R-TX) split with party leadership and did not support military intervention in Syria.
Furthermore, libertarian-leaning Senator Rand Paul (R-KY) famously took a four-hour stand against expanded drone use during the debate to approve John Brennan as CIA director.
Despite these rifts in his own party, Sen. Graham was seen glad-handing with Cruz at the State of the Union. He also invited Korie Robertson, an actor on the controversial reality show Duck Dynasty, to join him for the president's remarks.
Graham's guest and his choice to spend time with Cruz, a Tea Party favorite, could be an effort to be seen as more conservative and concerned with domestic issues. The South Carolina senator has drawn four Tea Party challengers in his race for re-election.
Secretary of Defense via Flickr