Residents In Mudslide-Prone Area Felt Safe From Smaller Slides, Official Says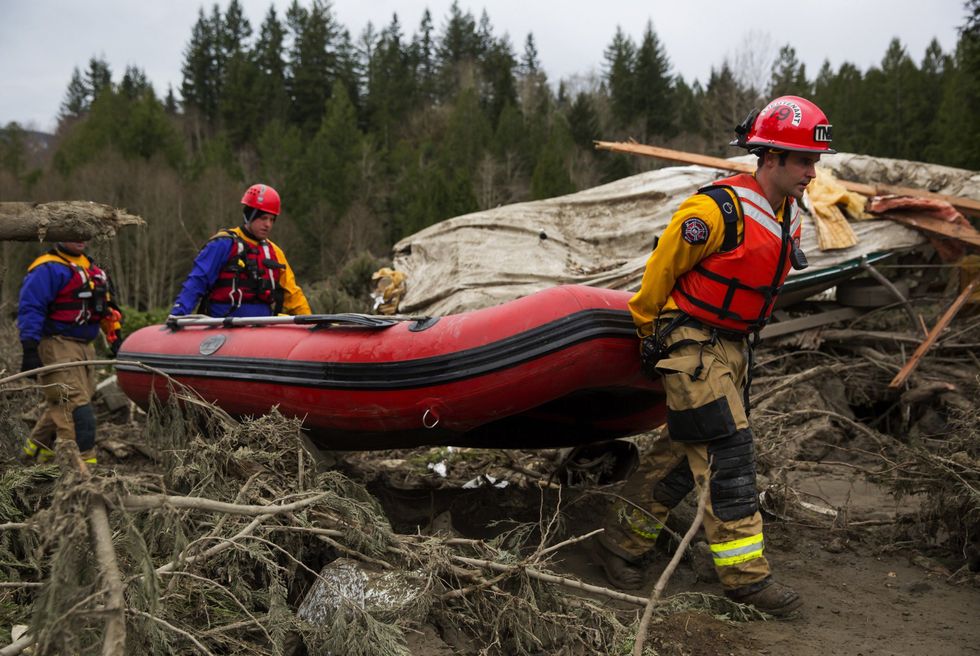 By Paresh Dave and Molly Hennessy-Fiske, Los Angeles Times
ARLINGTON, Wash. — Residents along the Stillaguamish River had felt protected from small landslides during the past eight years because Snohomish County spent millions of dollars shoring up the area after a mudslide in 2006, the county's Emergency Management Director John Pennington said Wednesday.
But the landslide that struck last Saturday was "large" and "catastrophic," Pennington said at a news conference. The mudslide tore through 49 homes. At least 16 people have been confirmed dead and as many as 176 people are missing.
Authorities were still trying to pare down the list of missing and recover the at least eight other bodies that have been found, which would bring the total to 24 dead.
The slide, which also shut down a rural highway and artificially dammed a river, has raised questions about whether county officials did enough to admonish residents about the landslide risk.
"They knew the risk, but they felt safe in those smaller events," Pennington said of the people in the communities of Arlington, Darrington and Oso. "Sometimes, big events just happen. Sometimes, large events that nobody foresees happen."
After the "decent-sized" slide in 2006, the county worked along the river to ensure that it would catch smaller landslides from the timber-lined northern slope without damaging the homes on the southern side of the river.
"We did a great job of mitigating the impact of smaller slides coming in," Pennington said. "I think we did what we could do."
He said he would push geologists and other experts to determine what caused last week's landslide, including whether an earthquake "shook it loose." So far, authorities have attributed the mudslide to the abnormally high level of rainfall during the past month.
Snohomish County Sheriff Ty Trenary said Wednesday morning that rescue crews were making "good progress."
A dental office in Marysville confirmed Wednesday that one of its employees, 45-year-old Christina Jefferds, died in the mudslide alongside her 4-month-old granddaughter Sanoah.
"Chris was a beautiful person inside and out," dentist Kelly Peterson said in a statement. "She was so humble, yet so generous in volunteering the time, talents and resources with which she had been blessed while never drawing attention to herself."
Three victims of the mudslide remained in an intensive care unit at Harborview Medical Center in Seattle. Among them was a 22-week-old baby boy in critical condition, but improving, the hospital said Wednesday morning. The boy's 25-year-old mother and a 58-year-old man, who was scheduled to undergo surgery on his pelvis, have left the intensive care unit and are in satisfactory condition, the hospital said.
The mudslide area was stable Wednesday and would probably remain so for the next few days, officials said. Rainy weather that has slowed recovery efforts remained in the forecast.
Officials also said several plans would be launched to connect Darrington to communities west of the city, including a special bus service to Everett and the opening of a mountainous emergency access road to traffic.
At Wednesday morning's news conference, county officials thanked volunteers, donors and their communities. Families affected by the mudslide were gathering in several spots across the region, including Post Middle School in Arlington. Oso residents there quietly chatted, wearing yellow ribbons and embracing in hugs.
"Today, the world knows where Oso is, and they know we are more than a small community," Snohomish County Executive John Lovick told reporters. "We are a large family."
Photo: Marcus Yam/Seattle Times/MCT