Restrictions To Remain For Rivers Hardest Hit By Colorado Mine Waste Spill
@reuters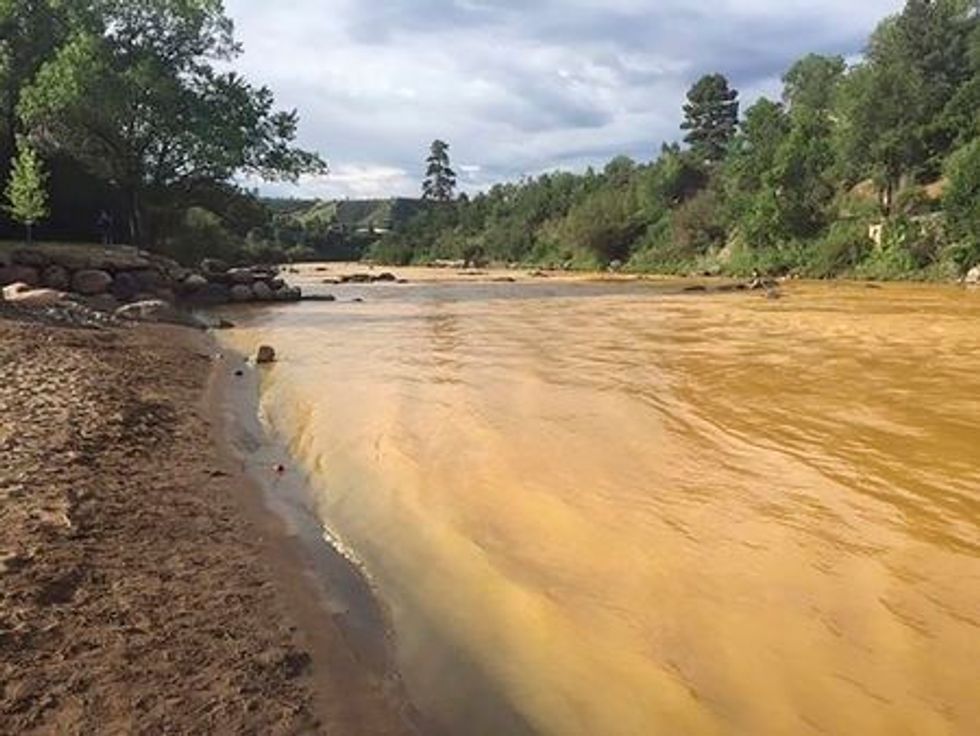 (Reuters) – Two rivers in Colorado and New Mexico hit hardest by toxic waste spilled from a defunct gold mine will remain closed to drinking water and irrigation intakes for at least another week, but test samples show a gradual ebbing of contamination, environmental officials said on Tuesday.
The San Juan River and its northern tributary, the Animas River, have been fouled by the release of more than 3 million gallons (11.3 million liters) of acid mine drainage inadvertently triggered by a team of Environmental Protection Agency workers last Wednesday.
The discharge has continued to flow at the rate of about 500 gallons (1,900 liters) a minute from the site of the century-old Gold King Mine, near the town of Silverton in southwestern Colorado, into a stream below called Cement Creek.
From there, the wastewater has washed into the Animas River and into the San Juan River in northwestern New Mexico.
Some residents who live downstream from the mine and draw their drinking supplies from private wells have reported water discoloration, but there has been no immediate evidence of harm to humans, livestock or wildlife, according to EPA officials.
Still, residents were advised to avoid drinking or bathing in well water, and the government was supplying water where needed. Two Colorado municipalities, including Durango, and the New Mexico towns of Aztec and Farmington have shut off their river intakes.
The bright orange contamination plume, containing heavy metals such as arsenic, mercury and lead, has dissipated through dilution as the discharge spreads downstream, with its leading edge no longer visible from aerial surveys, the EPA said.
"As it moves on, we are seeing a downward trajectory toward pre-event conditions," EPA chief Gina McCarthy said at a clean-energy event in Washington.
The Animas River in Durango, about 50 miles (80 km) south of the spill, had turned from orange to bright lime green by Sunday, and was a darker shade of blue-green by Tuesday, a sign that pollutants were gradually clearing, at least near the surface, said Sinjin Eberle, a spokesman for the conservation group American Rivers.
But experts said a long-term concern was the deposit of heavy metals from the spill that had settled into river sediments, where they can be churned up and unleash a new wave of pollution when storms hit or rivers run at flood stage.
POSSIBLE LEGAL ACTION AGAINST EPA
EPA officials said the Animas and San Juan rivers would remain closed until at least next Monday to such uses as drinking, irrigation, fishing and recreation as experts try to gauge safety risks posed by the spill.
Wastewater still escaping from the mine site was being diverted into hastily built settling ponds where the effluent is treated before it empties into Cement Creek, sharply reducing its acidity and metal levels, the EPA said.
Water samples taken from the upper Animas as the main plume of contamination arrived days ago showed concentrations of copper, zinc and cadmium as high as 100 times levels considered safe for fish and aquatic insects, said William Clements, an eco-toxicologist at Colorado State University who reviewed preliminary EPA data.
He said the peak cadmium levels were roughly 10 times higher than what would be regarded as safe for humans, while arsenic – especially toxic to people – spiked at 1,000 parts per billion, he said. That is 100 times the maximum contaminant level for arsenic set by the EPA for drinking water.
Clements said the readings offered just a snapshot of contamination in a place relatively close to the spill's origin at a point when the effect was most pronounced. "They really do fluctuate quite a bit with time," he said.
New Mexico Governor Susana Martinez and Colorado Governor John Hickenlooper both declared states of emergency on Monday, freeing up additional money for disaster response. Martinez also said she was directing her administration to "be prepared to take legal action against the EPA."
Hickenlooper visited a trout hatchery on Tuesday near Durango, where wildlife officials had caged more than 100 juvenile fish at several locations along the Animas to monitor their health. Only one had died so far, officials said.
Utah State University ecologist Charles Hawkins said the health effects on fish could take weeks or months to become lethal, or might translate into reproductive damage. "It would have to be incredibly toxic to kill them immediately," he said.
The Navajo Nation has also been affected. Tribal communities along the San Juan, which crosses the sprawling reservation through southeastern Utah before flowing to Lake Powell, rely on the river for fishing, irrigation and watering of livestock.
"We intend to make sure the Navajo Nation recovers every dollar it spends cleaning up this mess and every dollar it loses as a result of injuries to our precious Navajo natural resources," tribal President Russell Begaye said.
(Reporting and writing by Steve Gorman in Los Angeles; Additional reporting by Keith Coffman from Denver and Valerie Volcovici from Washington; Editing by Peter Cooney)
Photo: Yellow waste water that had been held behind a barrier near the abandoned Gold King Mine is seen in the Animas River in Durango, Colorado, in this picture from the Colorado Parks and Wildlife Department taken August 8, 2015. (REUTERS/Colorado Parks and Wildlife Department/Handout)