Retired General: Trump 'Hurtling Towards War' With Iran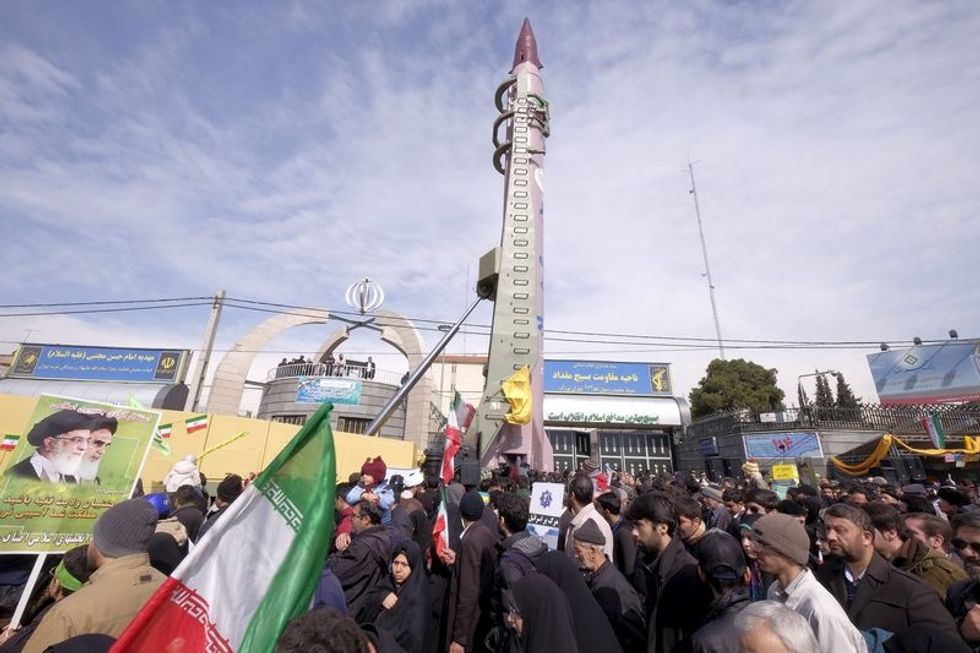 The Trump administration is mulling a plan to send 120,000 troops to the Middle East in an apparent escalation of conflict with Iran, the New York Times reported. 
And one retired general has a warning about the potential troop deployment — a change to military plans that was ordered by Trump national security adviser and noted neoconservative warmonger John Bolton, the Times reports.
"With the same neocons who led us into Iraq now in charge of Donald Trump's foreign policy, we're hurtling towards a war with Iran that may very likely result in many more lives lost, for no good reason," said retired Maj. Gen. Paul Eaton, who served in the Iraq War and now sits on the board of VoteVets.
Eaton said that the Trump administration's apparent push to send troops to the Middle East amid rising tensions over the Iranian nuclear deal could not only start a war — it could also create a "breeding ground for the next generation of terror groups."
"Like ISIS arose because of our invasion of Iraq, the next terror organization may form out of war with Iran, putting American civilian lives in great peril," Eaton said. "From the east coast, to the heartland, to the Pacific, every American would be at risk."
Eaton went on to say that if "Bolton and the neocons in the administration" think the troops are necessary, they should go to Congress to seek authorization for the deployment.
"Let them go to Congress to allow the people's representatives to debate and vote on it, as the Constitution requires," Eaton said. "If they do not, we can only surmise that, like with so many other issues, Donald Trump is afraid of real Congressional oversight."
The New York Times reports that the Trump plan would deploy nearly the same number of troops that were deployed in 2003 to invade Iraq.
Democratic lawmakers are demanding that Trump brief lawmakers on the reasoning behind such a major possible deployment, and to seek congressional approval for such a move.
"UNACCEPTABLE," Sen. Bob Menendez (D-NJ), the ranking member of the Senate Foreign Relations Committee, tweeted on Tuesday. "WH drafting plans to deploy 120,000 troops to the #MiddleEast, but refuses to brief the Senate Foreign Relations Committee on escalating tensions with #Iran. Cabinet officials must give Congress a sense of what they're doing and why."
Sen. Tim Kaine (D-VA) was similarly aghast by the possible deployment of troops.
"Remember Iraq? A President told America that we had to go into war because Iraq had nuclear weapons," Kaine tweeted. "Now look at Iran: We had a diplomatic deal that was working. President Trump broke the deal, and now he's saying we could wage war against them? This is the height of idiocy."
Trump, for his part, is playing ignorant, saying Tuesday that he didn't know about the plan and only read about it in the Times report.
"We have not planned for that," Trump said of the proposal to send 120,000 troops to the Middle East. "Hopefully we're not going to have to plan for that and if we did that, we'd send a hell of a lot more troops than that."
Trump, it seems, either doesn't know what his own military advisers are planning, or does and thinks their ideas aren't extreme enough. Both options are terrifying.
Published with permission of The American Independent. 
IMAGE: Iranian-made Emad missile is displayed during a ceremony marking the 37th anniversary of the Islamic Revolution, in Tehran February 11, 2016. REUTERS/Raheb Homavandi