Retiring Bachmann Signals She's Still In The Game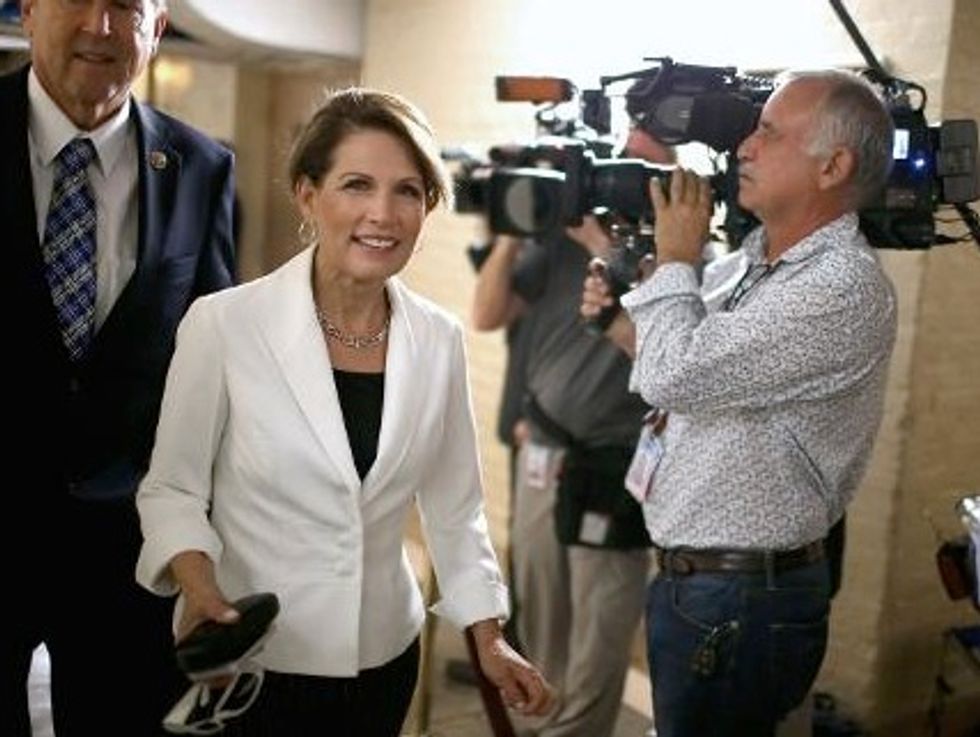 By Emma Dumain, CQ Roll Call
Rep. Michele Bachmann may be retiring at the end of this year, but the woman who rose to prominence by founding the Congressional Tea Party Caucus in 2010 and running for president in 2012 isn't leaving Washington, D.C., quietly.
In a speech and brief question-and-answer session Wednesday morning at the Heritage Foundation — billed as one of her last public speaking engagements as a member of the House of Representatives — the Minnesota Republican refreshed her audience on the history of the Tea Party movement and made a case for continuing the fight against higher taxes and bigger government.
But Bachmann also made a handful of policy recommendations that indicate she plans to remain engaged in the political debate, albeit from outside Capitol Hill.
When asked to weigh in on whether Congress should go "small ball" or "big ball" in the event Republicans regain control of the House and win power in the Senate, Bachmann said the GOP should be "bold," and she cited an overhaul of the tax code as a top priority.
"You change it now. Immediately. And you either go with the flat tax, or you go with the national consumption tax. You figure it out," Bachmann said. "I'll lead the debate. You want someone to lead the debate? I'll lead the debate. Lead the debate and do it because guess what, folks? This isn't working."
Speaker John Boehner (R-OH) has said he wants to take on a rewrite of the nation's tax law in earnest in the 114th Congress.
Slamming President Barack Obama's foreign policy as broken and ineffective, Bachmann said Congress should return to next month's lame-duck session and fast-track bills introduced by herself and Sen. Ted Cruz (R-TX) that would revoke passports and denaturalize American citizens who have fought with the Islamic State.
And while she noted she has "the distinction of being the member of Congress who has raised more for a House seat than any other member of Congress" — over $13 million in a single cycle, she said — she bemoaned the lack of caps on campaign spending.
"That's crazy money," she said. "It's crazy a candidate should have to raise that kind of money.
"Money is buying influence, rather than real people going to the polls," Bachmann continued, adding that there should be caps on how much money can be spent, and that ideas should win elections, not "someone's crummy 20-second soundbite on TV."
She didn't, however, elaborate on what sort of overhaul of campaign finance laws she supported.
Bachmann also took a question — from an audience member who praised the lawmaker's work on behalf of the "Christian coalition" — about whether Congress was aware that if it passes an immigration overhaul legislation, all of the United States could become like Southern California: a "third-world dump."
In answering, the congresswoman was careful to separate herself from the questioner's tone.
"No human being ever would be considered a dump," Bachmann said. "That would never happen. All human beings have worth, and all human beings have value."
Bachmann blamed the nation's border security problems on the policies of the Obama administration. She blasted Obama's plans to change immigration laws through executive order and called his decision to wait to do so until after the midterm elections "cynical."
AFP Photo/ Chip Somodevilla