Reverse Coattails: How Trump Is Harming Republican Senate Hopes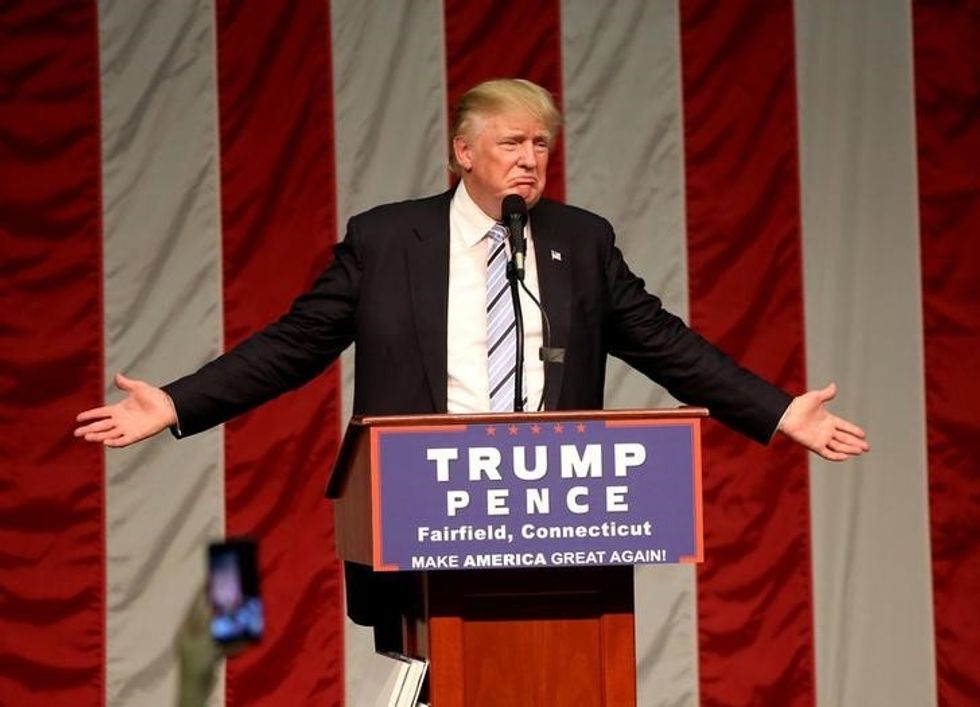 Donald Trump may not only be damaging his own campaign with every speech. He's also hurting the campaigns of his fellow Republicans. So far, Trump is polling behind GOP senators in several states, including Florida, Ohio, Pennsylvania, and New Hampshire. If that trend continues, support for the Republican senators running for re-election in those states may continue to hold steady, allowing the GOP to maintain their Senate majority, or, as Five Thirty Eight notes, Trump may drag down down-ticket races even more than he already has.
Currently, Republicans have a majority in the Senate with 54 seats. If Democrats gain four seats and Hillary Clinton wins the White House, the Senate will revert to Democrats, as the vice president casts tie-breaking votes. If Clinton doesn't win, Dems need to pick up five seats. There are 34 seats up for a vote on this November, and according to Five Thirty Eight, the ten "closest to changing parties," as shown in the current polling averages are as follows: Arizona, Florida, Illinois, Missouri, Nevada, New Hampshire, North Carolina, Ohio, Pennsylvania, and Wisconsin.
In each of these states except Wisconsin, Trump polls decidedly worse than Republican Party's nominee for Senate. In Wisconsin, Trump still polls behind Sen. Ron Johnson, but just by one point.
Trump is also polling behind Clinton in eight of these ten states, with the exception of Arizona and Missouri.
Five Thirty Eight suggests that unless voters decide to split their tickets (which could happen), Trump may take the Republican Senate candidates down with him. A recent New Hampshire poll, in fact, seems to indicate that Sen. Kelly Ayotte's poll numbers are closely tied to Trump — bad news for the Senator.
In an interview with Talking Points Memo published Saturday, Saint Louis University political scientist Ken Warren broke down the Senate race in Missouri between Republican Sen. Roy Blunt and Democrat Jason Kander, Missouri's secretary of state, who is polling very well.  Blunt has endorsed Trump. Warren says "There's no question that Trump will hurt Blunt."
"A lot of Republicans just do not support Trump, particularly the more educated, more metropolitan Republicans who will not turn out. If fewer Republican voters show up and vote for the Republican ticket, it's essentially negative coattails."
Photo: Republican presidential nominee Donald Trump speaks during a campaign event in Fairfield , Connecticut, U.S., August 13, 2016. REUTERS/Michelle McLoughlin