Rick Perry Destroying Women's Health Care — And Punishing Poor Families — In Texas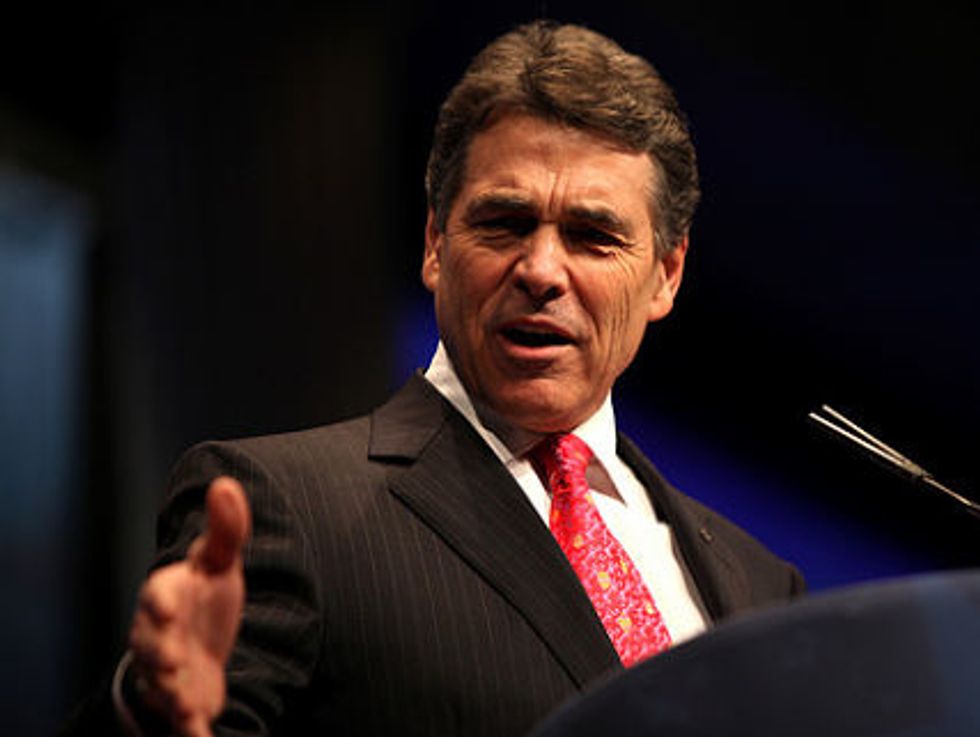 A Texas judge recently upheld the Lone Star State's attack on Planned Parenthood and its participation in the state Women's Health Program, yet another victory for right-wing ideologues in their long war on women. In America's second most populous state, poor women and families especially face new and dire circumstances — despite President Obama's re-election on a platform guaranteeing the strongest state support for reproductive rights in a generation.
Last year, Texas barred Planned Parenthood and other reproductive health clinics from the Women's Health Program, when Republican lawmakers decided that "abortion affiliates" (organizations that counsel on abortion, provide abortion referrals or are affiliated with clinics that provide abortions) could no longer receive public funds for family planning or any other health services. Denying the right to counsel patients is a clear violation of free speech, and the right of publicly funded family planning clinics to "affiliate" with privately-funded abortion providers has been a matter of settled law since 1989 (in the case of Webster v. Reproductive Health Services). But never mind.
Originally, the Texas Women's Health Program came under Medicaid, serving more than 100,000 low-income women, with an annual cost of nearly $40 million —  paid 90 percent by the federal government. When the Obama administration threatened to pull federal funding because the new rules violated a Medicaid provision ensuring that recipients must be free to choose their own health care providers, Republican governor Rick Perry told the president to keep his money.  A new program, using state funds only and free of federal involvement, began on January 1 of this year.
What Perry did not explain, however, is that state lawmakers had already decimated the state's family planning program in 2011 – forcing budget cuts of two-thirds that resulted in the closing of more than 50 clinics. All this in a state that already suffers a primary health care shortage of crisis proportions. Texas has only 70 active primary care physicians per 100,000 people, ranking it 47th among 50 states. Planned Parenthood and other such community clinics thus were filling a critical gap. Banning their participation in a state program only exacerbates the Texas physician shortage.
Still, Governor Perry insists that the state has enlisted enough physicians to compensate for the loss in care, but multiple studies contradict that claim. The Dallas Morning News recently found that of the 336 contacts listed online by the health department as participants in the new women's health program, there are only 55 new providers (the rest are repeats, with only a handful prepared to accept new patients).
As a result, the state health department quickly removed the online list and now requires patients to call for referrals. When I called the number provided, however, I was informed that due to high call volume, my call could not be completed, and I should try again at a non-peak hour. Carla Holeva, the CEO of Planned Parenthood of West Texas, recently told me that when one of her former Women's Health Program patients finally got through to the health department, she got three referrals: one for a physician who could not see her for over a month, one for a physician who now practices in New Mexico, and one for a physician who lives in Katy, TX… nearly six hours away from her home. Kristin Staples, former manager of the Planned Parenthood clinic that closed in Abilene, reported that she recently visited more than 20 private providers in the area to let them know about family planning services now being offered by the county health department, and nearly all admitted they are not taking any Women's Health Program patients at this time.
On a recent trip to Texas, I met with a number of patients in Abilene, just before the Planned Parenthood clinic there closed.  Each of them used Planned Parenthood as her exclusive health care provider and relied on the Women's Health Program to pay for care. Most lived nearby and all claimed it would be unrealistic to travel the nearly two hours to the nearest available facility after Planned Parenthood closed. Since early January, Planned Parenthood clinics from Midland to Hidalgo County have reported a drop in patients; no one is sure where those former Women's Health Program patients are now receiving care, if they are at all. The Planned Parenthood clinics that remain open rely on funds from donors and patient fees, and many are reducing hours and restructuring operations to reduce cost so they can continue to serve patients.
The actions of Governor Perry and Republican legislators in the state represent a new strategy in the abortion wars, focused on denying access at the state level. Rather than attempting to overturn Roe v. Wade, anti-abortion activists are now finding they can simply subvert it. Indeed, Governor Perry signed off for his Christmas break by announcing:
"Let me be clear, my goal — and the goal of many of those joining me here today — is to make abortion at any stage a thing of the past…But while Roe v. Wade prohibits us from taking that step, it does allow us, the states, to do some things to protect life if they can show there is a compelling state interest. I don't think there's any issue that better fits the definition of a compelling state interest than preventing the suffering of our state's unborn."
Given the laundry list of serious issues recently compiled by the Texas Legislative Study Group, attacking family planning and abortion rights should be low on Governor Perry's agenda.
Texas has the highest percentage of uninsured children in the nation and the lowest monthly benefit for Women, Infant, and Children (WIC) recipients (an average of $26.86 compared to the national average of $41.52). It ranks second highest nationally in overall birth rates, third highest in teen birth rates, has the sixth highest percentage of women living in poverty, and ranks dead last in the percentage of pregnant women receiving prenatal care in their first trimester. Texas has the second highest population of people living with food insecurity, and a lower percentage of residents with a high school diploma than any other state. And the list goes on.
Creating new obstacles for  low-income women to obtain preventive health services will only compound these socio-economic problems. Poor health, poor education, unplanned pregnancies, and lack of health care services will only increase the vulnerability of women, their families, and generations to come. The tireless pursuit of the right's ideological agenda wastes scant financial resources and political will that could otherwise be leveraged to tackle the myriad crises facing Texas – efforts that could actually improve living conditions for the women and children in greatest need.
Governor Perry responded to the most recent court ruling by saying that Planned Parenthood's request was "nothing more than a desperate move by an organization more concerned with obtaining taxpayer money than with helping women get care. With this ruling, our state can continue caring for Texas women."  In fact, Perry's plans will be catastrophic for women and families in his state. His legacy will be nothing less than the wholesale destruction of the women's health infrastructure in Texas — which will in turn lead to higher rates of unplanned pregnancies and unintended births, and a greater drain on government coffers.
Photo by Gage Skidmore via Flickr.com