Does The Rick Perry Grand Jury Lean Democratic?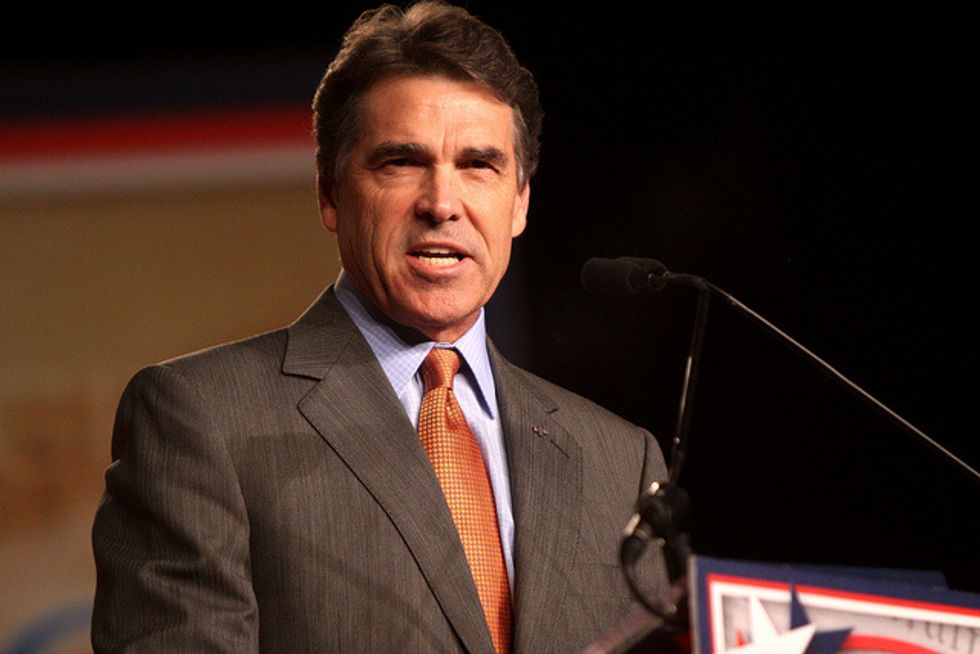 By Tim Eaton, Austin American-Statesman
AUSTIN, Texas — Democrats appear to outnumber Republicans on the grand jury that will consider criminal charges against Texas Governor Rick Perry.
But four members of the 12-member panel have no party primary voting history and two others don't appear to be registered voters.
Travis County voting records examined by The Austin American-Statesman show that three, and possibly four, members of the racially diverse grand jury have voted in Democratic primaries. Only one — or maybe two — of the grand jurors have voted in Republican primaries.
Because two of the jurors have the same name as others who are registered to vote in the county, it's impossible to know those members' political leanings.
The Travis County grand jury, which was empaneled last week for three months, will decide if a criminal indictment is warranted in Perry's actions in carrying out a threat to veto a $7.5 million, two-year appropriation to the Public Integrity Unit, housed in the Travis County district attorney's office, after District Attorney Rosemary Lehmberg refused to resign because of her drunken driving arrest.
A message left with the office of Perry, a Republican, wasn't answered, and lawyers on both sides of the case didn't return calls.
In a county that tilts Democratic, it's not surprising that Democrats might outweigh Republicans on the grand jury, said Susan Klein, a law professor with expertise in criminal procedure and prosecutorial ethics at the University of Texas Law School. After all, 60 percent of the county's voters cast ballots for President Barack Obama in 2012, while 36 percent of voters favored GOP challenger and former Massachusetts Governor Mitt Romney.
"That is the grand jury you're going to get," she said, adding that there's "nothing defense attorneys can do about it."
But Klein added that she expects the grand jury, which will hear only the special prosecutor's side of the story, to decide on a possible indictment based on the law.
David Kwok, a professor at the University of Houston Law Center, said it's hard to say if the grand jury, considering its possible Democratic slant, will be sympathetic to the prosecution.
"It is possible that it might have some kind of impact," he said of the political makeup of the panel.
There are a lot of variables at play in addition to the makeup of the grand jury, such as how independent its members are and how much interest they take in establishing probable cause that the governor committed a crime, he said.
Perry is the latest Republican politician who has faced a Democratic-leaning grand jury in Travis County. Two other high-profile cases in the past few decades against GOP leaders resulted in indictments.
In 2006, former U.S. Rep. Tom DeLay (R-TX), then the third-ranking member of the U.S. House of Representatives, was indicted for money-laundering by a 14-member grand jury that included seven people with a history of voting in Democratic primaries, according to a Houston Chronicle report at the time. Ultimately, DeLay was convicted. The decision was reversed on appeal, but now prosecutors are appealing the reversal.
Also, former Republican U.S. Sen. Kay Bailey Hutchison was indicted by a Travis County grand jury. In 1993, Hutchison complained that nine of the 12 members of that panel appeared to have Democratic leanings and voted in Democratic primaries two or more times since 1988, according to a review at the time by the Chronicle.
Hutchison, who served as state treasurer from 1991 to 1993, when she was elected to the Senate, was indicted for official misconduct and records tampering after allegations surfaced that treasury employees and equipment were used for political purposes and that efforts took place to cover up any wrongdoing under Hutchison's tenure as treasurer. Hutchison accused then-Travis County District Attorney Ronnie Earle of being politically motivated. Ultimately, Earle declined to proceed with the case.
Dick DeGuerin, a Houston-based lawyer who represented DeLay in his money-laundering case, said it's "very difficult" for Republican politicians to get a fair shake with a Travis County grand jury.
"It's a pretty well-known fact that Austin is heavily Democratic, always has been, always probably will be," said DeGuerin, a native Austinite who isn't involved in the Perry case. "As a GOP politician, I would not want to go to trial in Travis County."
At least Perry is facing a special prosecutor in Michael McCrum of San Antonio, and not a lawyer from the Travis County district attorney's office, DeGuerin said.
Photo: Gage Skidmore via Flickr