Gov. Rick Scott Is Ruining Florida's Coasts And Estuaries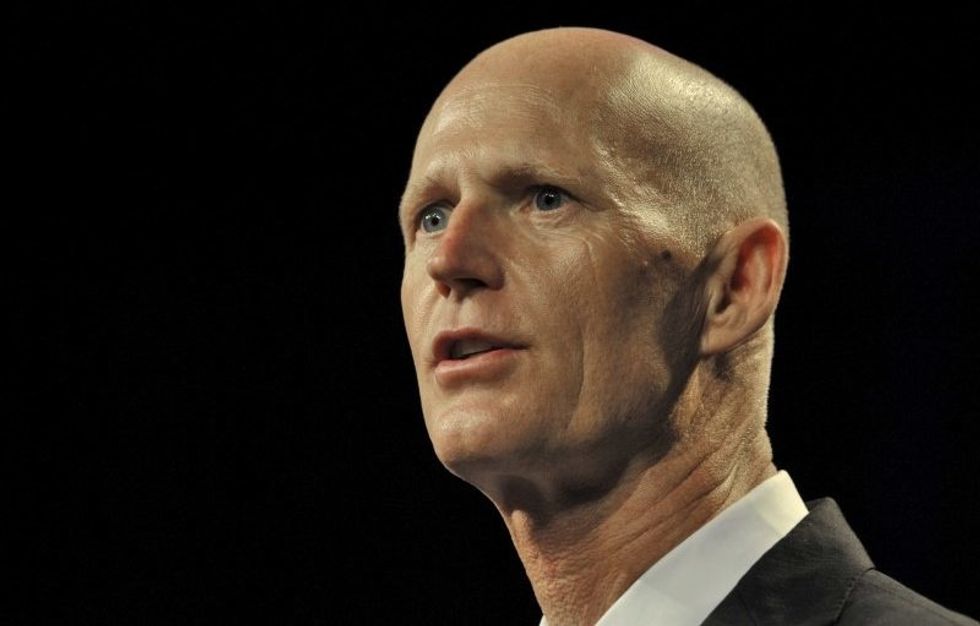 Florida Gov. Rick Scott, who will be speaking at the Republican National Convention on Wednesday, has been involved in a high-profile environmental scandal that's threatening his state's coastal fishing areas, and the people who rely on them.
Estuaries and beaches on part of the state's southeast coast have been smothered in recent weeks with a toxic blue-green slime — harmful to fish, plants, and even humans — after an algae bloom erupted in Florida's Lake Okeechobee, The Miami Herald reported.
Local environmental activists and fishermen have called on Scott and other state officials to purchase nearby agricultural land as a means for containing the lake's waters, which are susceptible to outbreaks of the foul-smelling algae, according to the South Florida Sun Sentinel. But administrators appointed by Scott have repeatedly declined to do so —  the Army Corps of Engineers was instead forced to continue dumping water into the St. Lucie Estuary in order to prevent the lake from flooding.
Scientists have said the risk of algae blooms is magnified by high heat and the presence of fertilizer sewage, which is often associated with construction and local sugar land.
Scott, who has received over $200,000 from the sugar industry, according to activist group Bullsugar, eliminated fertilizer regulations that could have prevented this sewage from reaching the water.
(He has also banned the words "climate change" and "global warming" from all official state communications.)
Now, the algae bloom threatens to hurt not just local wildlife but also vital fishing and tourism industries on the state's Treasure Coast: Though the algae hasn't tested highly for toxicity, it has cleared out hotel reservations and been linked to manatee deaths — and it smells like tons of dying plant life.
Florida's governor has already declared a state of emergency twice in response to the algae bloom and unsuccessfully reached out to President Barack Obama for help combatting the infestation. Ironically, though, Scott has also been known to reject any sort of federal authority on environmental regulations.
Some local activists say that given the lake's history of algae bloom — it's not the first time such an infestation has threatened Florida's estuaries and beaches in recent years — simply cleaning up the water of nutrient-rich run-off will be an effective measure.
"In order to really get at the problem you got to clean up the water. Anyone whose been watching the state of regulation in Florida saw this coming," Alisa Coe of Earthjustice told CNN earlier this month.
But don't hold your breath waiting for Rick Scott to do something about it.
Photo: Florida Gov. Rick Scott addresses an economic summit in Orlando, Florida, June 2, 2015.  REUTERS/Steve Nesius