Right-Wing Billionaires Have Made White House Staffers Multi-Millionaires With Their Deep Pocket Largesse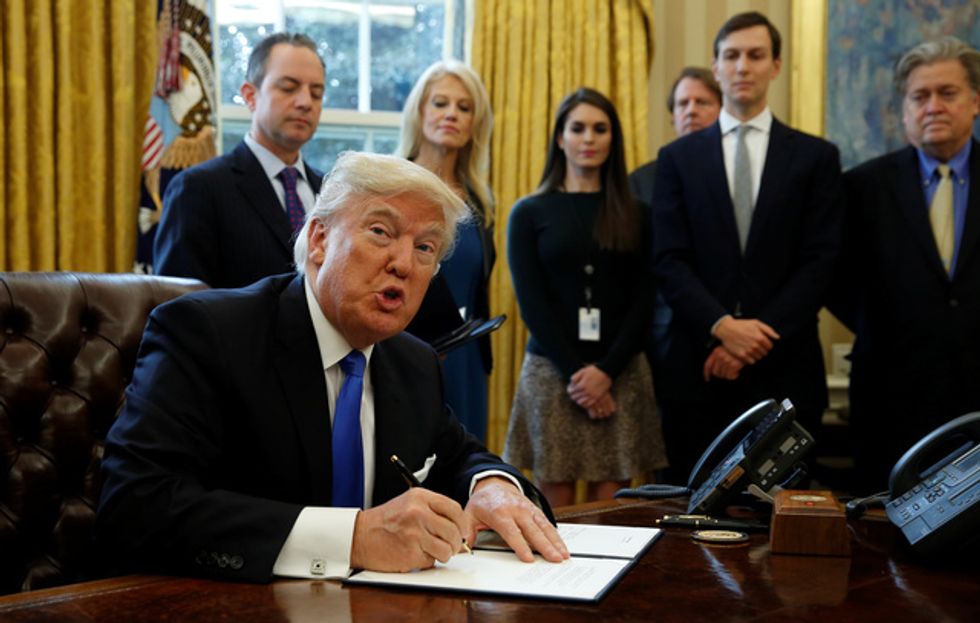 Reprinted with permission from Alternet.
President Trump's White House is not only being run by super-wealthy Americans, it is filled with men and women whose far right-wing advocacy also made them rich. These White House staffers have made fortunes as political consultants for America's most right-wing ideologues, from the billionaire energy magnate Koch brothers to the Mercer family, whose data-crunching operation helped Trump target likely voters.
These political mercenaries include Steve Bannon, who is now Trump's chief strategist; Kellyanne Conway, who is now a White House counsel; Donald McGahn II, another White House counsel; and Marc Short, Trump's legislative affairs director.
The lucrative consulting work was revealed in documents released by the White House late Friday, when it provided federal ethics office summaries of the assets and income of scores of its top political appointees. While most press reports have focused on the potential for financial conflicts of interest posed by the multi-billions in holdings by numerous White House officials, the personal financial statements show how key political advisers became rich via their extreme anti-government activism.
Bannon, the former right-wing media impresario and now chief strategist to the president, has assets worth between $13 million and $56 million, according to his financial declaration. He earned more than $500,000 last year through businesses and nonprofits tied to GOP mega-donors, Robert Mercer and his daughter Rebekah Mercer. Bannon earned $191,000 in consulting fees from Breitbart News Network, $125,333 from the Mercers' data-mining firm Cambridge Analytica, and took $61,539 in salary from the Government Accountability Institute, a non-profit that published books attacking Hillary Clinton and Jeb Bush. Bannon was also paid $100,000 in director fees for Citizens United Productions. (Per an agreement with White House ethics attorneys, Bannon is selling his stakes in Cambridge Analytica and Glittering Steel, a film company.)
Conway, the former pollster and now White House counsel, has assets valued between $11 million and $44.2 million, according to her financial statement. Her clients number some of the most anti-government, anti-regulatory lobbies and front groups in America—often set up by the Kochs. These include American Conservative Union, American Principles Project, Americans for Prosperity Foundation, Citizens United, Citizens United Political Victory Fund, FreedomWorks for America, Ending Spending, National Rifle Association, National Right to Life Committee, Tea Party Patriots and the Mercers' Cambridge Analytica.
McGahn has assets between $1.8 million and $7.1 million, and drew $2.4 million in salary last year from the Jones Day law firm, where he was a partner. As the New York Times has noted, the firm's client list is "loaded with deep-pocketed conservative groups, from Americans for Prosperity…to the Citizens United Foundation."
Marc Short, Trump's legislative affairs director, made $78,000 from Freedom Partners, a Koch-funded group where he formerly was president, and nearly $380,000 in consulting fees for right-wing clients such as the Club for Growth and Susan B. Anthony List, and Marco Rubio's presidential campaign.
Mere Millionaires Among Super Rich
The financial statements of the White House staff are another lens into the values and agenda of the Trump administration, following what they have done and plan to do—apart from the focus of the commander in chief's early morning Twitter storms. Most of the press coverage immediately following the statements' release focused on the potential for the administration's ethical and financial conflicts of interest. For example, Ivanka Trump and Jared Kushner, the president's daughter and son-in-law, both senior White House aides, have family businesses worth up to $741 million. They are hardly alone.
Gary D. Cohn, who now leads the National Economic Council, was a former president of Goldman Sachs, with assets valued between $263 million and $611 million and income last year as high as $77 million (the financial statements contain ranges). Reed Cordish, who is in charge of technology initiatives and previously was a Maryland developer, has assets up to $424 million.
Such extreme wealth is beyond anything most of Trump's voters can imagine. A report by the Washington Post's Phillip Bump revealed that "27 staffers who work for him are worth a combined $2.3 billion thanks to real estate, investments and hefty salaries." Bump's digging found "86 percent of Trump counties make less in a year than 27 Trump staffers are worth." In 80 percent of the counties across America, the total combined incomes of every resident averaged $2.1 billion.
The potential for self-dealing brought the expected warning from Washington watchdogs, who said it would be virtually impossible for many Trump officials not to make decisions affecting their personal wealth.
"It is Ethics 101, the most basic thing you are not supposed to do: using your official capacity to benefit your financial interest," Norm Eisen, an Obama administration ethics chief who is now a co-chairman of Citizens for Responsibility and Ethics in Washington. CREW has filed federal lawsuits alleging that President Trump's foreign business entanglements violate the Constitution's so-called emoluments clause, which bars presidents from taking gifts or payments from foreign interests.
There are many disturbing layers to these disclosures that will continue to unfold as long as the Trump administration is in power. The potential for self-enrichment and that arc of corrupt activity is one thread. Another is the elevation of the most extreme far-right ideas to the center of the Trump presidency and the Republican-majority Congress.
Trump's hiring of political consultants who made fortunes via the most extreme right-wing advocacy is already threatening. Federal Appeals Judge Neil Gorsuch's nomination to the Supreme Court is emblematic of the GOP cadre led by the Kochs and the Mercers, who want the federal administrative state broken up. They have allies in Bannon, Conway, McGahn and Short. Should Gorsuch be seated on the Court as its ninth, tie-breaking member, it's likely he would issue rulings dismantling laws that protect the public by limiting corporate activities. The result would turn the six-figure paydays of Trump's political mercenaries into small change for their patrons, especially when compared to their investments' future profits.
This article was made possible by the readers and supporters of AlterNet.