5 Republican Leadership Conference Speakers Who Should Embarrass Republican Leaders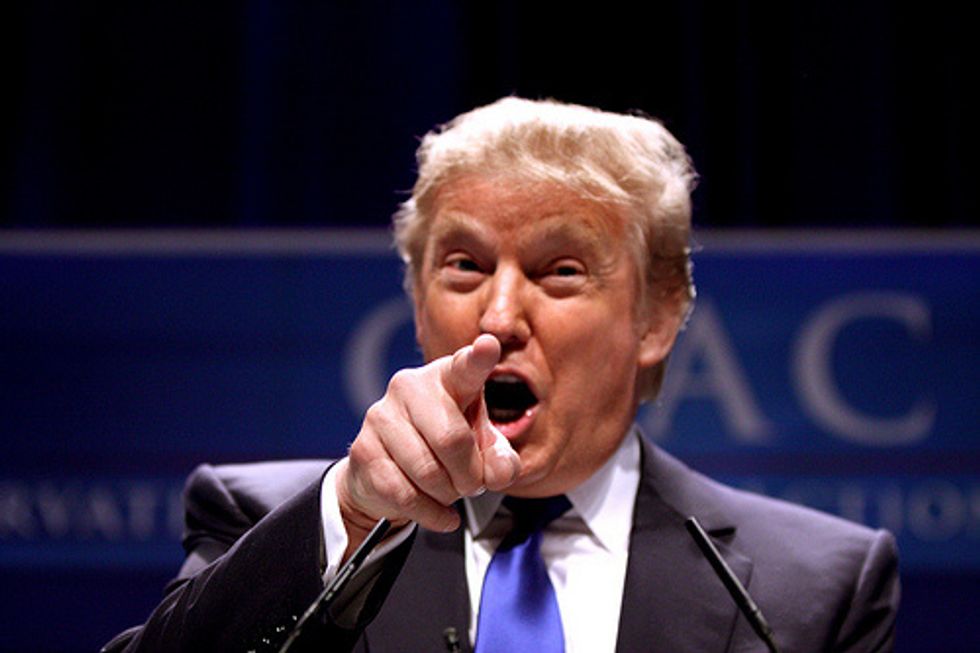 Bachmann, Cruz, Robertson, Trump, West… the Republican Leadership Conference is getting the band back together!
For the low, low price of $189.00, right-wingers of all stripes can enjoy three full days of presentations by conservative firebrands at the Republican Leadership Conference in New Orleans this weekend. And the lineup does not disappoint.
In a list that reads like a "who's who" of Tea Party Republicans, the bill at this year's conference shows just how sharp a right turn the Republican Party has taken in recent years. Louisiana governor Bobby Jindal is set to kick things off Thursday evening, followed by Duck Dynasty's Phil Robertson and rising Tea Party star Ben Sasse (R-NE).
And that's just the opening-day appetizer.
As an organizer of the event described it in 2011, the RLC is "designed to showcase the top Republican leaders and ideas in the country — to talk about limited government, fiscal responsibility and rebuilding the American economy." Apparently, the Republican Party is now being led by reality stars and Michele Bachmann.
Here's a look at five speakers who will get a shot at remaking the Republican Party in their own intellectual image this weekend:
Phil Robertson
Undeterred by the scandal surrounding his homophobic and racist comments, Duck Dynasty star Phil Robertson has seized on his persona as a straight-talking, evangelical Southerner who speaks to the heart of the American conservative. On Thursday, he'll have the opportunity to speak to his supporters face to face at the conference.
One can only hope Robertson's address will turn to his thoughts on homosexuality, which he previously spoke about in a widely read interview with GQ. In that piece, Robertson told Drew Magary:
It seems like, to me, a vagina — as a man — would be more desirable than a man's anus, that's just me.

I'm just thinking: There's more there! She's got more to offer. I mean, come on, dudes! You know what I'm saying? But hey, sin: It's not logical, my man. It's just not logical.
"Start with homosexual behavior and just morph out from there," he explained, when asked about homosexuality and sin. "Bestiality, sleeping around with this woman and that woman and that woman and those men."
Donald Trump
To kick the fiery rhetoric meter up to 11, the conference will welcome the country's most famous birther to address the crowd on Friday. If this year's CPAC event in Washington, D.C. was any indicator of what to expect from The Donald, he's not going to be timid.
At CPAC, Trump offered this theory about immigration reform: "Immigration, we're either a country or we're not, we either have borders or we don't; you have a border, you have a country and if you don't have a border, what are we, just a nothing? A nothing."
Allen West
At this point, it should not be a surprise that former congressman Allen West fits right in with the Republican "leadership."
In recent weeks, West has been up to his old tricks as a right-wing blowhard. Last week, he questioned the patriotism of wounded veteran and current U.S. congresswoman Tammy Duckworth (D-IL), after House Minority Leader Nancy Pelosi (D-CA) appointed Duckworth to the new Benghazi select committee.
"I just don't know where her loyalties lie," West said of Duckworth. "You know, for her to have been a veteran, a wounded warrior for the United States Army, she should know that this is not the right thing. And hopefully, you know, she will remember the oath of office that she took as an Army officer and not the allegiance I guess she believes she has to the liberal progressives of the Democrat Party."
Rick Santorum
Likely preparing for another presidential run, former Pennsylvania senator Rick Santorum is sure to raise a few eyebrows if he speaks about what separates him from other potential GOP candidates.
In the 2012 presidential race, Santorum distanced himself from the average GOPer, saying about birth control: "One of the things I will talk about, that no president has talked about before, is I think the dangers of contraception in this country."
"Many of the Christian faith have said, well, that's okay, contraception is okay," he piled on. "It's not okay. It's a license to do things in a sexual realm that is counter to how things are supposed to be."
Michele Bachmann
Finally, the RLC will welcome Minnesota congresswoman Michele Bachmann. Bachmann, who plans to retire at the end of her current term, will nonetheless continue to guide the party down her own ideological path, it seems. (She is speaking at the RLC!)
That path includes conspiracy theories. Plenty of them.
There was the time she suggested that Hillary Clinton paid off ex-CIA acting director Michael Morell — because his Benghazi testimony did not match Bachmann's theories about the attacks. Or when she argued that President Obama was actively supporting al Qaeda, which she used as evidence to prove the world is coming to an end.
Or her speech at CPAC, in which she shared her thoughts about immigration reform. "Wall Street and big business" are "clamoring for amnesty" in order to turn the U.S. into "a country of dependency and the welfare state," Bachmann said.
So, with that, welcome to the 2014 Republican Leadership Conference. And welcome to the future of the Republican Party.