Right Wing Lashes Out At Paul Ryan Over Obamacare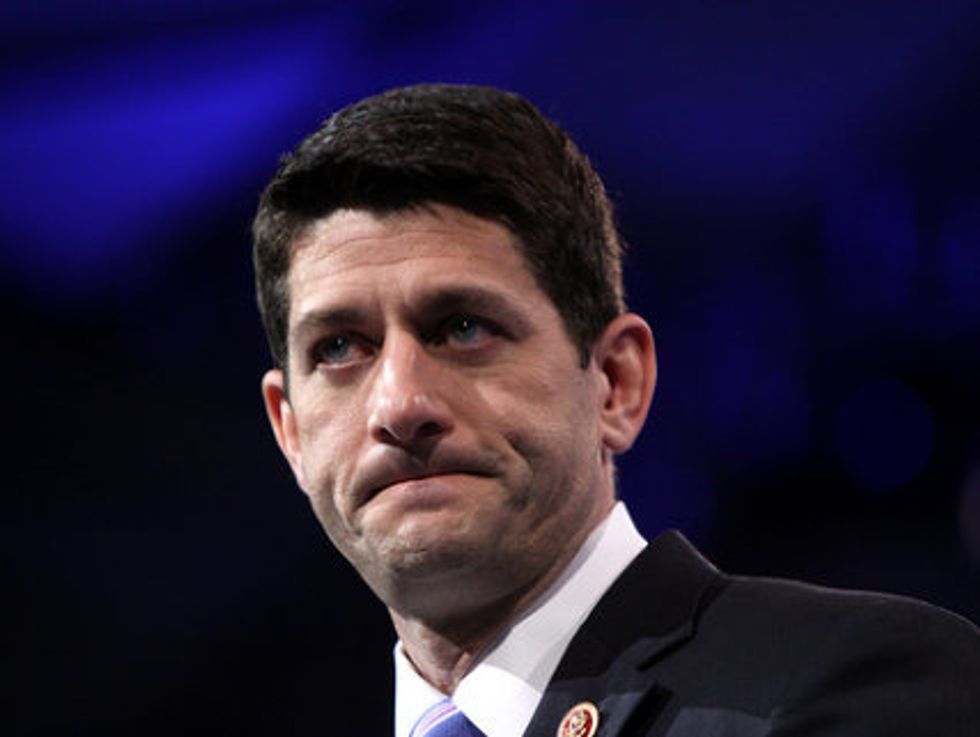 In one of the most surprising examples of how committed Republicans truly are to attacking the Affordable Care Act, the right wing is lashing out at Representative Paul Ryan (R-WI) for being insufficiently committed to killing Obamacare.
The anger stems from an op-ed by Ryan published in The Wall Street Journal on Wednesday. Ryan used the platform to pitch his plan to end the debt ceiling crisis: Republicans would raise it in exchange for a deal in which they agree to roll back some of the sequester cuts, and Democrats agree to cuts to earned-benefit programs like Social Security and Medicare.
Ryan left the specifics of his plan rather vague, but given the House Budget Committee chairman's history with "common-sense reforms of the country's entitlement programs and tax code," it's a safe bet that he has another ideological "vision document" in mind. Combine that with Ryan's long track record of killing bipartisan budget negotiations, and it's not hard to imagine Democrats recoiling at the prospect of having yet another debate over a Ryan budget.
What is surprising, however, is the negative reaction that Ryan's op-ed garnered on the right. As Tom Kludt points out at Talking Points Memo, right-wing groups such as the Senate Conservatives Fund, Heritage Action, and RedState.com immediately lashed out at Ryan for failing to include the death of Obamacare in his demands in exchange for not intentionally crashing the global economy. Ryan made no mention of the law in his op-ed (perhaps because he knows that its repeal is not realistic, perhaps because he needs the law's savings to balance his own budget).
And they weren't alone. Amanda Carpenter, a spokeswoman for Senator Ted Cruz, tweeted "There is one big word missing from this op-ed. It's start [sic] with an O and ends with BAMACARE." Ben Shapiro, an editor-at-large at the right-wing Breitbart.com, lamented that "Paul Ryan dropping Obamacare demands re: shutdown and debt ceiling is suicidal strategy. And sadly typical." And the list of angry right-wingers goes on.
The backlash was enough to make Ryan reassure Republicans that he is, in fact, committed to taking health insurance away from the tens of millions of Americans who will obtain coverage through the Affordable Care Act.
"Obamacare's an entitlement just like any other entitlement. So that, as far as we're concerned, is in this conversation. Medicare, Medicaid, Obamacare, those are the big drivers of our debt," Ryan told radio host Bill Bennett on Wednesday. "If you look in the op-ed, I say we have to — ultimately we have to rethink all of our nation's healthcare laws."
But he didn't go as far as to demand that the law's repeal be linked to the debt ceiling. "I don't know that within the next two weeks we have a viable strategy for actually repealing Obamacare, every piece of it," he told Bennett.
The fact that far-right conservatives would turn on Paul Ryan — who was a hero of the movement as recently as this spring — illustrates just how committed they are to the impossible dream of convincing Democrats to kill the law as a condition for reopening the government and paying its bills. It also underscores just how futile negotiations with the House would be for President Obama and the Democrats; if another Ryan plan wouldn't be sufficiently conservative for the right, then there's really nothing that the president could offer that would satisfy his opponents.
Photo: Gage Skidmore via Flickr