Right Wing Readies For Fight In Oklahoma Senate Race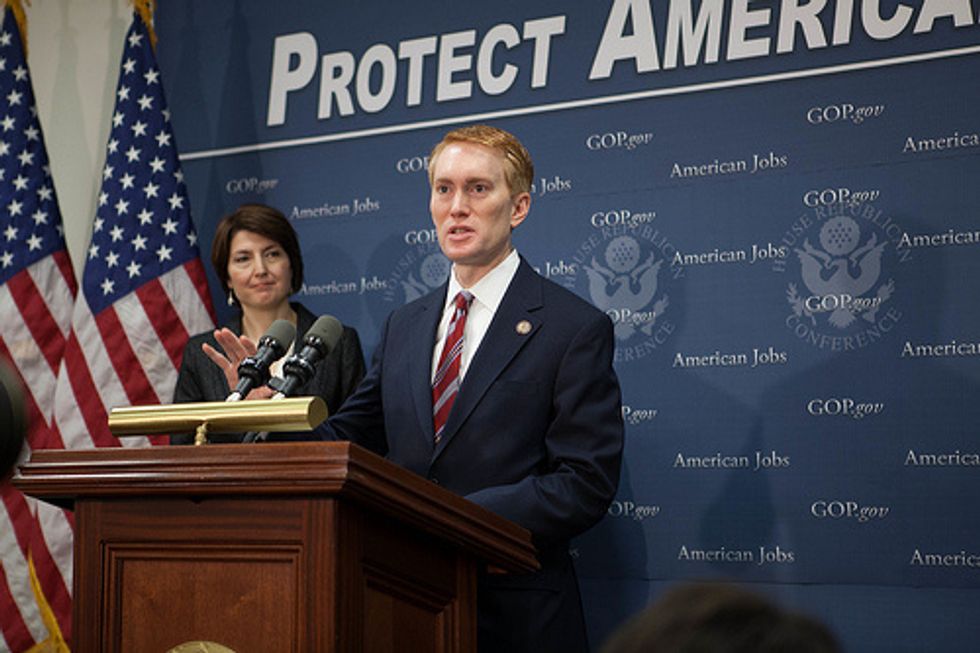 Just days after Senator Tom Coburn (R-OK) announced that he would retire at the end of the year, the battle lines are already being drawn in the race to replace him in the U.S. Senate.
On Monday afternoon, U.S. Representative James Lankford (R-OK) announced that he will be a candidate in the June 24 Republican primary (the general election will take place on November 4).
"After a great deal of thought, prayer and discussion with my family, I feel led to continue my Oklahoma common-sense and principled approach to attack the deep problems in the United States Senate," Lankford said in a statement released by his campaign.
"I am willing to wage a hard-fought campaign for the opportunity to continue Dr. Coburn's conservative legacy," he added.
Lankford, who served as program director of the Falls Creek Baptist Conference Center before successfully winning election to the House in the Republican wave of 2010, is currently the chairman of the House Republican Policy Committee, making him the fifth-ranking member of the GOP majority. His strong support from party leadership, along with his solid fundraising — Lankford's campaign committee has $454,738 in cash on hand — make him a strong contender in the special election to replace the infamously conservative Coburn.
Lankford's leadership position may leave him vulnerable in the Republican primary, however. Despite his reliably Republican voting record, Lankford's alignment with Speaker John Boehner (R-OH) and his tepid support for a path to citizenship for undocumented immigrants — along with votes to fund the government without defunding the Affordable Care Act — have left some on the right uneasy about his candidacy.
Before Lankford even announced his intention to run, the Senate Conservatives Fund — an influential political action committee founded by former senator Jim DeMint, and financially backed by heavy-hitting Republican fundraisers such as Koch Industries and Foster Friess — had already declared that the congressman is too moderate to garner their support.
"We won't support Congressman Lankford's bid for the Senate because of his past votes to increase the debt limit, raise taxes, and fund Obamacare," Senate Conservatives Fund executive director Matt Hoskins said in a statement. "We have reviewed his record and it's clear that conservatives cannot count on him to fight for their principles."
Similarly, the Madison Project — a right-wing group that has gained notoriety in 2014 by attacking Senate Minority Leader Mitch McConnell (R-KY) and backing his primary challenger, Matt Bevin — immediately released a statement criticizing Lankford as insufficiently conservative.
Although Madison Project policy director Daniel Horowitz did acknowledge that "Lankford is not a purely liberal Republican and an anathema to Oklahoma," he still warned that "Rep. Lankford is a quintessential status quo Republican."
"There is no way someone like Lankford will change the country club culture of Senate Republicans; we will be changed by them," Horowitz writes. "Sending another mediocre Republican to the meat grinder would be a waste of one of the most conservative seats."
Instead of Lankford, the Madison Project urged Rep. Jim Bridenstine (R-OK) to "jump in the race and give voice to conservatives." And while the Senate Conservatives Fund hasn't explicitly endorsed Bridenstine, the freshman congresssman is the only House member to have received a donation from the group during the 2014 election cycle.
Bridenstine, who was elected with Tea Party support in 2012, is among the most conservative members of the 113th Congress. It's not hard to understand why right-wing groups might favor him over Lankford; while Lankford is capable of delivering red meat to the base (such as the time that he blamed gun violence on welfare moms), he'll never be able to match Bridenstine, who compares himself to Patrick Henry and once took to the House floor to rage that Barack Obama's "dishonesty, incompetence, vengefulness and lack of moral compass" make him unfit to serve as president.
Bridenstine has not yet announced whether he will pursue the Senate seat. Oklahoma House Speaker T.W. Shannon is also reportedly mulling a run, while Rep. Tom Cole, Attorney General Scott Pruitt, and Governor Mary Fallin have all anounced that they will not run.
No matter how ugly the Republican primary gets, it is unlikely to yield a Todd Akin-like scenario in the general election; in deep-red Oklahoma, the Republican nominee is almost certain to win the general election, no matter how extreme he or she has to get to capture the nomination.
Photo: House GOP via Flickr