Right-Wing Rep. Steve King's Greatest Hits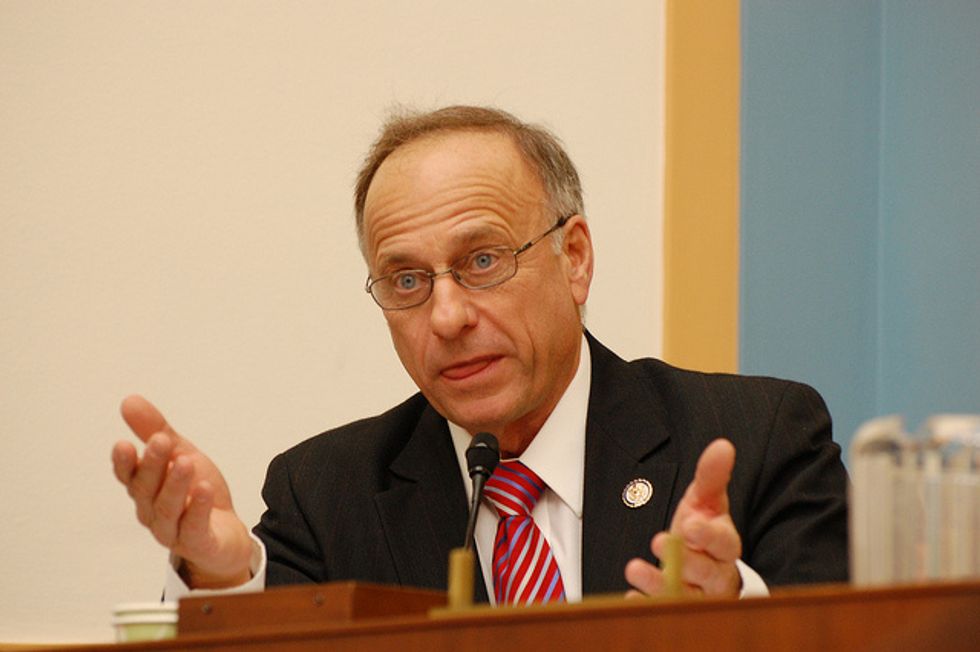 After Senator Tom Harkin (D-IA) announced this weekend that he will retire at the end of his term, speculation has swirled that Tea Party favorite Representative Steve King may be seriously considering a run for Senate in 2014. While King may be too radical for some Republicans, others believe the congressman could be an asset in the Senate. According to the Waterloo-Cedar Falls Courier , "Despite those misgivings about the outspoken King running on a statewide ticket, [former GOP State Central Committee member Tim] Moran thinks the party — both on a state and national level — might find it 'refreshing to have Steve King at top of ticket to drive the message and definition of the party.'"
"Refreshing" may be an overstatement. King is infamous for his outrageous comments on a wide range of issues. Here's a look back at some of the most offensive Steve King moments of his 10 years in Congress thus far. (IEEE-USA Photo/ via Flickr)
'Anchor Babies' Should Be Deported Too
Rep. King wants to take away the rights of what he calls "anchor babies" —children born in the United States to illegal or undocumented parents. He believes these individuals should not be granted amnesty or the opportunity to become legal American citizens. King claims a large number of persons are manipulating immigration law loopholes by crossing our borders illegally to deliberately have children on U.S. soil in order to gain citizenship. (Photo by Mark Taylor/ via Flickr)
Hat tip: Huffington Post
Mexicans and Livestock?
During a 2007 speech on the House Floor, King used props to show how he proposes to build a foolproof wall on the U.S.-Mexico border. Not only would the concrete wall go underground, but it would also include barbed wire so no one would be tempted to climb over the concrete monstrosity. He doesn't want to stop there: "We could also electrify this wire, with a kind of current that wouldn't kill somebody but it would simply be a discouragement for them to be fooling around with it," he said.  " We do that with livestock all the time."
Illegal Immigrants and Lazy Dogs
In an Iowa diner last May, the congressman compared illegal immigrants to lazy dogs . He believes that the U.S. should pick its immigrants the same way an individual would choose a dog. "You want a good bird dog? You want one that's going to be aggressive? Pick the one that's the friskiest… not the one that's over there sleeping in the corner." (Getty Images Photo/ via NBCLatino)
Girls Can't Get Pregnant From Rape and Incest
Former Missouri representative Todd Akin's infamous comments concerning a women's body being able to "shut down" conception after a "legitimate" rape stirred an uproar from both Democrats and Republicans. But not from King, who came to Akin's defense and called the attacks "petty [and] personal." And that's not the worst of it. As King is so qualified to speak on the female anatomy, he felt compelled to bring a diagram of the abortion process to the House floor and vividly describe the painful dismemberment of a fetus. Despite his supposed expertise on rape and abortion, King still claims to have never heard of circumstances where young girls are impregnated from statutory rape or incest — although according to the American Congress of Obstetricians and Gynecologists (ACOG) ,  there are 10,000-15,000 cases every year in the United States.
Hat tip: Huffington Post & Talking Points Memo

Children Will Be Raised In Warehouses If We Don't Defend Marriage
In 2010, the congressman warned of the dangers children face if the U.S. fails to defend the sanctity of marriage. King stated , "So, if we lose marriage — for instance, if our children are raised in warehouses, so to speak. There have been civilizations that have tried to do that. The Spartans did that. They took the children away and taught them to be warriors. It's a good way to defend a country, but not much of a way to run a civilization. So, I'm afraid if that happened — if we lose the marriage, we lose the home, we lose the nuclear family then we can't teach our values. We won't be able to teach our faith. We won't be able to teach life. We won't be able to teach our Constitutional values either. That's why I'm afraid it's going to be very, very difficult to defend life." (Photo via CNN.com)
Hat tip: Think Progress

King: Modern-Day McCarthy
King was quoted calling Joe McCarthy, the U.S. senator who famously started a communist witch-hunt in the 1950s, " a great American hero ." Rep. Barbara Lee (D-CA) compared King to McCarthy after he accused Berkeley councilwoman Maudelle Shirek — civil rights leader and peace activist — of having communist ties. King defended McCarthy's commitment to American democracy against commies. (Photo by Rupert Colley: History In An Hour/ via Flickr)
Outrage Over Onyango Obama
Since the House Judiciary Committee and Rep. King apparently have nothing better to do, he demanded President Obama's uncle Onyango Obama testify before the committee about treatment he received after being "arrested for allegedly driving under the influence of alcohol ." (Photo via TalkingPointsMemo.com)
Hat tip: Talking Points Memo