Right-Wingers Question Veracity Of Polls — But They Predicted Romney Defeat Months Ago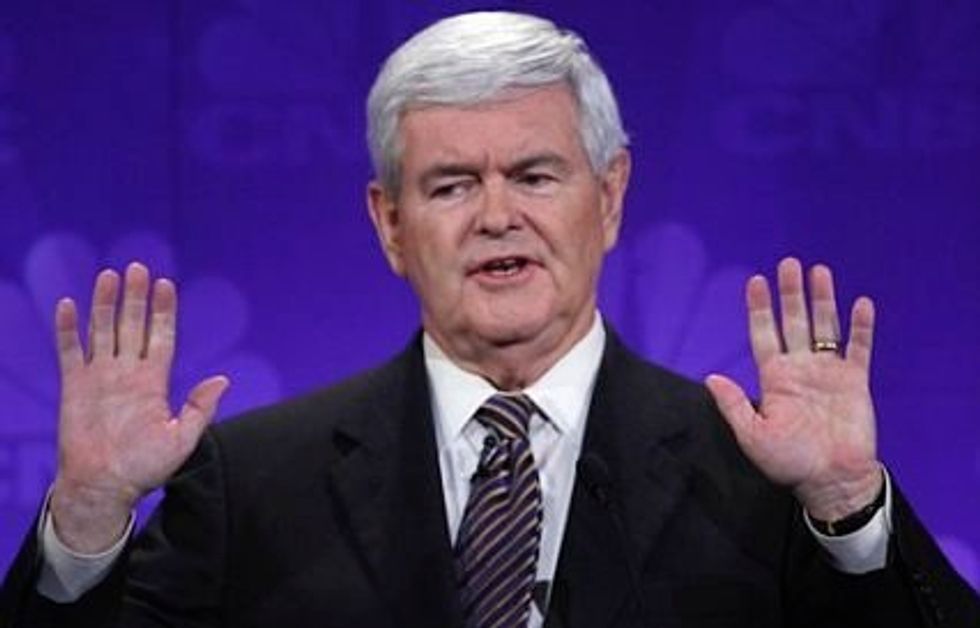 In the endless twilight struggle against reality among the Republican right, their latest skirmish with everybody else concerns polls — especially those that show Barack Obama increasing his small but durable lead over Mitt Romney. Voter surveys by mainstream media organizations are wrong because they "oversample" Democrats, but they aren't merely mistaken. According to several leading right-wing theorists on the radio and Internet, those discouraging polls are designed to mislead by the liberal biased media, so that good Republican voters will simply give up.
Slate's Dave Weigel has dubbed them "poll sample truthers" and perhaps needless to say, there is scant truth in their feverish accusations.
Nevertheless, prominent figures have promoted versions of this conspiratorial analysis, including radio behemoth Rush Limbaugh, Redstate blogger and CNN contributor  Erick Erickson, Sean Hannity, columnist and author Ann Coulter, former House Speaker Newt Gingrich, and a host of lesser voices floating through the ether. After all, it perfectly reflects their cartoonish worldview, in which scheming media liberals seek to manipulate the sheeplike public against embattled and righteous "conservatives."
"They want you thinking your side's lost. They want you thinking it's over for what you believe. And that makes you stay home and not vote. That's what they're hoping."
This theory suffers from many defects — not least of which is that many of these same right-wing geniuses were predicting President Obama would defeat Romney months ago, long before any of the suspect polls were published.
Limbaugh himself cast doubt on Romney's November prospects during the Republican primaries, even though he never quite had the guts to endorse Newt Gingrich or Rick Santorum. For months, he sneered loudly and repeatedly at the notion that Republicans should line up behind the former Massachusetts governor because he was the most viable candidate against Obama. "From the get-go, the reason to support Romney is that he's the guy that can beat Obama," he roared last January. "Mitt Romney is 9-16 in his electoral career.  He's nine out of 25.  That's Mr. Electability?  I don't understand."
Until Romney finally sewed up the nomination, Limbaugh continued to mock the electability argument, pointing out the candidate's weaknesses and insisting that he won primaries only by vastly outspending and maligning underfunded opponents. Yet now Limbaugh insists any poll showing Romney behind must have been rigged.
The most predictable poll truther is Newt Gingrich, who has made a long and profitable career from attacking the press. Last week he told Fox viewers that poll results showing Romney behind in key states were produced by "the most intensely biased media you could imagine." Referring to a Virginia poll with results he didn't like, Gingrich said it  "shows Obama up by four points.  And you evaluate the poll and realize it's probably off by 12 to 15 points in the number of Republicans and yet it's page one.  It's a big story…You go through item after item like this."
Of course, this is the same Gingrich who predicted during last spring's primaries, when he was still a candidate, that Romney was a "dead loser" who had no hope of defeating Obama. Last March he described the man who defeated him as the party's weakest candidate since 1920. That was then and this is now, and nothing that emerges from the mouth of Gingrich then or now can be taken seriously.
During the primaries, Erick Erickson was forthright in his fervent support for Santorum and in his bluntly stated conviction that Romney could not possibly defeat Obama. Erickson's sincerity was not in doubt. Whenever he confronted the possibility that Romney would clinch the nomination, his writing became morose and apocalyptic.
As far back as November 2011, he wrote a long post ventilating his worst fears. The ominous headline said it all  — "Mitt Romney as the Nominee: Conservatism Dies and Barack Obama Wins."
Erickson certainly deserves credit for his lack of illusions. In that same post, he predicted both whom his party would nominate and what that would portend. "Mitt Romney is going to be the Republican nominee," wrote the Redstate editor. "And his general election campaign will be an utter disaster for conservatives as he takes the GOP down with him and burns up what it means to be a conservative in the process."
Erickson knew why Romney would lose, too, describing him as "a man devoid of any principles other than getting himself elected. As much as the American public does not like Barack Obama, they loath [sic] a man so fueled with ambition that he will say or do anything to get himself elected. Mitt Romney is that man." Moreover, wrote Erickson, the public would see Romney as "a multi-millionaire scion of the Rockefeller Wing of the Republican Party whose closest encounters with the common man are accidentally touching one of the many hired hands in one of the many rooms of one of his many mansions." Class warfare, anyone?
Today, however, Erickson is irritated by polls showing Romney behind, which he says prove a "confirmation bias" in the media. Although he doesn't believe in a media/pollster conspiracy against Romney, he believes there is a liberal bias distorting surveys that show the Republican lagging. "The polls are confirming what the press thinks," and that they have a larger than 2008 Democratic turnout is of no consequence to them."
And let's not forget Coulter, perhaps the very first of her ilk to warn that Mitt meant disaster. When she spoke at the Conservative Political Action Committee convention in Washington, D.C., back in February 2011, a fan in the audience asked her view of the Republican 2012 hopefuls.
The blunt blonde did not hesitate: "I may as well tell you what my prediction is…Well, I'll put it in a nutshell. If you don't run Chris Christie, Romney will be the nominee and we'll lose." Wild applause and cheers broke out, and Ann looked very pleased with herself.
In fairness, Coulter changed her mind late last year and endorsed Romney. But still it's sad that she can't seem to enjoy her vindication now.
Photo credit: AP/Paul Sancya, File