Ringo Starr Focuses On The Next Move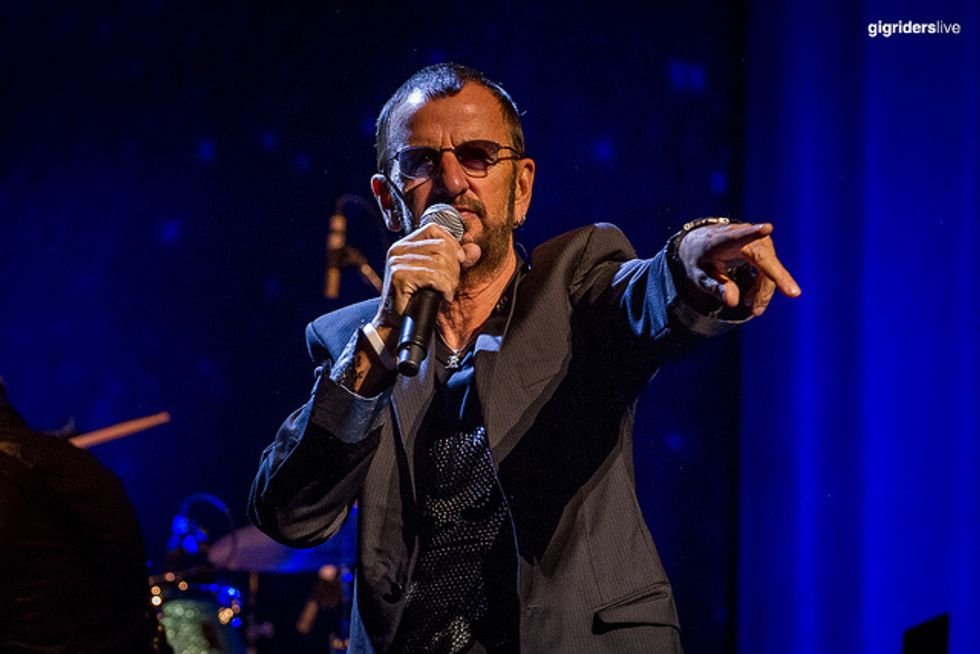 By Randy Lewis, Los Angeles Times (TNS)
A day before Ringo Starr's new solo album, Postcards From Paradise, was slated for release, the former Beatle was at the hub of a frenzy of activity. He bounded from one room to the next in his top-floor suite at a West Hollywood hotel, hustling through a string of interviews.
His focus was largely on Postcards From Paradise, a collection of collaborations released Tuesday that features many of his rock star pals, including Joe Walsh, Todd Rundgren, Peter Frampton, Tom Petty & the Heartbreakers keyboardist Benmont Tench and producer-songwriter Glen Ballard. But it wasn't long before Starr turned to thoughts about his next album.
"I've recorded the last three albums this way, at my home," said the 74-year-old Starr, looking trim in his all-black outfit. "There's none of the pressure of everybody being in the studio, and the red light goes on and everybody's got to get it right. But then I went into a studio with Joe Walsh recently and we did it that way, and it was great.
"So I might do my next record the regular way," he said.
Such continued focus on his next move is part of what's allowed Starr to remain vital, but there are times in the new album where he revisits earlier chapters in his life. The record's opening track, "Rory and the Hurricanes," charts the excitement he soaked up as a lad in postwar Liverpool playing rock 'n' roll with like-minded pals, before he fell in with what he often refers to as "that other band I was in."
"It's a true story," Starr said, relaxing in his chair. "We were living off bread, butter and jam. One day, we ran out of butter, and then it was just bread and jam. We went to London because that was the center of where everything was happening in music, but no girls would dance with us because we were from Liverpool, and we had the accents."
In "Bamboula," Starr reconnected with songwriter-producer-arranger-orchestrator Van Dyke Parks for a number rooted in the roiling rhythms and party spirit of the Crescent City. "I was experimenting, trying my English version of the New Orleans style, so I called up Van Dyke, who knows a lot about New Orleans music — and every other kind of music. He came over, and we worked it out."
Parks, who met Starr through mutual friend Harry Nilsson in the 1970s, has contributed to each of Starr's last three albums and said in a separate interview, "I was very honored he asked me."
"His energy is amazing," Parks added. "He's a peer of mine — I'm a few years younger — and it's almost like he should just kick back and lie down on a hammock. But you look at someone like Ringo — he doesn't drink, he doesn't smoke — and you see his obsession to make the world a more beautiful place, a place of great dreams. It's a great thing."
On April 18, Starr will be inducted — by one of his collaborators from that other band, Paul McCartney — into the Rock and Roll Hall of Fame for his solo career, joining the other three Beatles as double inductees.
Starr scored a handful of Top 10 hits as a solo act following the Beatles' breakup in 1970 — including two No. 1 hits, "Photograph" and "You're Sixteen," from his Ringo solo album. But there's been grousing in some quarters as to whether his solo career warrants a separate induction, something Starr shrugs off.
"This wasn't any doing of mine," he said. "Paul said he thought it ought to happen, and he called and asked that if I were inducted as a solo act, would I accept? I said yes. It's an honor, and it's more recognition."
With his signature hearty chuckle, he added, "I've been saying I'm only doing it so Paul can have a night out."
"I sure am happy for it," said Toto lead guitarist Steve Lukather, who has been a prominent member of Starr's touring All-Starr Band for three years. "There would be no rock 'n' roll drummers if it wasn't for him, if it wasn't for all those kids seeing that man beat the [heck] out of his drums."
As for the influence of his career apart from the Beatles, fans need look no further than Bob Dylan's new album of pre-rock pop standards, Shadows in the Night.
Dylan joins a long line of contemporary musicians who've tackled the Great American Songbook, a stream of interpreters that's also recently included Lady Gaga as well as Rod Stewart, Linda Ronstadt and Nilsson.
Starr, however, was the first major rock musician to go there with his 1970 solo album, "Sentimental Journey," which he always said was recorded as a tribute to the music his parents had on at home when he was a boy in Liverpool.
"I heard a couple of tracks from the Dylan album, and he's really singing carefully — he sounds great," Starr said. "I love Bob, I still go see him every time he comes around.
"Who else do you want to ask me about?"
(c)2015 Los Angeles Times, Distributed by Tribune Content Agency, LLC
Photo: Facundo Gaisler via Flickr