Riots Invoked As Lobbying Tool In Maryland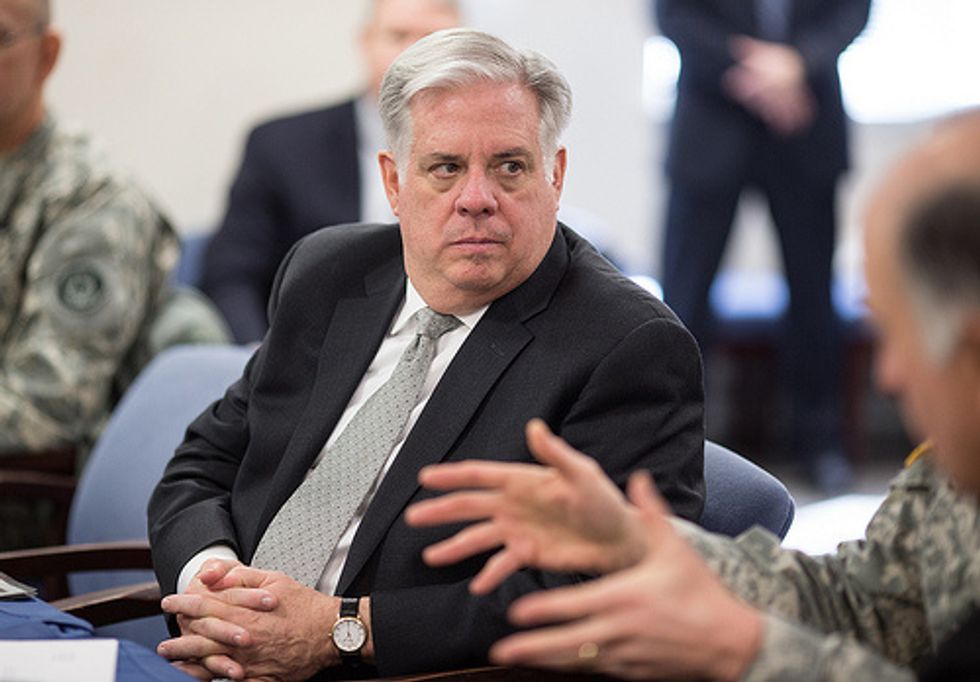 By Erin Cox, The Baltimore Sun (TNS)
BALTIMORE — The advocates who lobby Maryland Gov. Larry Hogan on schools, mental health services, and transportation have begun to incorporate Freddie Gray, the protests against his death and the riots of last week into their pitches.
The national conversation on urban poverty sparked by Baltimore's unrest, they said, underscores the need to invest in the city.
Groups that already were pressing the governor for more funding invoked the demonstrations that followed Gray's death as evidence Monday that their causes merited the money.
Advocates say their causes could help Hogan deliver on his promise to revive Baltimore.
"Obviously, it should change the conversation," said Herb Cromwell, executive director of the Community Behavioral Health Association of Maryland. "What happened is another reinforcement of what happens when we neglect people in other ways."
Hogan, who declared a state of emergency after last week's riots and called in the National Guard, said Monday he has been too busy addressing immediate public safety concerns to make any policy decisions.
"We've been kind of busy saving the city of Baltimore," he said.
The governor moved his office to the city last week and spent several days visiting Baltimore neighborhoods.
Residents asked him for jobs programs, recreation centers and help for their communities. Hogan promised a long-term conversation about helping the city.
By Monday, advocates saw the unrest as a potentially potent lobbying tool.
An advocacy group that had long planned to release a study about the economic benefits of the Red Line, the planned light rail system that would connect West and East Baltimore, waited until the unrest ended to schedule the release for this week.
On Monday, the group's leaders said the project would bring construction jobs, and the rail line would help people secure employment in wealthier areas of the city.
The unrest "does underscore that a place like Baltimore needs bold but smart investment to change its economic future," said David Goldberg, a spokesman for Transportation for America, which conducted the study.
"If Maryland and Baltimore are looking for ways to make Baltimore the economic engine it should be, this is a great place to start."
Another transit group sent Hogan a letter signed by 62 state lawmakers whose districts lie near the proposed paths of the Red Line and the Purple Line in the Washington suburbs. They asked Hogan to support the projects.
"As Gov. Hogan is walking around the west side and people are telling him we need jobs, here is a jobs program that's very shovel-ready," said Brian O'Malley, president and CEO of the Central Maryland Transportation Alliance. "It's not always the case that you have something prepared and ready to go. This has been years in the making."
Hogan has said the rail projects might be too costly for the state to build. He has said he is reviewing them.
The state's teachers union held a previously scheduled event in Prince George's County to urge the governor to release about $68 million the legislature set aside for school aid. About $11 million of that would go to Baltimore's public schools, which face a $108 million budget deficit this year.
Prince George's County Schools Superintendent Kevin Maxwell spoke of Baltimore's unrest.
"Lost in the finger-pointing and blame-casting is the reality that public education remains the only hope for a brighter tomorrow," Maxwell said. "That is why I find it immoral and unjustifiable to deny our students critical funding to assist them in preparing for the competitive world they face."
At the Greater Baltimore Urban League on Monday morning, community leaders expressed frustration about the difficulty getting grant money for worthy causes in poor city neighborhoods.
Keiffer Mitchell, a Democratic former lawmaker and a Hogan aide, said his boss had not ruled out moving ahead with the Red Line and State Center projects.
"He will not be here just because of CNN or MSNBC," Mitchell said.
Mental health advocates, who want the governor to spend about $20 million set aside by lawmakers to pay more to providers, said Monday the city needs them more than ever.
"The events of the past couple of weeks will undoubtedly result in increased demand for trauma services and crisis services," said Dan Martin, a spokesman for the Keep the Door Open campaign. "It makes it even more critical that the governor restore the funding for mental health services that was fenced off by the Legislature."
Don Norris, director of the School of Public Policy at the University of Maryland, Baltimore County, said he was "not in the least bit surprised that people who want funding for their pet project would use almost any excuse to lobby for it."
But he questioned whether the approach would be effective.
"How does the Red Line stop Baltimore riots?" he said. "I don't think you address poverty by building a subway. It's much more complicated than that."
Several Democrats wondered aloud how to best use the national attention and political capital the Baltimore riots created.
Rep. John Sarbanes said leaders have to be careful not to make promises they can't fulfill and buoy up people fatigued by years of failed attempts to revitalize the city.
"Well, we tried this and it didn't work, we tried X and Y and Z, and they're tired," he said. "Our challenge is to make them untired to figure out how to motivate people again."
(The Baltimore Sun's Ian Duncan contributed to this article.) (c)2015 The Baltimore Sun, Distributed by Tribune Content Agency, LLC.
Photo: Fort George G. Meade Public Affairs Office via Flickr