RNC Chair Echoes Kooky Alex Jones Conspiracy Theories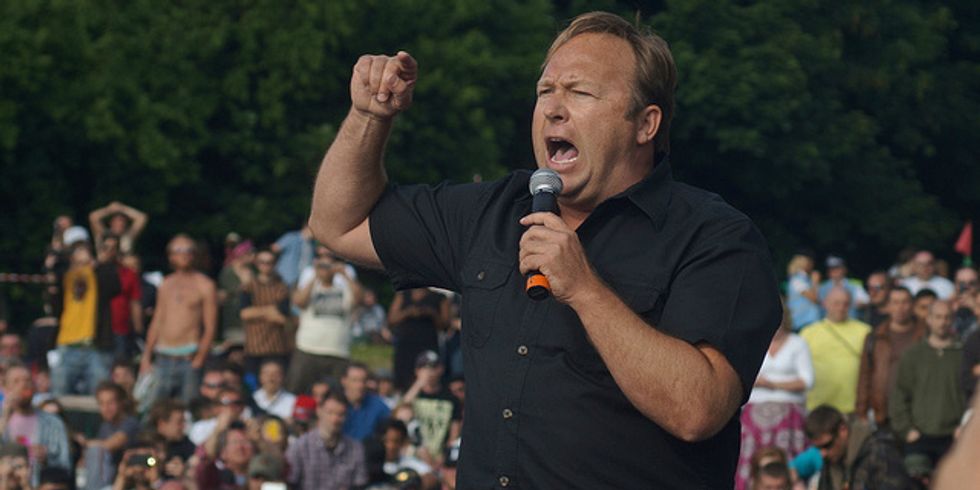 Reprinted with permission from Shareblue.
Less than 48 hours after Trump banned a CNN reporter from covering a White House event just for asking a question, his ally and informal adviser Alex Jones joined him in attacking the news network.
On Wednesday, after CNN correspondent Kaitlan Collins asked Trump a series of questions during a press availability, Trump's new deputy communications director Bill Shine personally banned Collins from covering another supposedly open press event later that day.
Taking his cue from the administration's hostility to the free press — Trump prefers sycophantic outlets like Fox News — Jones followed suit with his own attacks on CNN.
Jones, who hosts the radio and internet show "Infowars," is a conspiracy theorist best known for popularizing the completely made-up theories that the 9/11 attacks were done by the U.S. government and that the Sandy Hook shooting was a hoax.
Jones regularly indulges in flights of fancy completely disconnected from reality that have inspired real world acts of violence. Despite this — or perhaps because of it — he has an ongoing relationship with Trump.
Jones claims he has been in regular phone contact with Trump, who once praised him on air for his "amazing" reputation. Jones said Trump has asked that to have transcripts of "Infowars" sent to the White House.
"They send him transcripts," Jones said this week on his show. "He asks for it, and I haven't been asked to keep that secret, so I can tell you that he gets reports. I don't know if he reads them all."
CNN has been covering stories about Jones' repeated violations of policies at social media sites like Facebook and YouTube, noting that Jones is still available on those platforms while others have been banned.
CNN reporter Oliver Darcy said Jones sent him a "totally bonkers" cease-and-desist letter, demanding that CNN stop reporting on his company. Jones also accused CNN of "un-American" conduct in the document.
In a related video, Jones borrows liberally from the Trump playbook to go after CNN.
Jones said CNN "has been on national news lying about Infowars, lying about everything else that is pro-America." He complained about "all this fake news on CNN."
He attacked the CNN reporter banned by the White House, saying she was "constantly in the face of Trump during everybody else's questions, you name it, during the press conferences, just dominating them."
He went on to mock CNN's media reporter Brian Stelter for criticizing the ban.
Jones also baselessly accused CNN of somehow trying to infringe on his free speech rights.
Trump has, of course, also accused CNN of producing "fake news" and described the entire news media as the "enemy of the people."
Attacks on CNN aren't the only initiatives linking Trump and Jones this week.
Trump attacked Twitter, accusing the company of "shadow banning" Republicans.
"We will look into this discriminatory and illegal practice at once!" he threatened. The term refers to a now-debunked theory that social media sites like Twitter are quietly hiding conservative users from the view of other users without officially removing them.
It isn't happening, but that isn't stopping Trump, Jones, and the Republican National Committee from making the slinging such accusations anyway.
Repeating Trump's attack, Jones said in his video, "They started shadow banning members of Congress last week, just like I told them it was coming."
Apparently referencing Trump using his platform to elevate the unfounded idea, Jones said, "Now people are awake."
Ronna McDaniel, Trump's personally selected chairperson of the RNC, was nearly indistinguishable from Jones in promoting the theory during a Fox News appearance on the same day.
McDaniel claimed Republicans are "being blocked" and said Twitter had to explain "why are they using shadow banning" to silence the right.
Trump is a conspiracy theorist who uses his platform to promote outlandish and made-up stories. Jones, whose rants and attacks closely follow Trump's patterns, spreads his toxic ideas even further and to an audience with a track record of violence and dangerous behavior.
This toxic brew is then further encouraged by the official party through an appearance on a pro-Trump conservative outlet like Fox in a cynical ploy to make Republicans the victims of a nonexistent plot.
None of then are actually being "silenced" at all.
But they're all pushing the same baseless message that they are, attacking free speech while crying wolf about their own.
Published with permission of The American Independent.