RNC Launches 'Poor Hillary Clinton' Website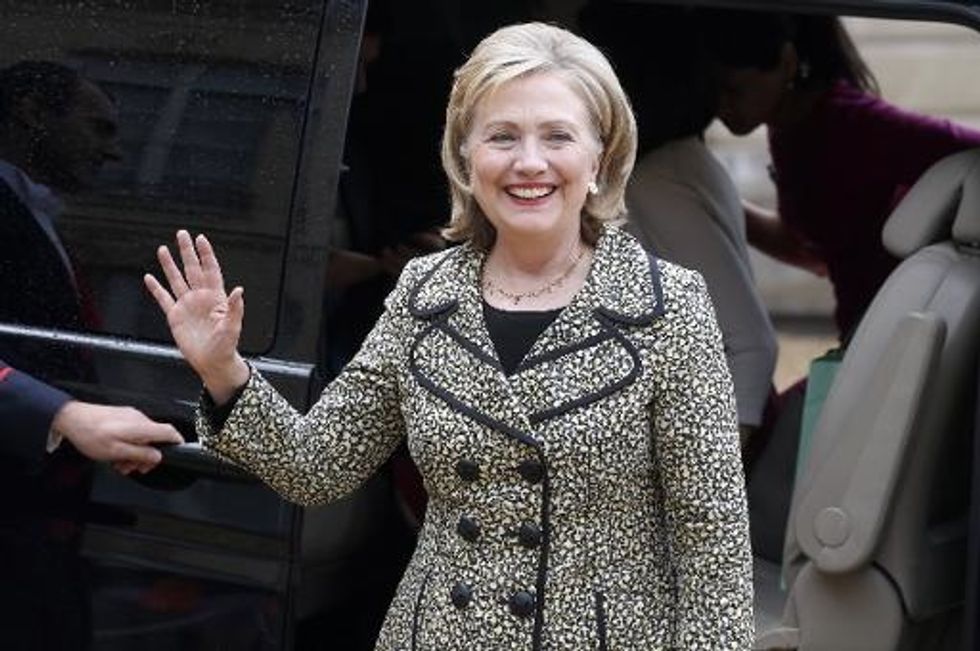 In another attempt to discredit Hillary Clinton's 2016 presidential campaign before it even exists, the Republican National Committee has launched www.poorhillaryclinton.com, a website that mocks Clinton's comments that she was "dead broke" when she and President Bill Clinton left the White House.
"We came out of the White House not only dead broke, but in debt," Clinton said in an interview with ABC's Diane Sawyer in June. "We had no money when we got there and we struggled to, you know, piece together the resources for mortgages, for houses, for Chelsea's education. You know, it was not easy."
The website, which is headlined with a banner reading "Poor Hillary … It's a hard knock life," includes links to press items related to Clinton's wealth. These range from news stories on students protesting her speaking fees to reports on her income. All of the headlines on the website — such as "As Universities Raise Tuition, Hillary Demands Six Figures For Speeches," or "Hillary Demands Special Conditions For University Speeches" — take a sensational tone.
The site even features an article from the Wall Street Journal, declaring "Hillary Richer Than 99.9% Of Americans." This is a stark change from 2012, when it was totally okay for a presidential nominee to be in the 1 percent.
It's not that Clinton's wealth comments aren't problematic. They are, especially for someone who would make reducing inequality a central part of her platform. Clinton needs to find a better way to discuss her personal wealth while still showing that she cares about reducing poverty. But even if she can't, the topic will only be a problem if she gets a serious challenger from the left. It probably won't help Republicans much, given the overwhelming evidence that they're not extremely concerned about the plight of the poor.
It's not just "47 percent" comments that have hurt Republicans. They're committed to not raising the minimum wage. They support decisions like the Hobby Lobby ruling, which makes it even harder for women to access birth control. And they've spent the past few years railing against Obamacare, which drastically improves access to health care. No matter who the Republican nominee is, Clinton would have an easy time making the case that she is more committed to fighting for those at the bottom of the ladder.
It's particularly ironic that Republicans are attacking Clinton for making money, because they faced many of those attacks themselves in the last election cycle. The GOP has gone from accusing Democrats of waging class warfare to claiming that Clinton is unfit for the presidency because she's a part of the 1 percent. Just two years ago, Newt Gingrich said that, "only the elites despise earning money," while championing his program for poor kids to work as janitors. In 2011, Rep. Paul Ryan (R-WI) accused President Obama of taking a "class warfare path" when he proposed a higher tax rate on the rich. And Mitt Romney called Obama's appeal to the middle class a "campaign of division and anger and hate."
Yet now many Republicans are trying to prove that their opponents are "out of touch." Governor Scott Walker (R-WI) nicknamed his Democratic opponent, Mary Burke, "Millionaire Mary," and has accused her family's company of outsourcing jobs — exactly as the Obama campaign did to Romney in 2012. Governor Tom Corbett (R-PA) copied the playbook for his Democratic opponent, calling him "Millionaire Tom Wolf."
AmericaRising PAC also criticized Democratic Georgia Senate candidate Michelle Nunn for laying off employees while doubling her own salary. It's exactly the kind of attack that one is used to seeing from Democrats, not Republicans.
The accusations don't seem to be working, though; all three Democratic candidates are doing better than expected in the polls.
AFP Photo/Thomas Samson
Interested in U.S. politics? Sign up for our daily email newsletter!