RNC Unanimously Votes To Bar CNN, NBC From Hosting GOP Primary Debates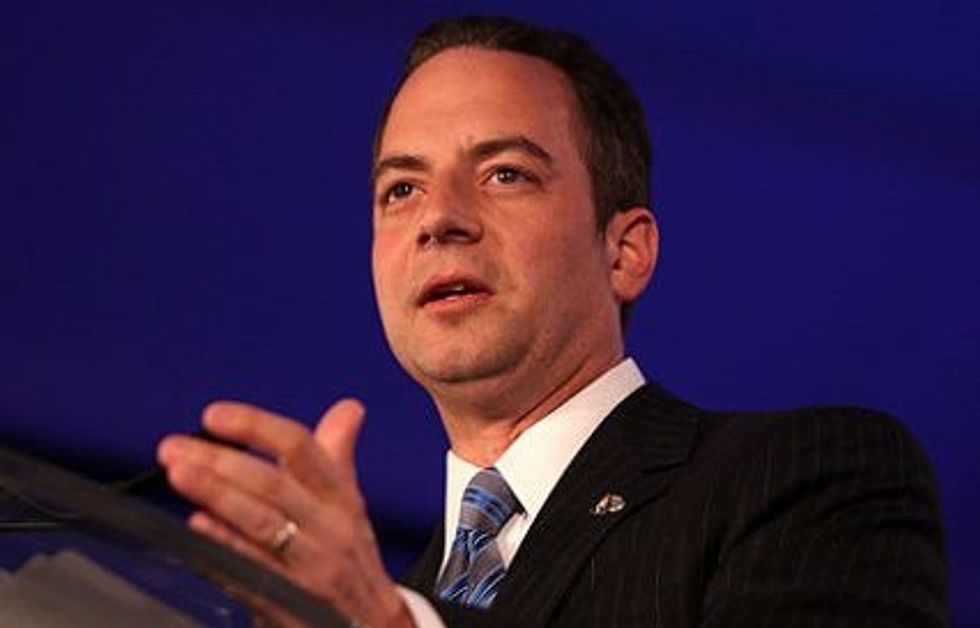 The Republican National Committee voted on Friday to block CNN and NBC from hosting Republican presidential primary debates, as a response to the networks' plans to air biographical programming about potential 2016 presidential candidate Hillary Clinton.
In a unanimous vote, the RNC passed a non-binding resolution that lambasted NBC's planned miniseries and CNN's planned documentary as "political ads masked as unbiased entertainment," and pledged "that if CNN and NBC continue to move forward with this and other such programming, the Republican National Committee will neither partner with these networks in the 2016 presidential primary debates nor sanction any primary debates they sponsor." The move follows through on RNC Chairman Reince Priebus' earlier threat to shun the networks if they did not cancel the programs by August 14.
Although Priebus himself has repeatedly stressed the dire importance of improving the party's outreach to Hispanic and Latino voters, the debate ban will reportedly apply to Spanish-language networks Telemundo and CNN Español as well.
Priebus ripped the networks during a Friday morning speech to RNC members, in which he proclaimed that CNN and NBC have an "obvious bias" against the GOP.
"We don't have time for the media's games," Priebus declared. "We're done putting up with this nonsense. There are plenty of other news outlets."
"That's why we said to the media with a united voice, that a network that spends millions of dollars to spotlight Hillary Clinton is a network with obvious bias," he said. "And that is a network that won't be hosting a single Republican primary debate."
Both NBC and CNN have protested that their news divisions are completely separate from the entertainment divisions, which are producing the controversial projects.
There is reason to believe that the RNC's move was more motivated by politics than by genuine concern over bias. Republican candidates took part in over 20 debates throughout the 2012 presidential primaries, leading to a several embarrassing moments that haunted the party through Election Day and beyond. Clearly the party could benefit from a more tightly-scripted nominating process. Indeed, the debate ban also includes a resolution "that the Republican National Committee shall endeavor to bring more order to the primary debates and ensure a reasonable number of debates, appropriate moderators and debate partners are chosen, and that other issues pertaining to the general nature of such debates are addressed."
Additionally, if the Hillary Clinton programs were genuinely the impetus for punitive actions against CNN and NBC, then Fox News — the sister company of Fox Television Studios, which is reportedly in negotiations to produce the NBC miniseries — would presumably be facing criticism from the RNC as well.
The RNC's vote may not ultimately prevent CNN or NBC from hosting GOP debates; Republican presidential candidates may ultimately decide that the benefits of appearing in an unsanctioned debate on one of the networks outweigh the risks of crossing the party.
Although the RNC plans to exercise tighter control over the debate process in 2016, it will not necessarily go smoother for the party than it did in 2012. If right-wing personalities Rush Limbaugh, Sean Hannity, and Mark Levin end up moderating debates, as some "GOP insiders" have suggested, then even one RNC-sanctioned debate could prove infinitely more disastrous than anything that CNN or NBC could ever have devised.
The full RNC resolution can be read at TIME.
Photo: Gage Skidmore via Flickr.com