Roadside Bomb Kills 6 Egyptian Police Officers In The Sinai Peninsula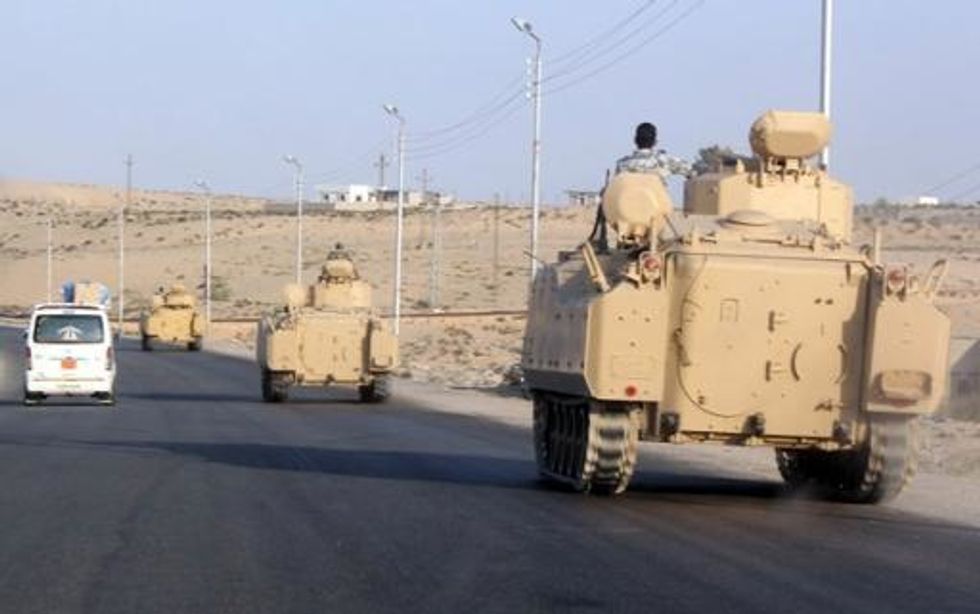 By Laura King, Los Angeles Times
CAIRO — Six policemen were killed Tuesday when a bomb blast tore through their armored vehicle in the Sinai Peninsula, security officials said — the second such deadly attack this month.
Egyptian security forces have recently stepped up their offensive against armed Islamist groups in the Sinai, raiding hideouts and targeting militant leaders, and the insurgents have fought back with powerful roadside bombs.
The explosion occurred near the town of Rafah, on the border with the Gaza Strip. In addition to the six killed, two police were injured, the Interior Ministry said in a statement. The vehicle was traveling in a convoy made up of police and soldiers, it said.
Security forces immediately launched a search for those who planted the buried bomb, the ministry said.
There was no immediate claim of responsibility for the attack, but the militant group Ansar Bayt al-Maqdis, or Partisans of Jerusalem, has claimed responsibility for a similar attack on Sept. 2, which killed 11 members of the security forces.
The Sinai conflict remains relatively small in scope, but has escalated in ferocity. A recent militant tactic has been the beheading of accused spies.
The Egyptian military said on Monday that raids staged over the past two weeks had killed more than 50 insurgents and netted caches of weapons and explosives. An Egyptian news website, Aswat Masriya, reported that five other militants were killed Tuesday.
The Egyptian military offensive in the Sinai was launched after last summer's deposing of Islamist president Mohamed Morsi. The government says Morsi allowed militant groups in the rugged peninsula to flourish during his year in office.
The offensive has coincided with a broad crackdown, now in its second year, on Morsi's Muslim Brotherhood. The ex-president is behind bars and on trial for a variety of capital offenses. Thousands of his supporters are jailed as well, and more than 1,500 have been killed in clashes with security forces.
AFP Photo
Interested in world news? Sign up for our daily email newsletter!