Robert Durst Murder Case Complicated By HBO's Big Role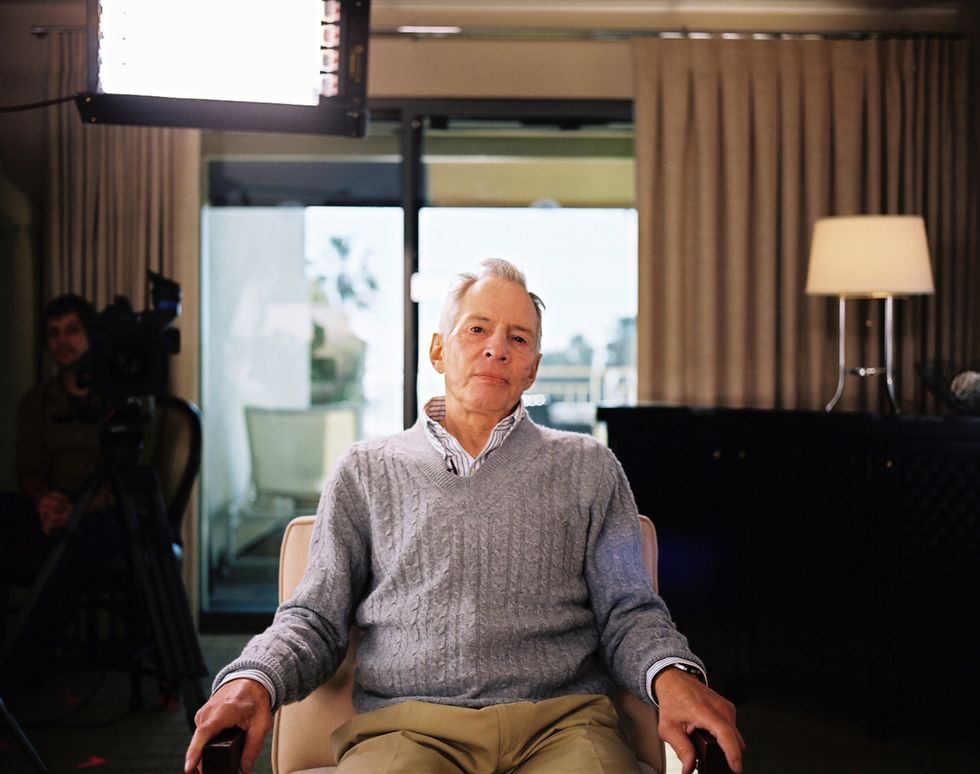 By Richard Winton, Shelby Grad, and Meredith Blake, Los Angeles Times (TNS)
LOS ANGELES — How do you prosecute a cold-case murder when key evidence comes from a major cable television network?
That's the question Los Angeles prosecutors will have to answer as they bring Robert Durst to trial in the 2000 slaying of writer Susan Berman.
Durst has been a focus of investigators from the very beginning. In the months after the slaying, police officials said they wanted to interview Durst. Four years ago, detectives said Durst remained at the center of the case.
But it wasn't until HBO began broadcasting its documentary series about Durst, The Jinx, when the interest really began to build. The documentary uncovered key pieces of evidence likely to play a big role in the prosecution:
The similarities between an envelope from a 1999 letter Durst sent to Berman, a crime writer, and an anonymous note sent to Beverly Hills police at the time of the December 2000 killing alerting them they would find "a cadaver" in Berman's house. Both were written in distinctive block handwriting. And in both the writer made the same mistake, misspelling the word "Beverley."
Durst is off-camera, caught on microphone muttering to himself, "Killed them all, of course."
It's clear from the documentary that the filmmakers debated what to share with authorities and when.
After the second "Beverley" was found, they discussed on camera whether police already had it in their files.
"Is there any there any chance this letter is already in the cops' files?" one says.
"No chance, no chance," another member of the team replies.
The film then shows them putting the letter in a safe deposit box.
"Nobody is going to know we have this document," one of the filmmakers says. "So what about we interview Bob, we bring it up, we have it on film and now we have something the LAPD really is going to want."
He says this strategy would get Durst's reaction without "800 levels of discovery."
Another big question is when the filmmakers obtained the so-called "confession" from Durst and when police learned about it. The New York Times reported that the filmmakers "found" the incriminating audio two years after the interview was conducted. The paper also said the filmmaker agonized over when to bring in authorities, adding "they began speaking to Los Angeles investigators in early 2013."
Prosecutors and police have said little about the arrest, so it's hard to know how much evidence they collected independent of the HBO series.
In an interview with The Times before the series was broadcast, the director, Andrew Jarecki, said his views of Durst's guilt or innocence evolved during the making of the film.
"My opinions didn't get formed until pretty late in the game. That's something you'll see, my evolution personally," he said. "I kind of want the audience to get there on their own. At the end, they may agree with us, they may not, but they're not going to be scratching their heads."
He also described how Durst came to join the project:
"I got together with Bob and his lawyer for the first time at the Lambs Club (in Manhattan) for breakfast. The lawyer says, 'Bob, I think this is a terrible idea, but since you've told me that you're going to do it, all I can do is give you a list of restrictions that I think you should put on the project.' Bob interrupts him: 'I don't care if he puts it on a billboard on Times Square, let him do what he wants.'"
The Berman killing has been a 15-year murder mystery.
On Christmas Eve 2000, Berman's body, with a single gunshot wound to the head, was found by police in her small home. She lived alone, and police were alerted only after neighbors spotted one of her dogs running loose and her door open. At the time, police said they believed she may have been killed a few days earlier, that nothing appeared to be missing from her home and that the assailant entered without signs of a struggle.
At the time of her death, authorities in New York were trying to talk to the L.A. writer about the disappearance of Durst's wife.
In 1982, Kathleen Durst vanished shortly after she began talking about her desire to get a divorce from her husband. She had been fighting with her husband the night she disappeared, according to a good friend, who said Durst was worried about what her husband might do to her.
Berman acted as an "informal spokesman" for Durst, calling to give his side of the story to media outlets and people who suspected that he had a role in his wife's disappearance. Durst and Berman went to school together at UCLA.
Less than a year after Berman died, garbage bags with dismembered body parts of Durst's neighbor were found floating in the water off Galveston. A receipt in one of bags and a bloody trail leading to his apartment led to Durst being charged with murder.
Durst quickly posted bail and went on the lam. He was arrested soon after in a Pennsylvania grocery store, where police said he was caught shoplifting a chicken sandwich and a Band-Aid, despite having $500 with him. Durst was returned to Texas, where he admitted to shooting and dismembering Morris Black, but claimed he inadvertently shot Black while struggling to wrestle a gun away from the man.
The 2003 trial was a spectacle in which his attorneys argued that after the killing a previously undiagnosed mental condition had propelled Durst into a traumatized state similar to an out-of-body experience. The trial was capped by four days of testimony by Durst in which he claimed he had no memory of cutting up Black's body.
(c)2015 Los Angeles Times, Distributed by Tribune Content Agency, LLC
Photo courtesy of HBO