A Rocky Start For Pot Stores In Washington State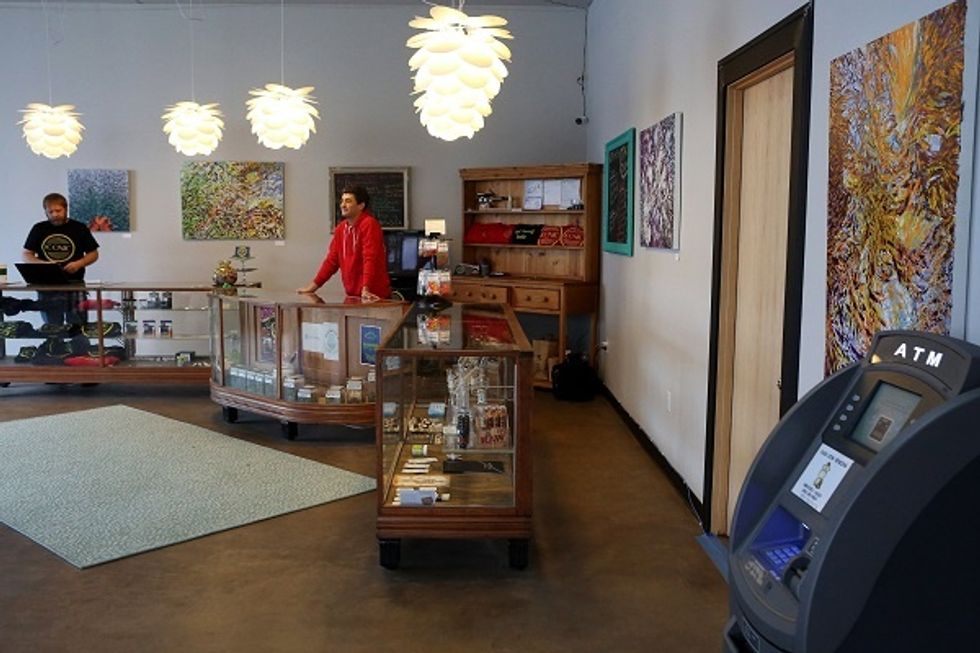 By Evan Bush, The Seattle Times
SEATTLE — More than two months after the first state-licensed marijuana stores opened in Washington state, only one is selling pot in Seattle, and it might be weeks before another opens.
Meanwhile, in Bellingham — a city of about 82,000 people — four stores have opened.
What's the problem here?
Chalk it up to unprepared applicants, difficulties for some entrepreneurs in finding legal locations for their stores and issues with city permitting, among the many problems.
Even Seattle's first store hasn't yet been able to bypass the red tape. Cannabis City is lacking permits to legally operate, according to the city's Department of Planning and Development (DPD).
And without much marijuana available to sell, potential store owners say there's little incentive to move quickly.
Many of the delays stem from the state's retail marijuana lottery. In April, the Liquor Control Board (LCB) held a drawing to determine who could operate Washington's 334 potential pot shops. The LCB chose 21 applicants at random for Seattle, of the 191 who applied.
The lottery was not merit-based. To qualify, applicants had to show they had the right to property suitable for selling pot under state law, but they did not have to prove their financial means or business capabilities.
In some cases, lottery winners either weren't interested or capable of opening a store, Liquor Board spokesman Mikhail Carpenter said. "They're not doing anything," he said.
Killy Nichelin, whose company Iconic Cannabis received the 53rd spot in the lottery, said some winners looked to profit from their license alone, which they viewed as "golden tickets" to barter. Before the lottery, Iconic Cannabis leased and began to remodel a property in Ballard. When Nichelin's company was not drawn, he sent an email to all the lottery winners seeking a partnership. Seven winners contacted him. They wanted his company's location, knowledge and business plan. Some asked for money.
"These people are insane," he said. "They got a lottery ticket, they didn't prepare at all, and they thought they ruled the world."
Nichelin said some of the people who wanted to partner didn't appear to have the financial means to operate, nor did they have access to a good location. He wasn't willing to give up prime, legal real estate to people he felt shouldn't have been in the lottery in the first place.
"If we were to give up the building…we just handed someone a turnkey property," he said. To afford rent on their location, Nichelin and his business partners opened a low-volume medical dispensary. They still hope to get a state license.
So far, the LCB has disqualified five Seattle lottery winners and begun to review some ranked higher than 21. The LCB this week also is sending letters to dozens of lottery winners, giving them 60 days to make significant progress toward their license or have their applications withdrawn, said Randy Simmons, the state's marijuana project director.
Although he received the 25th lottery position, applicant Bob Ramstad said his company, Paradoxical, received a letter from the LCB in August. His application was being reviewed.
It was a surprise. Ramstad had secured property before the lottery but relinquished it when he wasn't selected. He had to start his search anew.
Finding real estate has been difficult. Ramstad said he pored over 800 lease listings in Seattle and found just 20 that would be legal and suitable for a retail business. About half of those would require him to change the property's allowable use to retail, which can take weeks. Ramstad said that once he signs a lease, he'll be two months away from opening but said some landlords haven't been willing to work with him for fear of a federal crackdown on pot businesses.
The city's more than 400 parks, 97 public schools and about 200 child-care centers presented challenges for applicants, who are not allowed to be within 1,000 feet of them.
Trichome & Calyx's Mehran Rafizadeh, for example, drew Seattle's top lottery number, but his application is on hold as he and the LCB determine whether he chose a valid location.
Rafizadeh says a child-care facility opened within 1,000 feet of his location after his application was submitted.
Until a judge rules on his case, Rafizadeh doesn't know if he can proceed where he is, be allowed to move or have his application denied altogether. He has a hearing scheduled for next month.
Two Seattle stores are scheduled for final inspections by the LCB.
One of those applicants, Oltion Hyseni, said the LCB will visit his 1960s-themed shop this week. If Ocean Greens passes, Hyseni said, that puts him on track to get his license and open the store by the end of the month.
For lottery winners who did lock down a legal location, complying with Seattle's building and land-use code has been another hurdle.
Seth Sligar won the 12th lottery spot with his company, Bud Bouquets. Sligar said the LCB has approved his application pending a final inspection, but he's still waiting to build out his storefront.
"I can't swing a hammer until DPD tells me I can," said Sligar, referring to the city's Department of Planning and Development. There's tons of building going on in Seattle right now. They'll get to us when they get to us."
Acquiring a permit to renovate a space or change its use can take six weeks to five months, said Bryan Stevens, a spokesman for DPD. Stevens said older buildings often require safety additions or seismic upgrades.
If the process takes so much time, how was Cannabis City ready to open July 8, more than two months before any other Seattle shop? It didn't wait for the DPD, and instead filed for a change of use after opening.
That approach comes with risks. In June, the city sued its first pot producer for operating in violation of its building code.
If Cannabis City were not addressing its permit problems, Seattle could choose to take similar action.
"The space is technically not legal," Stevens said. "However, we will allow a business to be used or remain open if they show progress to obtain a permit."
Cannabis City owner James Lathrop said he didn't know he needed a permit. "I took the space the way it was, and I opened it," he said. "It's just paperwork to move it from office to retail. It's all in process."
Stevens said as long as Lathrop continues on his path to compliance, he won't be fined, but it could still be costly.
"When you're asking for forgiveness rather than permission there's a huge risk there," Stevens said. "You may have to make physical changes to the space, safety changes. That can add some cost to the project."
If any potential store owners are waiting for supply to stabilize, that could happen soon, said LCB spokesman Carpenter. Many of the state's outdoor growers will harvest their first crop later this month or early next.
Lathrop said that if Cannabis City weren't already operating, he would be in no rush to open his store's doors. "There's no supply," he said.
Store manager Amber McGowan said pot producers are charging high prices, which has strained the retail business.
"It's not yet really profitable," she said. "We're able to pay our bills and pay our staff. We have just enough money to turn around and buy product."
Photo: Business partners Miles Thomas, left, and Killy Nichelin, right, recently opened a medical marijuana store in the Ballard neighborhood of Seattle after losing the state's pot lottery. Meanwhile, the state has only licensed one marijuana store in Seattle. (Ken Lambert/Seattle Times/MCT)
Want more news and analysis? Sign up for our daily email newsletter!