Roger Stone Contacted Russian Internet Spy In 2016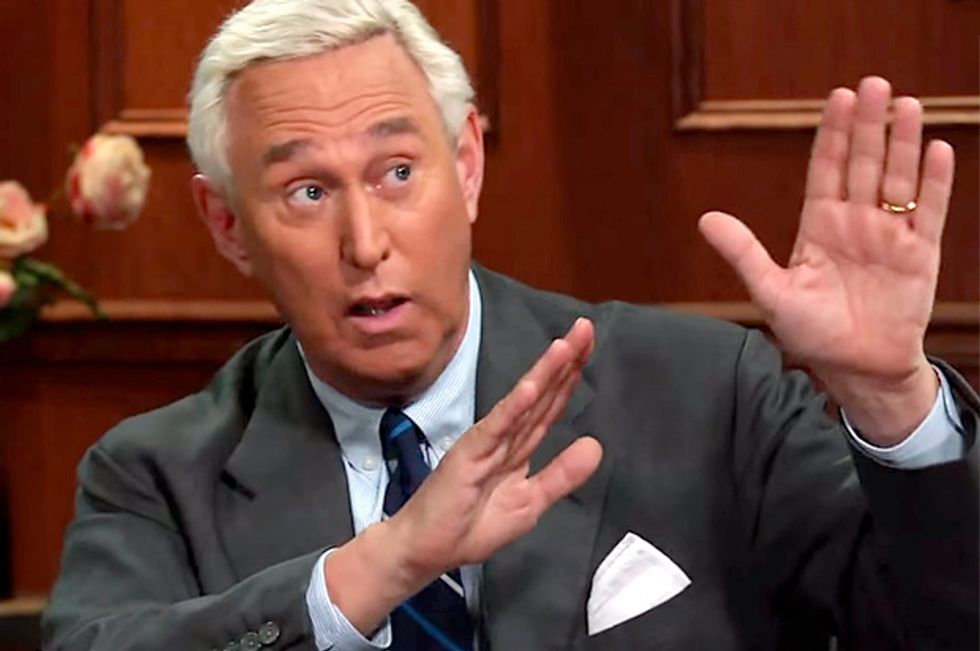 Reprinted with permission from Shareblue.com
Guccifer 2.0, the hacker who claimed responsibility for providing WikiLeaks with a trove of emails hacked from the Democratic National Committee during the 2016 presidential campaign, has been conclusively identified as an officer working out of Russia's military intelligence agency.
According to The Daily Beast , which reported on the explosive revelation late Thursday, FBI agents were able to identify that Guccifer 2.0 was working out of Russia's military intelligence agency, GRU, when the hacker failed to activate their virtual private networking (VPN) service.
That seemingly minor slip-up exposed Guccifer 2.0's IP address as one belonging to a specific GRU officer working out of the agency's headquarters in Moscow.
While Guccifer 2.0 was long believed to be a front for Russian intelligence, Thursday's report confirms that the hacker was working directly for a Russian intelligence operation under the control of Russian president Vladimir Putin.
Last January, Guccifer 2.0 denied having any connections to Russia, calling such reports a "crude fake."
The Daily Beast also reported Thursday that special counsel Robert Mueller has taken over the investigation into Guccifer 2.0, teaming up with the same FBI agents who tracked down the hacker's identity.
As Axios noted , "Special counsel Robert Mueller never explicitly implicated Russian President Vladimir Putin in his investigation. Connecting Guccifer to 'Russia's largest foreign intelligence agency' would do exactly that."
The new evidence confirming the true identity of Guccifer 2.0 has profound implications for the Russia probe and those involved in it — especially former campaign aide and longtime Trump confidante Roger Stone, who has admitted to exchanging direct messages on Twitter with Guccifer 2.0.
Stone, like many others in Trump's inner circle, has tried to cast doubt on the U.S. intelligence community's assessment that Russia was behind the DNC hack, claiming that Guccifer 2.0 was a creation of the DNC — and that the hack was secretly an inside job.
In a 2016 Breitbart article published just after he communicated with Guccifer 2.0, Stone admonished the U.S. intelligence community and demanded that people "Stop Blaming Russia" for the DNC leaks.
"I have some news for Hillary and Democrats," he wrote. "I think I've got the real culprit. It doesn't seem to be the Russians that hacked the DNC, but instead a hacker who goes by the name of Guccifer 2.0."
In his messages with Guccifer 2.0, Stone asked the hacker to retweet that article — a request that was granted.
Just days after exchanging direct messages with Guccifer 2.0, Stone sent a series of tweets raising questions about whether he had advanced knowledge that WikiLeaks was about to publish emails hacked from the account of Hillary Clinton's campaign chairman, John Podesta.
"Trust me, it will soon the Podesta's time in the barrel. #CrookedHillary," Stone tweeted on Aug. 21, 2016.
With forensic evidence confirming that Guccifer 2.0 was working for a Russian intelligence operation, Stone's communications with the hacker — and his statements in the days and weeks following those exchanges —  are sure to be of intense interest to special counsel Mueller.
The new report also casts fresh doubt on Trump's frequent claims of "no collusion." If, as the report states, Guccifer 2.0 was a Russian intelligence operative carrying out the orders of Putin, then there is now definitive proof that a Trump campaign associate was in extensive contact with a Russian spy during the 2016 presidential campaign.
Meanwhile, amid this deluge of new evidence, Trump has just appointed a new national security adviser who once suggested that Russian interference could be a "false flag operation."
But try as he might, Trump can't escape the reality that is quickly catching up with him — and encircling those around him.