Roger Stone Yanked As Conference Keynote Speaker After Cannabis Community Erupts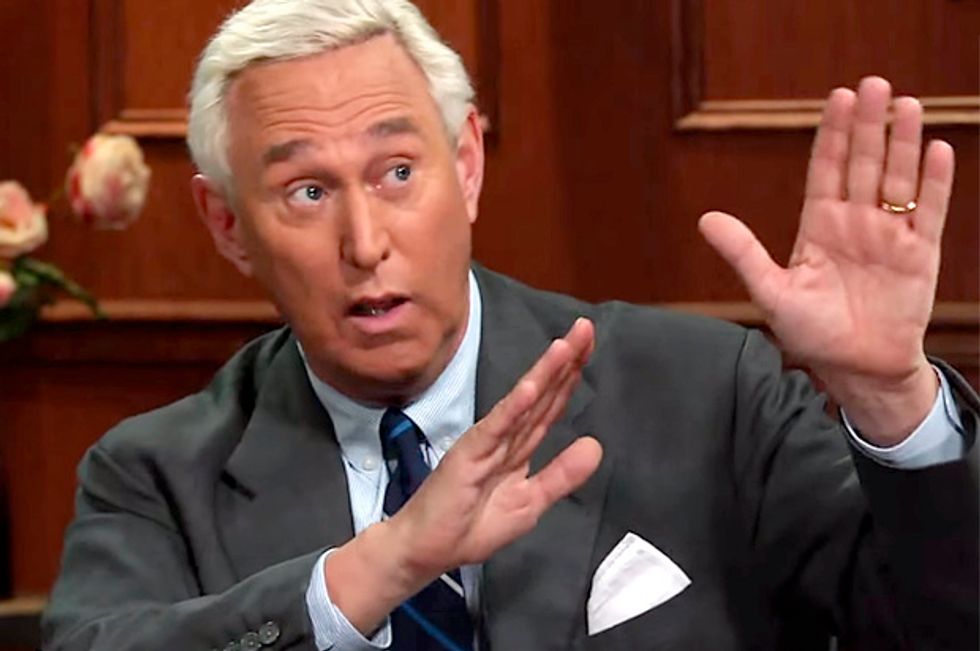 Reprinted with permission from AlterNet.
Long-time Republican political trickster and Donald Trump adviser Roger Stone's gig as the keynote speaker at Los Angeles and Boston marijuana expos has been canceled after news of his participation roiled the cannabis community.
The Cannabis World Congress and Business Exposition had selected the white-haired provocatuer to address the two pot business conferences after Stone came out for pot legalization early this summer. But Stone's pro-legalization stance wasn't enough to protect him from charges of racism, misogyny and being too close to Trump, who rode his own racist dog whistles to the White House.
After the announcement of Stone's participation, numerous speakers and exhibitors announced a boycott of CWCBExpo led by the Minority Cannabis Business Alliance, whose members loudly withdrew from the conference.
By Wednesday, CWCBExpo had had enough of the controversy.
"Following collaborative discussions with numerous partners, participants and interested parties who support the legalization of cannabis in an inclusive manner, Cannabis World Congress & Business Expositions, (CWCBExpo) is announcing that Roger Stone will no longer be featured as a keynote speaker at the upcoming CWCBExpo events in Los Angeles and Boston," the organizers announced in a news release.
Stone's presence would work counter to the expo's goals. According to a press release, the conference's forums "are crucial to the growth and legalization of the cannabis industry and they supersede the distractions that have surrounded the events."
Stone wasn't taking the snub lying down. He told the L.A. Weekly he would sue CWCBExpo.
"Sad day for the First Amendment," Stone told the newspaper. "The expo is in breach of contract. I will be suing them for $1 million. I will not be deterred from my efforts to persuade the president to preserve access to legal medicinal marijuana consistent with his pledge to the American people."
Expect the prankster to land on his feat. Stone just started a new Internet and radio program on InfoWars, home of Trump supporter and far-right conspiracy theorist Alex Jones.
Phillip Smith is editor of the AlterNet Drug Reporter and author of the Drug War Chronicle.