<em>Roll Call</em>'s Stu Rothenberg: The House May Now Be In Play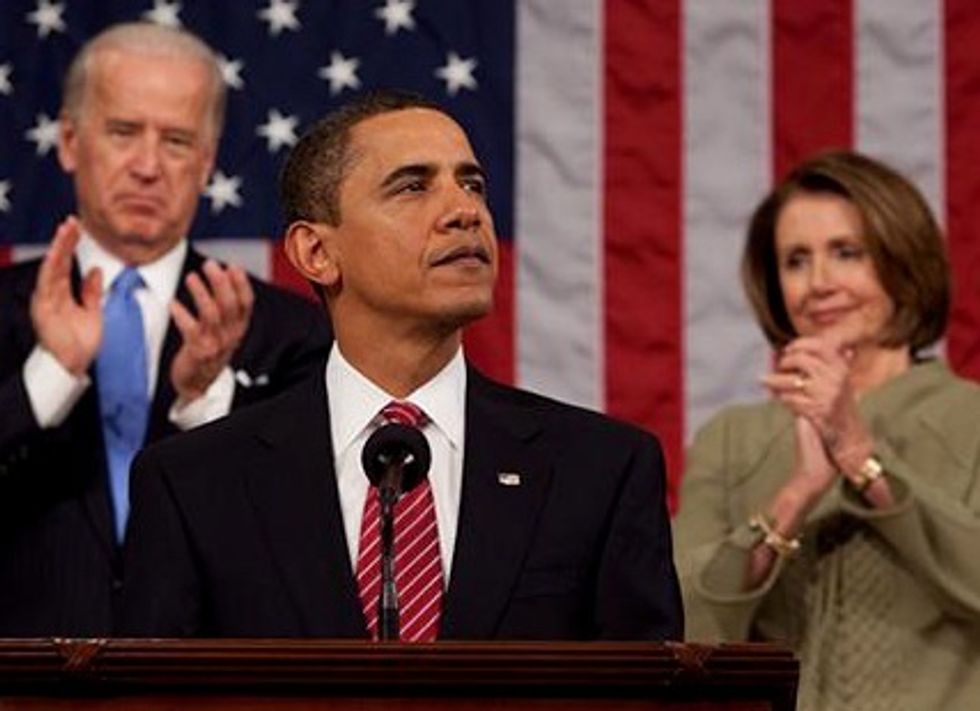 One week ago, Roll Call columnist Stu Rothenberg wasn't convinced that Democrats stood a chance of winning a majority in the House of Representatives in 2014. But today, as the latest Republican-made governing crisis nears an end, Rothenberg sees things differently: He now believes that if the Democrats ride this wave of support past the shutdown debacle, it's possible for them to retake the House.
In his October 7 column, Rothenberg took aim at a Huffington Post article, which he thought jumped the gun by declaring: "GOP In Grave Danger Of Losing House In 2014, PPP Polls Show." PPP, or Public Policy Polling, is at the root of his skepticism. PPP's polls, argued Rothenberg, purposefully skew to the left to shore up support for Democratic fundraising initiatives and recruiting. His suspicions of PPP may be misplaced. After the 2012 presidential election, PPP was ranked first for accuracy in pre-election estimates in a Fordham University report, and, in fact, nailed the election results — calling every swing state correctly.
Nevertheless, Rothenberg wasn't convinced by PPP's recent estimations. After an NBC/Wall Street Journal poll showed similar results, however, he admitted a Democratic takeover of the House is quite possible.
Rothenberg argued in his first column that partisan polling is now the norm on both sides of the aisle, and that this is shown in PPP's recent poll.
"PPP isn't your typical polling firm. Its surveys often are intended to boost Democratic recruiting, fundraising or prospects. In this case, the 'polls' were almost certainly commissioned to create a narrative about the political repercussions of the shutdown and the nature of the midterms," he wrote. "That's the standard modus operandi these days on both the right and the left: have a sympathetic media organization or polling firm assert some alleged finding, and then have fellow travelers cite the initial report to try to raise cash or create momentum. It is becoming (yawn — excuse me) a little trite."
However, after the NBC/Wall Street Journal poll found that the Democratic edge in 2014 grew from an "insignificant 3 point[s] (46 percent to 43 percent) to an 8 point Democratic advantage (47 percent to 39 percent)," Rothenberg walked back his claim that the House is not in play.
Still, he argued, even that poll may have overestimated Democratic support in 2014. It's Rothenberg's contention that the poll is fundamentally flawed because it was conducted during a major political event — the government shutdown. Polls conducted during major political turmoil have a "short shelf life," according to Rothenberg.
So, what will constitute a trustworthy poll in his eyes? For starters, a Wall Street Journal poll conducted a few months from now, "after things settle down."
He'll also be paying attention to district-level polls taken specifically for candidates running for office. "Polls not intended to help fundraising or recruit certain candidates, but designed to gather strategic information for campaigns," will be the telltale sign for Rothenberg.
Rothenberg's change of tune has been echoed by some of the most conservative media voices recently. Just today Matt Drudge tweeted: "Speaker Pelosi Part 2: Opening Jan 5. 2015."
Photo via Wikimedia