'Roll Call's' Ten 'Poorest' Members Of Congress For 2014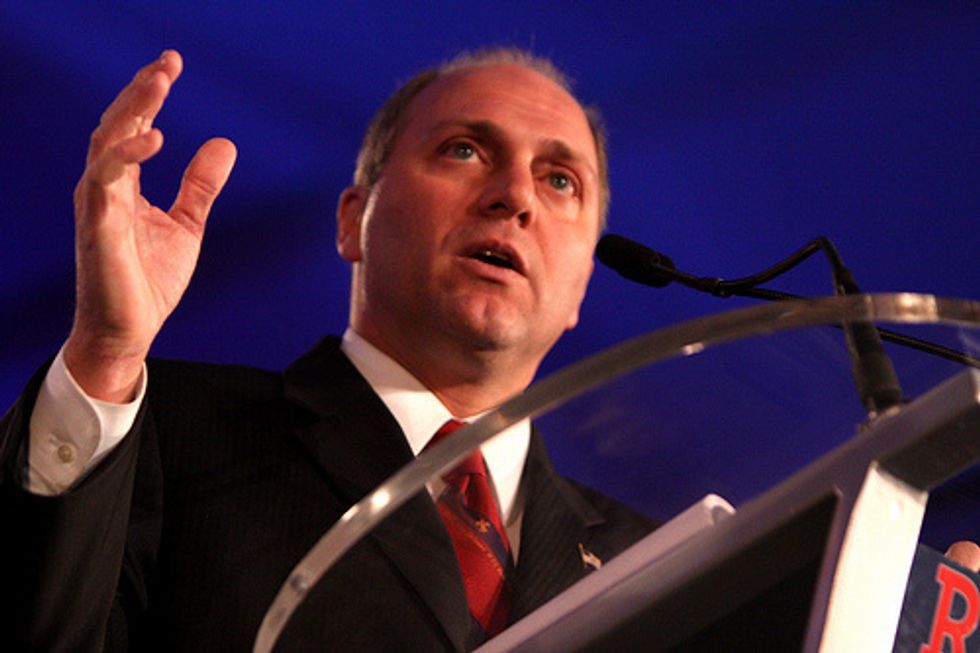 By Steven T. Dennis, CQ Roll Call
WASHINGTON — Roll Call's annual list of the 10 "poorest" members of Congress contains one majority whip, one party chairman, one formerly impeached judge and one senator.
As usual, the quirks of the disclosure rules make it impossible to know exactly how poor any one lawmaker is, or how rich he or she might be.
Mortgages must be reported as liabilities, but lawmakers don't have to list home values — many Americans' most significant investment — as an offsetting asset. As a result, someone could appear quite poor, even if they have a ton of home equity.
Listed in order of the lowest minimum net worth, the 10 "poorest" members are:
1. Rep. David Valadao (R-CA)
-$3.7 million minimum net worth
Valadao once again tops the list of "poorest" members, although his inclusion on the list could also be seen as a prime example of how imprecise congressional financial disclosure requirements are. Under CQ Roll Call's minimum net worth calculation, we subtract minimum reported liabilities from minimum reported assets. But because they are reported in broad ranges, Valadao's actual net worth is a mystery. His interest in a dairy farm is listed in two assets — one worth $1 million to $5 million (counted as $1,000,001 under our methodology), and another worth $500,001 to $1 million, which we count as $500,001. Five separate million-dollar-plus liabilities related to the farm drag him down.
2. Alcee Hastings (D-FL)
-$2.23 million
The longtime lawmaker still has legal debts dating from his impeachment as a federal judge in the 1980s, and still lists a single bank account with more than $1,000 as his only reportable asset. He also has a mortgage.
3. Debbie Wasserman Schultz (D-FL)
-$972,000
The chairwoman of the Democratic National Committee has a lot of debt. In addition to mortgages on two homes and a home equity line of credit exceeding $250,000, she and her husband listed credit card debt exceeding $15,000 and a personal bank loan exceeding $100,000. Also of note, Wasserman Schultz listed $25,978 in income from her DNC gig.
4. Retiring Rep. Howard McKeon (R-CA)
-$943,000
The Armed Services chairman has two mortgages, each exceeding $500,000, and a single personal loan exceeding $10,000 that he's had for more than a decade.
5. Rep. Dana Rohrabacher (R-CA)
-$924,000
Rohrabacher is new to the list, but his spot carries an asterisk. One of his biggest liabilities in the calculation — a mortgage exceeding $500,000 — was paid off during 2013. But reporting rules still require him to list that mortgage under his liabilities. Rohrabacher's biggest reportable asset is an investment of more than $100,000 in a small biotech firm called ISI Life Sciences Inc.
6. Rep. Emanuel Cleaver II (D-MO)
-$848,000
A business loan from Bank of America exceeding $1 million drags down the net worth of the Methodist minister, who also has another bank loan and a mortgage alongside various pension and investment accounts. He wasn't on last year's list.
7. Rep. Mike Quigley (D-IL)
-$780,000
Quigley lists two mortgages and at least $80,000 in liabilities on three credit cards.
8. Sen. Martin Heinrich (D-NM)
-$722,000
The only senator on the list, Heinrich reports a minimum $128,000 in assets against more than $850,000 in liabilities — all mortgages. Included in the assets was more than $100,000 for a rental property that ceased being used as a rental partway through the year, and assorted mutual funds. He didn't make last year's list.
9. Rep. Chaka Fattah (D-PA)
-$700,000
Fattah's been in the news a lot lately. His son was indicted last month and a former top aide and political adviser pleaded guilty to multiple campaign finance schemes. He reported $100,000 in assets from his wife's investment in General Electric, against more than $800,000 in liabilities from various mortgages.
10. Rep. Steve Scalise (R-LA)
-$671,000
The newly minted House majority whip has swank new digs in the Capitol, but is a relative pauper. He reported a minimum $4,000 in assets alongside $675,000 in liabilities. His new presence on the "poorest" list comes with a bold asterisk, too. Under the disclosure rules, Scalise has to list every liability he had over the course of the year — and because he refinanced $300,000 in mortgages, that has the effect of double-counting $300,000 in debt. Scalise ended the year with a mortgage exceeding $250,000 and a second mortgage exceeding $100,000. Still, it's not like he's sporting a net worth anything close to ex-Majority Leader Eric Cantor's multimillion-dollar Wall Street payday.
Photo: Gage Skidmore via Flickr