Romney 3.0? 10 Reasons That's A Huge Challenge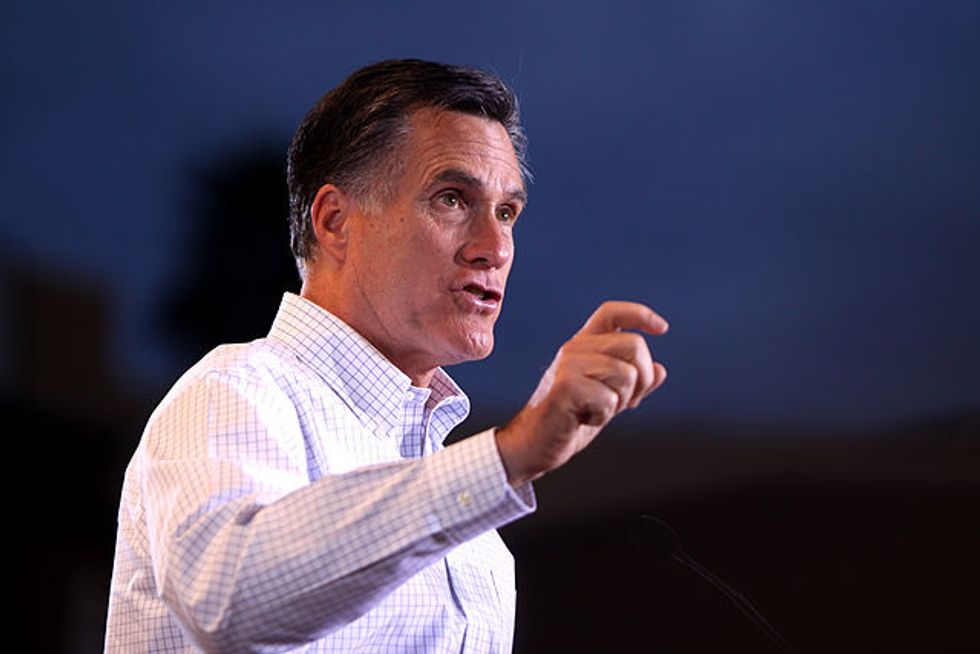 By David Lightman, McClatchy Washington Bureau (TNS)
WASHINGTON — Mitt Romney has a lot more to worry about than Jeb Bush.
Romney is moving toward a third presidential bid, and Bush's money and legion of family friends are only the most obvious obstacles.
Romney faces a daunting series of other hurdles. The biggest at the moment: Insiders aren't relishing a battle of the establishment titans.
Romney has been invited to attend the Republican National Committee's winter meeting, which starts Wednesday in San Diego. No word on whether he will speak, but other potential rivals will, and they will raise fresh doubts about a third run.
Romney has spent the last few days rallying his 2008 and 2012 campaign teams. The former Massachusetts governor met with about 30 donors last week in New York City and has been calling dozens of friends and supporters.
The first ten calls were said to be "reality checks," where he asked longtime confidants if it made sense to run again. The rest involved more serious discussions of how a campaign would work.
Tom Rath, a former New Hampshire attorney general, got one of the first calls at his Concord home around 9 a.m. Saturday. One of Romney's strongest arguments, Rath said, was that voters have "buyer's remorse," that many wished they had voted for Romney over President Barack Obama last time. Romney topped Obama by 9 percentage points in a CNN/ORC International poll last summer.
Rath says he's on board. So are other longtime New Hampshire and Iowa backers. But at the RNC, where top party officials from all over the country will gather, the audience will be more wary.
Romney would face these challenges if he runs:
1. He barely beat a weak field last time.
Romney should have had it easy seeking the GOP nomination in 2012. His biggest rivals hadn't won an election in at least a dozen years. Newt Gingrich left Congress in 1999. Rick Santorum lost his 2006 Senate re-election bid by 18 percentage points. Yet it took Romney months to finish them off.
2. He lost to Obama.
You can't overstate how much that irks Republicans. Conservatives insist Republicans should have learned that moderate candidates with supposed mass appeal wind up losing. "A lot aren't going to fall for the notion they have to nominate someone moderate to win," said Tim Hagle, a University of Iowa politics professor.
3. Money.
Romney's campaign raised $446 million in 2012. This time he's got big-time competition. Not only is Bush revving up the family machine, but right behind is an all-star lineup of money-raisers: Govs. Chris Christie of New Jersey, Scott Walker of Wisconsin, Rick Perry of Texas and Bobby Jindal of Louisiana, and Sens. Marco Rubio of Florida, Ted Cruz of Texas and Rand Paul of Kentucky.
4. 47 percent.
Romney couldn't escape the rap that he was an out-of-touch rich guy. His 2012 comment that 47 percent of Americans regard themselves as victims entitled to government help fed into that narrative. Rivals won't let him forget it.
5. The Tea Partyers.
They don't like Romney. Romney was a "weak moderate candidate, hand-picked by the Beltway elites and country-club establishment wing of the Republican Party," said Tea Party Patriots co-founder Jenny Beth Martin.
6. A newer face?
Romney is 67 and could vie with fresher, under-50 candidates such as Cruz, Jindal, Rubio and Walker. Paul and Christie are both 52. "While he (Romney) still has some support here, I think the vast majority of Iowa Republicans feel he has already had his chance, twice, and it's time for someone new," said Kevin Hall, an Iowa Republican activist.
7. Endorsements.
Romney was the clear insiders' choice in 2012. Not this time. "They're not going to hand it to him on a silver platter," said South Carolina Republican Chairman Matt Moore. Local officials will wait to see if their governors or senators will run. And the establishment has other alternatives.
8. Who is this guy?
Romney stressed his center-right roots in 2008 and lost. He wooed the right in 2012 and lost. Cruz warned Monday that Romney was still the standard-bearer for the "mushy middle." So who is he? Rath said a 2016 campaign could stress foreign policy, as Romney maintains he would have done a better job, but polls show him losing badly to former Secretary of State Hillary Clinton.
9. Moderates in moderation.
Romney is a big favorite among center-right voters in New Hampshire. They unified behind him, and he got between 30 percent and 40 percent of the vote there in past primaries, enough to finish second in 2008 and win in 2012. Getting those numbers will be tougher this time, because that group could have several choices.
10. Strike three.
Almost no one wins on their third try. Democrats Hubert Humphrey and Jerry Brown tried; each failed. Republican Ronald Reagan did make it in his third try, in 1980. Is Romney another Reagan?
"The third time is rarely the charm," said Moore.
Photo: Gage Skidmore via Flickr