Romney's Anti-Trump Speech Ignites Social Media Debate
@reuters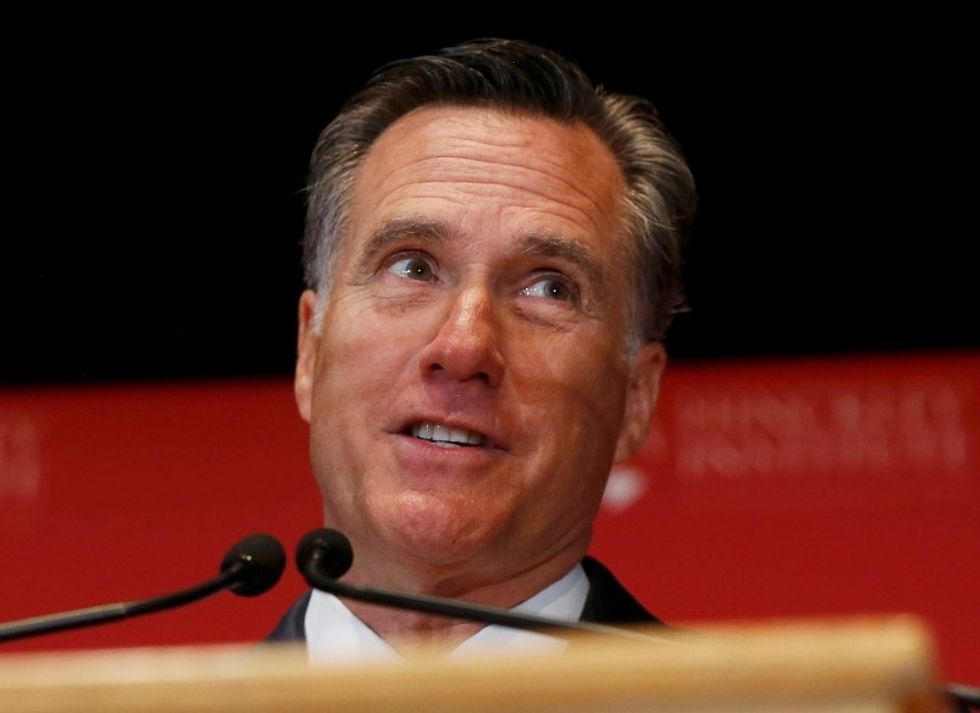 By Amy Tennery
NEW YORK (Reuters) – If Mitt Romney wanted to ignite a debate about Donald Trump's suitability for the White House, he succeeded, at least on social media.
Romney, the 2012 Republican presidential nominee, lambasted Trump in a speech on Thursday in Salt Lake City, Utah, calling him "a phony, a fraud" and saying it is his "very brand of anger that has led other nations into the abyss."
The speech was the latest illustration of how badly many mainstream Republican leaders want to stop Trump, the clear front-runner, from becoming his party's nominee in November's election to succeed President Barack Obama.
Twitter users posted about Romney roughly 38 times per second following the speech, according to Zoomph, the social media analytics firm. Romney's sentiment score, a measure of how positively users discuss a topic, was slightly higher than Trump's following the speech, according to the firm.
"Mitt Romney" quickly became one of the top-trending topics on Twitter in the United States. In a period of about four hours after the former Massachusetts governor's speech, there were roughly 529,000 tweets about Romney on Twitter, according to the social media site's own metrics.
Trump's response, a barrage of put-downs, also generated social media attention. During a campaign rally in Maine, Trump said Romney had begged him for an endorsement when he was running for the White House in 2012. Trump's comments included what many on social media perceived to be a crude sexual joke.
"I could have said 'Mitt, drop to your knees,' he would have dropped to his knees," Trump said.
"Is this a new @realDonaldTrump campaign slogan? 'Drop to Your Knees, America … and they did,'" tweeted Carl Spry (@CarlSpry). "His secret to getting so many endorsements?".
Romney said later he would not have accepted Trump's endorsement four years ago if Trump had spoken as he does now.
"If Trump had said 4 years ago the things he says today about the KKK, Muslims, Mexicans, disabled, I would NOT have accepted his endorsement," Romney tweeted (@MittRomney), referring to the white supremacist group the Ku Klux Klan.
In his speech slamming both Trump's policy proposals and his style, Romney did not endorse any of the candidates remaining in the Republican race.
But one of them, Ohio Governor John Kasich (@JohnKasich), tweeted his support, saying "Well said, @MittRomney." A photo of the presidential Oval Office accompanied the tweet, with the caption "The One Who Works Here Should Make Us Proud."
Other presidential candidates remained quiet on Twitter, but Republican South Carolina Governor Nikki Haley offered her support for Romney.
"A brilliant speech by @MittRomney. No one can ever question his love for our party and our country. #TrueLeadership #MittRomney," she (@nikkihaley) tweeted.
Haley has endorsed Marco Rubio, a U.S. senator from Florida, for the Republican nomination.
(Additional reporting by Gina Cherelus and Melissa Fares in New York; Editing by Jeffrey Benkoe and Frances Kerry)
Photo: Mitt Romney speaks critically about Donald Trump at the Hinckley Institute of Politics at the University of Utah in Salt Lake City, Utah, March 3, 2015. REUTERS/Jim Urquhart