Is Ronald McDonald Racist?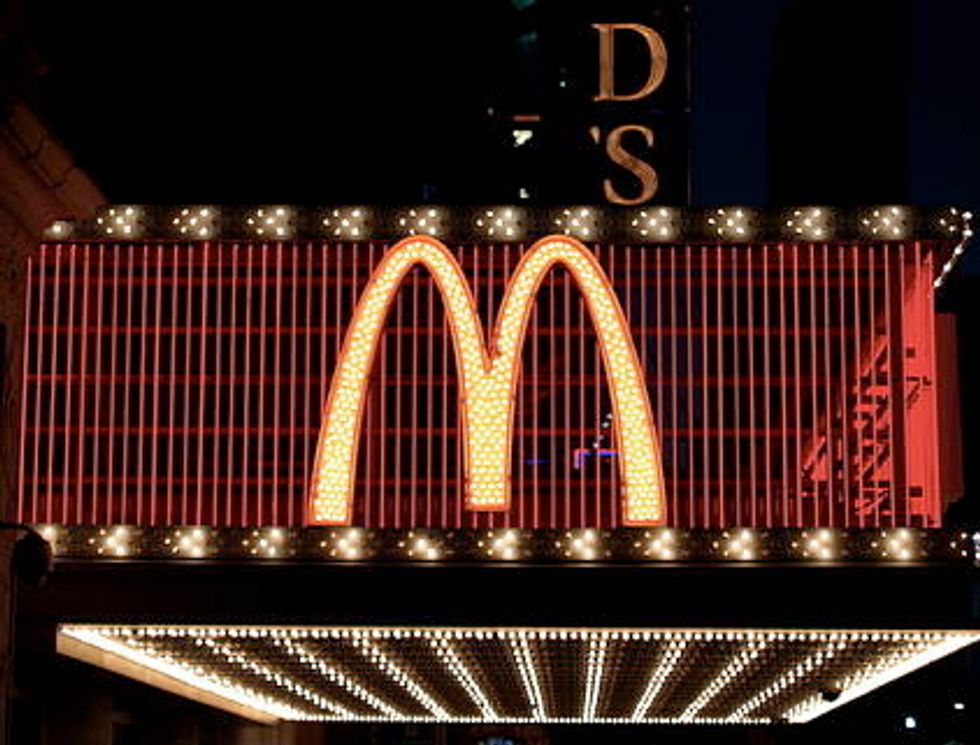 McDonald's Corporation shares legal responsibility with three Virginia franchise restaurants and their owner for rampant racial and sexual harassment in those workplaces, according to a federal lawsuit that 10 former workers filed on January 22 alleging violations of their civil rights.
They accuse the franchise owner of firing them, despite their managers' acknowledgement of their good work records, simply in order to reduce the proportion of non-white employees.
"All of a sudden, they let me go for no other reason than I 'didn't fit the profile' they wanted at the store," said fired plaintiff Willie Betts. "I worked at McDonald's for almost five years, I was on time every day at 4:00 in the morning to open the store, and I never had a disciplinary write-up. They took away the only source of income I have to support my family."
McDonald's Corporation, the plaintiffs said, would not intervene to investigate or reverse the franchise actions after workers called and asked for help, a corporate inspector made a routine visit to check on franchise compliance with corporate procedures after the firings, or even after a local newspaper reported the story.
"This is a problem that goes far beyond these stores in Virginia," said Kendall Fells, organizing director of Fast Food Forward, the New York area branch of the Fight for 15 movement. "It's a problem with [the] McDonald's business model itself when workers at the company have nowhere to turn. McDonald's has the power to fix this problem, but instead it chooses to skirt its responsibility and hide behind its franchise model."
The workers at restaurants in South Boston and Clarksville, Virginia, say that Michael Simon and his firm, Soweva, began a systematic plan to reduce the number of black workers soon after taking over the three stores in late 2013. Simon told workers, "the ratio [of black to white employees] was off," and supervisors told them that the restaurants were "too dark" and that white workers needed to be hired "to get the ghetto out of the store."
When Simon took control of the franchises, the lawsuit alleges, he promoted to the top day-to-day management of his business two supervisors who had a long history of racial abuse, such as calling African-American women "bitch" and describing the stores as "too ghetto." They also sexually harassed both male and female workers, including soliciting sex from employees or touching their legs and buttocks, according to the plaintiffs' lawsuit.
Even if the charges only were directed at one franchisee in the system, they would badly damage McDonald's carefully nurtured brand image. But the suit names the corporation itself as essentially a joint employer. It calls into question McDonald's model of trying to maintain tight control over how franchises operate, including personnel matters, while attempting to avoid any legal or financial liability. Plaintiff attorney Paul Smith says that McDonald's seeks "all of the control and profit and none of the responsibility."
The National Labor Relations Board has taken the same position as this lawsuit, treating the corporation as a joint employer, in a dozen complaints filed in December charging McDonald's Corporation and many franchises with violating the rights of workers to organize and take collective action to improve their working conditions.
The lawsuit spells out much of the system that the McDonald's Corporation uses to control its franchises. The mechanisms include its elaborate training program with Hamburger University on the grounds of the company's suburban Chicago headquarters at its pinnacle and detailed guidelines on "quality, service and cleanliness," and extensive business manuals for franchisees (covering personnel management, bookkeeping and other areas). The "bible" for franchisees, the Operations and Training Manual, is a detailed guide to hiring, discipline, diversity, non-discrimination and sexual harassment that the corporation can unilaterally change at any time, the lawsuit alleges.
The McDonald's franchise agreement grants the corporation power to send in corporate "business consultants," who review in great detail all operations of each restaurant, including staffing decisions, and provide recommendations that are mandatory for each franchise. In addition, the corporate office sends in "mystery shoppers" monthly to secretly observe and report back on even the most minute details of operations.
Fells indicated that after the firings, some supporters of Fight for 15 at the Virginia restaurants had contacted the local NAACP, which has been a major supporter along with the Washington Lawyers Committee for Civil Rights. Fight for 15, which invited some of the plaintiffs to a convention last year, has now set up a nationwide hotline for McDonald's worker complaints: 855-729-2869.
Winning a lawsuit and damages would bring relief for the discharged workers and strike a blow at practices not only at McDonald's but also at many other franchises. But fired cashier Katrina Stanfield says that workers also need their own voice at work. Never disciplined, regarded by her boss as a "good worker," she was fired for being black, she says, leaving her out of work for five months and afraid she might lose the home shared by her sister and both women's children.
"I still don't understand why McDonald's did nothing to get our jobs back," she said. "I left a detailed message on the corporate hotline, but McDonald's Corporation is concerned about the bottom line, not the workers. If we had a union, we could have done something."
David Moberg is a senior editor at In These Times.
Originally posted at In These Times.
Photo via Wikimedia Commons