Bodycam Video Shows Enraged Ronny Jackson Confronting Texas Troopers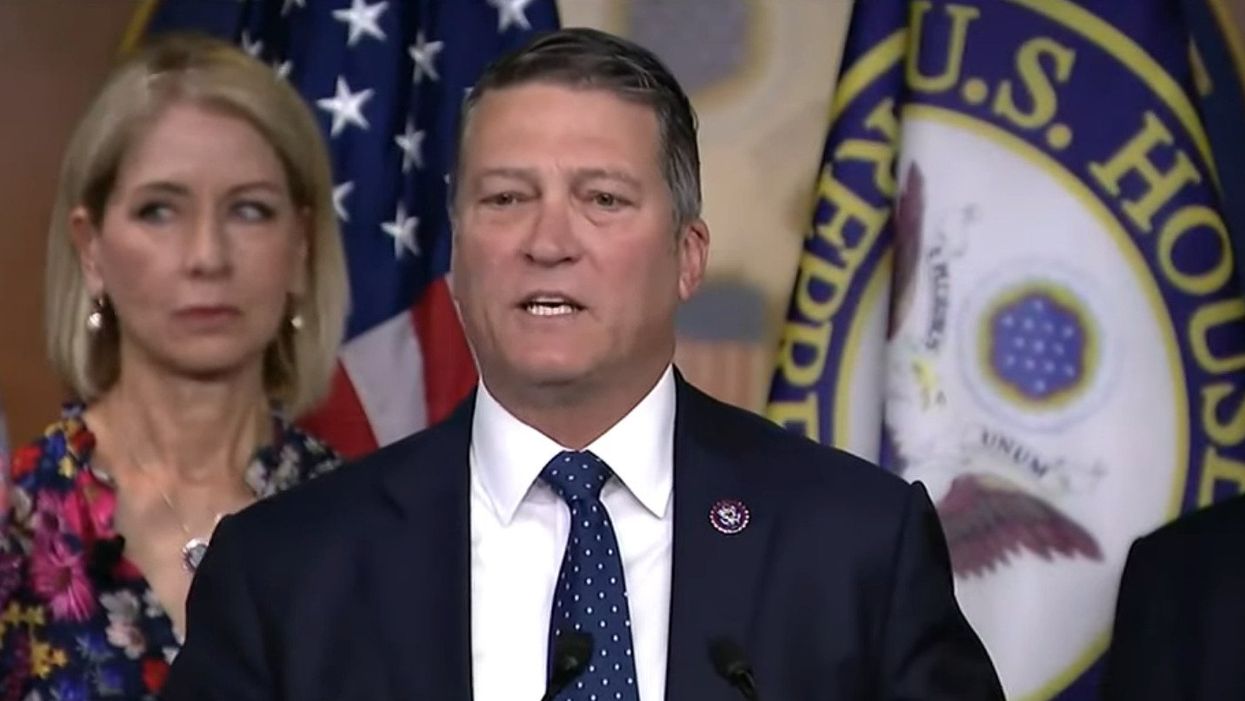 Newly released video shows U.S. Rep. Ronny Jackson , R-Amarillo, being slammed to the ground by police and angrily confronting a state trooper with profanity during a hectic altercation late last month at a rodeo outside Amarillo.
"You are a fucking full-on dick!" Jackson told the trooper after being brought off the ground, according to bodycam footage provided by the Department of Public Safety. "You better recalculate, motherfucker!"
The DPS trooper, identified in a sheriff's report as "Trooper Young," repeatedly told Jackson that multiple people asked him to step aside so EMS could respond to a medical emergency. Jackson, a physician to two presidents, disagreed and continued to confront Young on the sidelines of the event, with bystanders physically restraining Jackson as he lunged toward the trooper, jabbing his finger and yelling profanities.
"I'm gonna call the governor tomorrow and I'm gonna talk to him about this shit because this is fuckin' ridiculous," Jackson told Young at one point. "Fuckin' ridiculous."
Jackson's office has insisted that he had been trying to help somebody who needed medical attention and that EMS had not yet arrived when he was summoned to help. His office did not immediately respond to a request for comment on the videos but has emphasized his desire to help amid a chaotic situation and blamed "overly aggressive and incompetent actions" by local authorities.
DPS released the 31-minute bodycam video — and a shorter dashcam video — Monday in response to an open records request from The Texas Tribune. There is no audio during parts of the videos, something DPS acknowledged in a letter to the Tribune without providing a reason. DPS also blurred out images of the person receiving medical care.
The dashcam video provides another angle of Jackson furiously confronting the trooper before leaving the rodeo. The video contains audio of the confrontation, which occurred near the hood of the trooper's car, but country music drowns out the voices. One of the songs is "Irish Goodbye" by Treaty Oak Revival.
The videos confirm the general narrative of a report released Friday by the local sheriff , Tam Terry of Carson County. The report included accounts from multiple officers who responded to the scene late on the night of July 29 at the White Deer Rodeo. Among the claims is that Jackson threatened to beat up the trooper and later in a phone call threatened to go after Terry politically.
Jackson's office has said he was summoned to help with a medical emergency involving a teenage girl before first responders arrived. He was "briefly detained" amid the chaos and confusion, according to his office.
His office has emphasized he was "not drinking," though the sheriff's report challenges that assertion.
In response to the report, a Jackson spokesperson issued a defiant statement saying he was prevented from giving medical care "due to overly aggressive and incompetent actions" by local authorities. The spokesperson, Kate Lair, said Jackson would not apologize for "sparing no effort to help in a medical emergency" in a hectic environment.
About 16 and a half minutes into the bodycam video, Jackson and other people are crouched over the person experiencing the medical emergency when the trooper appears to gesture toward Jackson to get back. Jackson eventually rises up and appears to be confronting the trooper angrily and is then led away from the trooper. Less than a half-minute later, the video shows two officers taking Jackson to the ground and handcuffing him, holding him to the ground with his face down. It is not until 50 seconds later that Jackson is shown standing again. There is no audio during that part.
A short time later, the audio returns and the bodycam video shows Jackson confronting Young, cursing at him and leaning toward him.
"I asked you to get back and you did not get back," the trooper said.
Their confrontation continues a couple minutes later at a different location. Jackson continued to deny that he repeatedly disobeyed orders to get back, telling Young he was "the first motherfucker" to tell him to do that.
At one point, a man tries to escort Jackson away from the trooper and calm him down.
"Walk with me!" the man said. "Goodness gracious, buddy."
Jackson refused to walk away and stressed to Young that he "was just trying to help" and is an emergency room doctor. Young said he understood that but added that Jackson needed to listen to his commands.
"I know you're there to help, right? But I got EMS coming on scene," Young said to Jackson, who disputed the trooper's timeline of events. "I said, 'Hey, we got a car coming.' Multiple people moved out the way. You came down on your knees and somebody was trying to put something in her mouth that didn't need to be. We asked not to, right?"
That comment appeared to refer to part of the sheriff's report that said Jackson tried to care for the patient by putting a gumball in her mouth as a way to elevate blood sugar. Jackson suggested to Young that he did that because she may have been hypoglycemic; Young said she was anemic and Jackson disagreed, telling Young he does not have the medical knowledge to know that.
Jackson eventually leaves the area and gets in a car to depart the rodeo. He continues to yell profanities and can be heard saying, "You fucked up, motherfucker," as he gets in the car.
Once Jackson is off camera, people around Young can be heard asking who he is. "Someone said he's a senator," one said. Young appeared to be unfamiliar with Jackson.
Two witnesses, Chris and Jodi Jordan of Hereford, said they were 5 to 6 feet away from the initial confrontation. They said they do not believe Jackson received adequate notice prior to his apprehension that he needed to back away because EMS was on the way. They said officers "barely missed the concrete" when they took Jackson to the ground.
"From our view, he never saw EMS," Jodi Jordan said. "He was away from the patient before they showed up on scene."
The Jordans said they believed Jackson acted responsibly.
"He was simply trying to help someone," Chris Jordan said.
The incident happened at the White Deer Rodeo, an annual event in a town by the same name about 40 miles northeast of Amarillo. An estimated 4,000 people were in attendance.
Jackson was first elected in 2020 to represent Texas' 13th Congressional District, a deeply conservative district in the Panhandle. He served as White House doctor for Barack Obama and Donald Trump and remains an ardent supporter of Trump and his 2024 comeback campaign.
Reprinted with permission from Daily Kos .