Roseanne Racism: Sanders Claims Trump Is A Victim, Too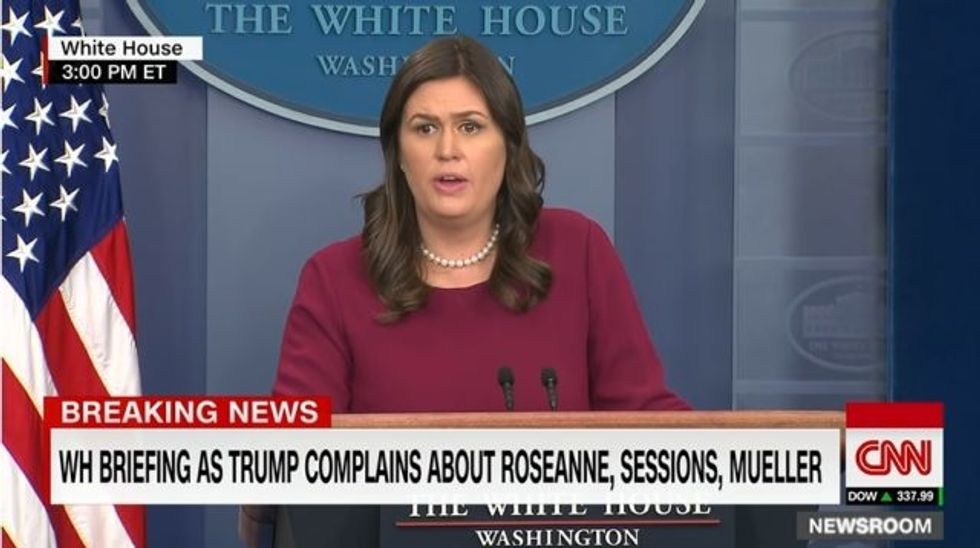 Reprinted with permission from Shareblue.com
Trump sent Sarah Huckabee Sanders out to exploit Roseanne Barr's racist implosion by turning Trump himself into the victim.
At the first televised White House briefing since Barr's racist outburst against Obama senior adviser Valerie Jarrett, and her subsequent firing by ABC, Sanders was asked about Trump's bizarre response to the controversy.
"Why did he choose to address the ABC apology, instead of the underlying issue of concerns about a racist comment that she tweeted out?" NBC News' Kelly O'Donnell asked, also wanting to know if Trump had spoken with his "long-time friend" Roseanne.
Sanders said she wasn't "aware" of a call between Trump and Roseanne, and took pains to say that "no one is defending what she said."
But then she went on a lengthy prepared rant about media "bias" and supposed hypocrisy.
"The president is pointing to the hypocrisy in the media saying that, the most horrible thing about this President, and nobody address it," Sanders said.
"Where was Bob Iger's apology to the White House staff for Jemele Hill calling the president, and anyone associated with him, a white supremacist?" she asked. "To Christians around the world for Joy Behar calling Christianity a mental illness?"
She went on to complain, "Where was the apology for Kathy Griffin going on a profane rant against the president on 'The View' after a photo showed her holding president Trump's decapitated head? And where was the apology from Bob Iger for ESPN hiring Keith Olbermann after his numerous expletive-laced tweets attacking the president as a Nazi?"
In point of fact, ESPN suspended Hill for her entirely true statement, and CNN fired Griffin over the photo shoot in question.
But the point that Sanders is apparently trying to make is that criticizing Trump is just as bad as Roseanne's despicable racist comment, a message that is sure to delight Trump's racist fans.
Equating a blatantly racist slur with legitimate criticism of a powerful white man is thoroughly absurd and offensive. And while Sanders took pains to claim that "no one is defending" Roseanne's racism, his base is surely keenly aware that he has not condemned it, nor will he.