Roy Moore Vows To Return 'Morals' To America
@jeisrael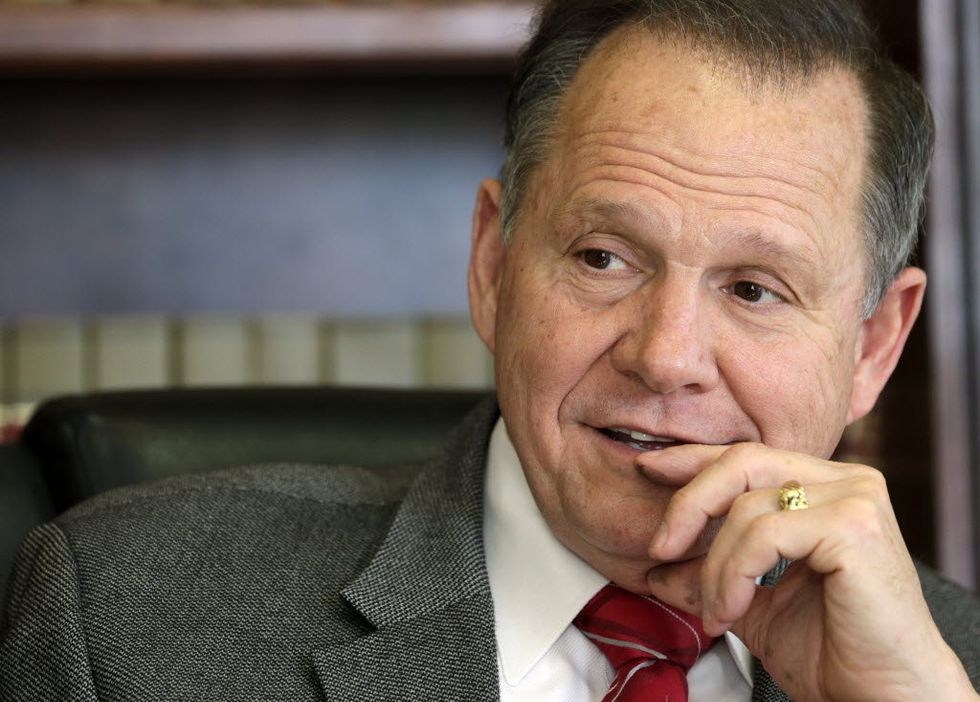 Alabama Republican Senate hopeful Roy Moore believes America's ills would be cured by turning back the clock.
In recent remarks, the twice-removed Alabama judge and accused serial sexual predator called for a return to the "moral basis" of the 1960s and 1970s, when women and sexual minorities lacked reproductive rights, healthcare was less available, black and other nonwhite Americans were forced to fight for basic protections, and LGBTQ people were criminalized.
According to an excerpt published Monday by the Alabama Political Reporter, Moore recently told a Republican men's breakfast club that things were better during the Vietnam era.
"Back then we had immigration policy but we didn't have people flooding our borders. We didn't have gangs bringing drugs in. We didn't have any of this," Moore said.
"We have got to go back to what we did back in the '60s and '70s, back to a moral basis," he continued. "Abortion was not legal when I went to Vietnam. … We had abortion laws in our country and our state. We did not have same sex marriage. We did not have transgender rights. Sodomy was illegal."
Abortion was illegal in many states until 1973 and consensual gay sex was a felony in many states until 2003.
Moore's desire for retrogress was a major issue in the December 2017 special election for the same Alabama U.S. Senate seat he is once again seeking.
In that race, Moore won the Republican nomination over appointed Sen. Luther Strange (R), but lost in the general to now-Sen. Doug Jones (D) after media outlets reported that he had co-authored a textbook that said women should not run for public office and had once proposed repealing the constitutional amendments that abolished slavery and gave women the right to vote.
Moore's own "moral basis" also came into question in that campaign after nine women came forward to accuse him of sexual misconduct. Several alleged that Moore had engaged in sexual predation when they were in their teens and he was in his 30s.
One of those accusers claimed Moore had allegedly molested her when she was just 14. Under Alabama's law then and now, that would have been a felony.
Moore denied the claim and all of the allegations of wrongdoing, filing a still-unresolved defamation suit against his accusers.
An October poll found Moore in second place in the current Republican field, though that was before former Attorney General Jeff Sessions announced he too would seek the seat he held from 1997 to 2017.
Published with permission of The American Independent Foundation.