Rubio, Cruz Dominate Rowdy Republican Presidential Debate
@reuters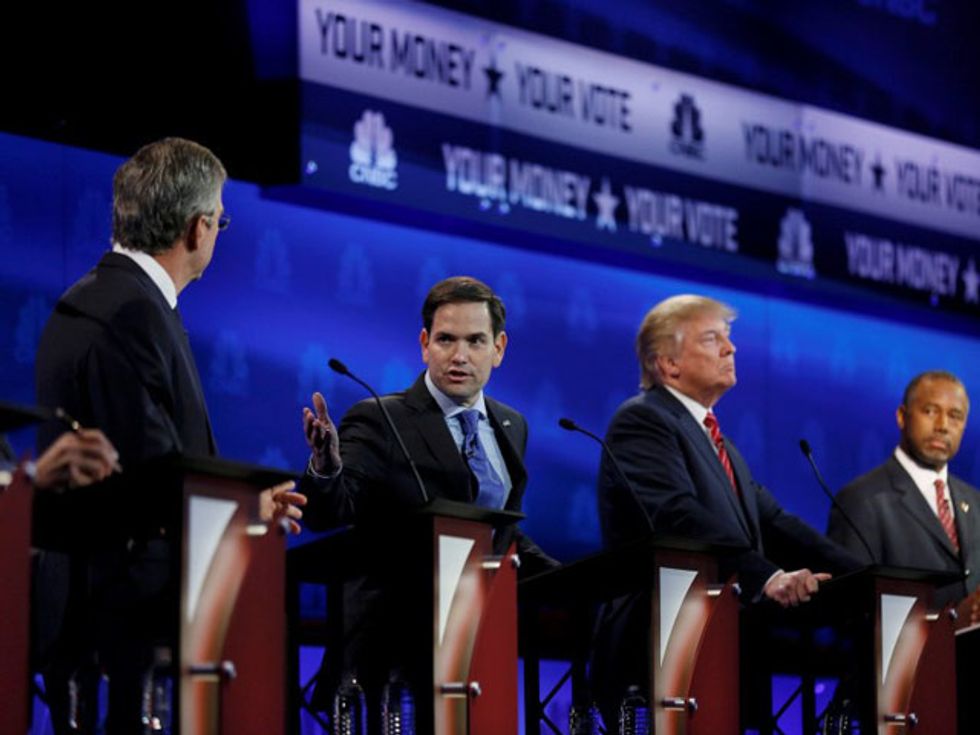 By Steve Holland and James Oliphant
BOULDER, Colo. (Reuters) — Republican presidential candidates Marco Rubio and Ted Cruz emerged as the strongest challengers on Wednesday to insurgent front-runners Donald Trump and Ben Carson, in a fiery debate that may have marked a new phase in the 2016 race.
With time running short until the first nominating contest in three months, the 10 Republicans in the evening's main debate were anxious to stand out. They frequently talked over each other and the moderators in a debate laced with personal attacks and clashes over tax policy.
In a dominating performance, Rubio, the U.S. senator from Florida, swatted away Jeb Bush when the former Florida governor attacked his attendance record in the Senate.
"Just resign and let someone else take the job," Bush said, in response to a question about an editorial in a Florida newspaper that blasted Rubio for having missed about one-third of his Senate votes this year.
That prompted Rubio to scold Bush for aligning himself with the liberal media. The only reason Bush was making it an issue, Rubio said, was "because we're running for the same position, and someone has convinced you that attacking me is going to help you."
The exchange came on a night of heated clashes among candidates fighting to catch Carson and Trump, two upstart candidates who have tapped into voters' frustration with the Republican party's establishment. The latest Reuters/Ipsos poll showed Carson, a retired neurosurgeon, and Trump, a celebrity real estate developer, in a dead heat.
In a sign that the unpredictable Republican race might be entering a new phase, Trump and Carson, while not stumbling, were often eclipsed by Rubio and Cruz during the two-hour debate at the University of Colorado campus.
"Rubio won tonight with wit, good humor, great one-liners and substance," said Ari Fleischer, who was press secretary to former President George W. Bush.
Cruz, a U.S. senator from Texas, scored by turning to a well-worn page in the Republican playbook: Attacking the news media. He ignored a question on the debt limit to criticize the CNBC debate moderators for the questions they had posed to candidates.
"The questions that have been asked so far in this debate illustrate why the American people don't trust the media," he said. "This is not a cage match. How about talking about the substantive issues?"
The crowd gathered in an arena in the foothills of the Rocky Mountains roared its approval.
Cruz's response laid bare that a debate that was supposed to be all about the U.S. economy had strayed from the theme repeatedly, so much so that the Republican National Committee took the extraordinary step of criticizing the TV network that broadcast it.
"The performance by the CNBC moderators was extremely disappointing and did a disservice to their network, our candidates, and voters," said RNC Chairman Reince Priebus.
Social media gave Cruz a positive response. Zoomph, an analytics platform that tracks real-time date on social media, said Cruz scored the highest activity level.
For his part, Trump reiterated his pledge to be a great negotiator as president, pointing out he had persuaded CNBC to shorten the time of the debate "so we could get the hell out of here."
The Republicans seeking their party's nomination for the November 2016 election also clashed over their tax plans, with Carson defending his Bible-inspired proposals and former executive Carly Fiorina vowing to reduce the complicated tax code to three pages.
Carson said his plan, based on religious tithing principles, would get rid of deductions and loopholes and constitute a flat rate of about 15 percent that would be sufficient to fund a sharply reduced government.
"Remember, we have 645 federal agencies and sub-agencies. Anybody who tells me that we need every penny in every one of those is in a fantasy world," Carson said.
Ohio Governor John Kasich was quick to go on the attack against Trump and Carson, calling their tax plans "a fantasy." Trump's plan for cutting taxes on individuals and corporations has been criticized as an implausible budget-buster by analysts.
"We are on the verge of picking, perhaps, someone who cannot do this job," Kasich said. "You gotta pick somebody who has experience."
The remark appeared aimed at Trump and Carson. But inexperience has been among the key questions hanging over the candidacy of the 44-year-old Rubio, who had struggled in previous debates to emerge from the shadow of other candidates.
He appeared better prepared on Wednesday. When questioned about his personal finances, he responded by pointing to his working-class roots as a Cuban-American in Miami, repeatedly using his personal story as a vehicle for connecting with people struggling to make a living.
"I'm not worried about my finances, I'm worried about the finances of everyday Americans," Rubio said. "That's what this debate needs to be about."
(Additional reporting by Erin McPike, Ginger Gibson, Alana Wise, Megan Cassella and Emily Stephenson; Writing by Steve Holland and John Whitesides; Editing by Jonathan Oatis and Ken Wills)
Photo: Republican U.S. presidential candidate U.S. Senator Marco Rubio speaks as former Governor Jeb Bush (L), businessman Donald Trump (2nd R) and Dr. Ben Carson (R) listen at the 2016 U.S. Republican presidential candidates debate held by CNBC in Boulder, Colorado, October 28, 2015. REUTERS/Rick Wilking