Rubio, Cruz Go On Attack Against Trump At Debate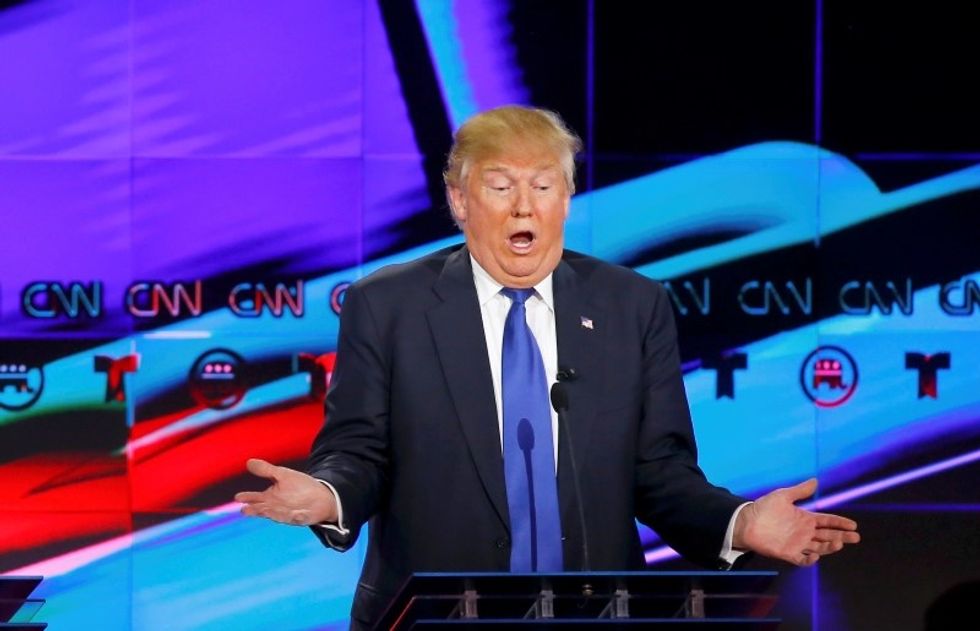 HOUSTON (Reuters) – Republican rival Marco Rubio attacked front-runner Donald Trump at length for the first time at a debate on Thursday, targeting his wealth and absence of detailed policy plans to try to thwart the billionaire from making massive gains next week in the presidential race.
In perhaps his most aggressive performance to date, Rubio brought up Trump's four past bankruptcies and his use of imported Polish workers to work at a Florida resort, and pointedly suggested the New Yorker would not be where he is today in the real estate business without a family inheritance.
Without the family money, the senator from Florida said: "You know where Donald Trump would be right now? Selling watches in Manhattan."
At the CNN-hosted debate at the University of Houston, Rubio and Senator Ted Cruz of Texas ganged up on Trump repeatedly at one of their last, best chances to try to derail the blunt-spoken political outsider before Super Tuesday, when 11 states hold Republican nominating contests.
Whether they can pull it off is an open question. Trump has won three out of four contests in the Republican selection of a presidential nominee and may reap big gains on Tuesday.
At the debate, Trump was his typical confident, pugnacious self, repeatedly defending himself and blasting Rubio and Cruz.
"This guy's a choke artist and this guy's a liar," Trump said, pointing first at Rubio and then at Cruz.
The crossfire was so intense that retired neurosurgeon Ben Carson, looking for some extra time to talk, asked plaintively: "Can someone attack me please?"
Ohio Governor John Kasich, when given time to talk, offered an optimistic message.
Rubio, taking up the role of chief Trump attacker now that former Florida Governor Jeb Bush has left the race, seemed to take joy in pointing out that Trump's sole plan to replace and repeal President Barack Obama's signature healthcare law is to allow insurance companies to operate across state lines.
When Trump repeated the same point twice, Rubio interrupted.
"Now he's repeating himself," said Rubio, who was skewered at a debate in New Hampshire last month for robotically repeating his talking points.
Trump fired back: "I watched him repeat himself five times four weeks ago, and I gotta tell you it was a meltdown. I watched him melt down on the stage like I've never seen anybody."
Even with his bombast, Trump turned in a more measured performance than usual, defending his moderate positions on Planned Parenthood and retaining popular parts of the Obamacare law, perhaps mindful that he is closing in on a victory in the Republican race.
He said he would not support a ceasefire deal about to go into effect in Syria and declared that Libya would be better off had Colonel Muammar Gadafhi not been toppled from power by a U.S.-backed uprising.
Pressed on whether he would release his tax records as 2012 Republican nominee Mitt Romney said he should do, Trump said he would eventually do so after a "routine audit" is completed.
This did not satisfy Romney, who tweeted that there was not legitimate reason for withholding them even if they were under audit.
Rubio went after Trump hard on illegal immigration. He said Trump may talk tough on illegal immigration now, but previously said Romney lost his race against Obama by promoting the idea that illegal immigrants should self-deport.
"A lot of these positions that he's taken now are new to him," Rubio said during the debate in Houston.
Trump said Romney lost in 2012 because he was a terrible candidate.
"Excuse me, he ran one terrible campaign," Trump said.
Cruz, who needs to win his home state of Texas when it votes on Tuesday, also piled on Trump, saying his rival would be a weak Republican opponent to Democratic candidate Hillary Clinton in the Nov. 8 general election because he had donated to the Clinton Foundation.
Cruz said Clinton would say to him, "'Gosh, Donald you gave $100,000 to the Clinton Foundation. I even went to your wedding…' He can't prosecute the case against Hillary."
Trump ridiculed Cruz for his inability to win more than the early voting state of Iowa and taunted him for being behind Trump in opinion polls in Texas.
"If I can't beat her (Clinton), you're really going to get killed aren't you? … I know you're embarrassed but keep fighting. Swing for the fences," Trump said.
While Trump has scored early victories and is well ahead in national opinion polls, he has some ways to go to clinch the party's nomination, which is decided by the number of delegates sent to the July party convention following the state-by-state nominating contests.
So far Trump leads the race with 81 delegates, with Cruz and Rubio well behind at 17 apiece. To secure the nomination, a candidate needs 1,237 delegates.
Super Tuesday will be critical because there are nearly 600 delegates at stake in Republican races that day.
(Additional reporting by Ginger Gibson and Valerie Volcovici in Washinton; Writing by Steve Holland; Editing by Peter Cooney, Leslie Adler and Jonathan Oatis)
Photo: Republican U.S. presidential candidate Donald Trump speaks at the debate sponsored by CNN for the 2016 Republican U.S. presidential candidates in Houston, Texas, February 25, 2016. REUTERS/Mike Stone