Rudy Caught Lying About Trump's Attempt To Shut Down Flynn Probe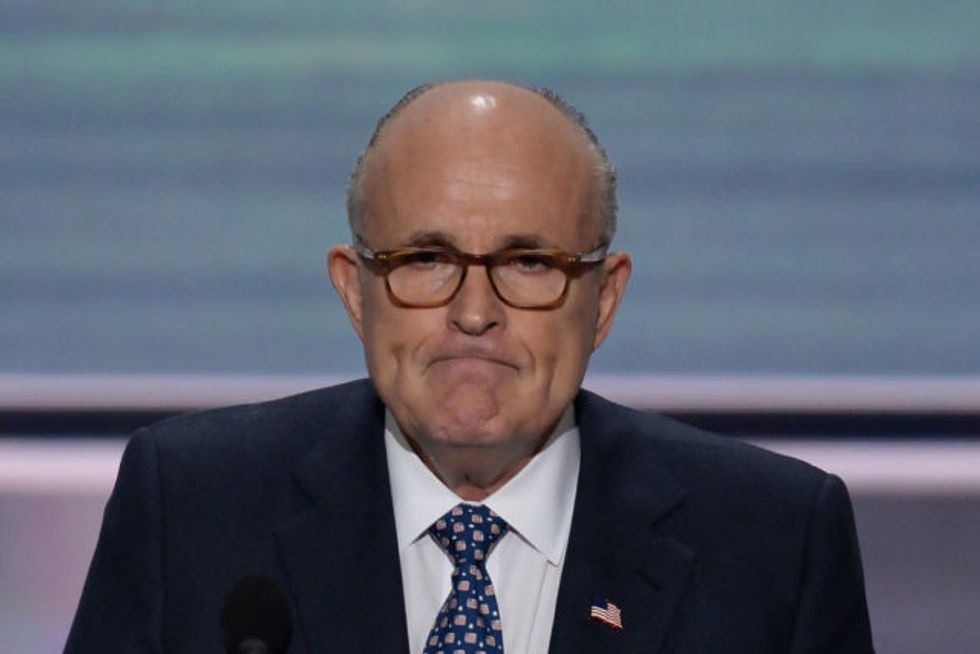 Reprinted with permission from Shareblue.
Rudy Giuliani tried to defend Trump on TV this weekend — but only succeeded in getting caught lying during a live interview on Sunday's edition of CNN's "State of the Union."
Giuliani told host Jake Tapper that "there was no conversation about Michael Flynn" between Trump and former FBI director James Comey.
This was a dramatic departure from what Giuliani and Trump's legal team have argued for months — and Tapper had the video to prove it.
"But Mr. Mayor, you told ABC News last month that [Trump] told Comey, quote, 'Can you give him a break?'" Tapper pointed out. "Now you're saying that they never had — "
"I never — I never told ABC that, that's crazy," Giuliani interrupted. "I mean, I never said that. What I said was, that is what Comey is saying Trump said. I have always said the president denies it."
Comey has testified that Trump pressured him to quash the investigation into former national security adviser Michael Flynn by saying, "I hope you can see your way clear to letting this go, to letting Flynn go. He is a good guy."
In response to these allegations, Trump's team has typically claimed that Trump didn't obstruct justice because he didn't order Comey to fire Flynn — and that even if he had, it would have been within his power to do so.
But now, Giuliani is denying that the conversation ever took place at all.
"So you're saying that President Trump and James Comey never discussed Michael Flynn?" Tapper asked.
"That is what [Trump] will testify to if he is asked that question," Giuliani confirmed.
"And you're also saying that a month ago, you didn't tell ABC News that he said something along the lines of 'Can you give him a break?'" Tapper asked.
"No, I did not," Giuliani replied.
Then Tapper played a clip of Giuliani saying exactly that.
After the tape played, Giuliani conceded: "Okay I said it, but I also said, before that, I'm talking about their version of it."
But the full context of that July 8 clip reveals that Giuliani did not ever make clear that he was relating Comey's version of events.
Stephanopoulos did reference Comey, asking, "How is he a good witness for the president if he's saying that the president was asking him — directing him, in his words, to let the Michael Flynn investigation go?"
"He didn't direct him to do that," Giuliani replied. "What he said to him was can you, can you give him a break?"
Giuliani said nothing to indicate that this was Comey's version of events, or that this quote wasn't true. He simply stated that this was what Trump said.
Giuliani made a similar claim in another July interview that indicated Trump and Comey did, in fact, discuss Flynn.
Giuliani told the hosts of "Fox & Friends" that Trump asked Comey "to exercise his prosecutorial discretion because [Flynn] was a good man with a great war record."
In his Sunday interview with Tapper, Giuliani was trying to argue that letting Trump sit for an interview with special counsel Robert Mueller would be a "perjury trap."
But that's nonsense. If Trump doesn't want to be charged with perjury, all he has to do is tell the truth. Giuliani, however, doesn't seem confident that Trump can or will do that.
Giuliani's performance should serve as a disturbing preview of things to come for every Trump fan, and every Republican who has stood by and enabled Trump.
Rudy Giuliani getting caught lying is embarrassing — but if Trump does it under oath, it's a crime. And Mueller has a lot more tape than Jake Tapper did.
Published with permission of The American Independent.