Rudy Giuliani Asks Viewers To 'Go Online' For Clinton Health Conspiracies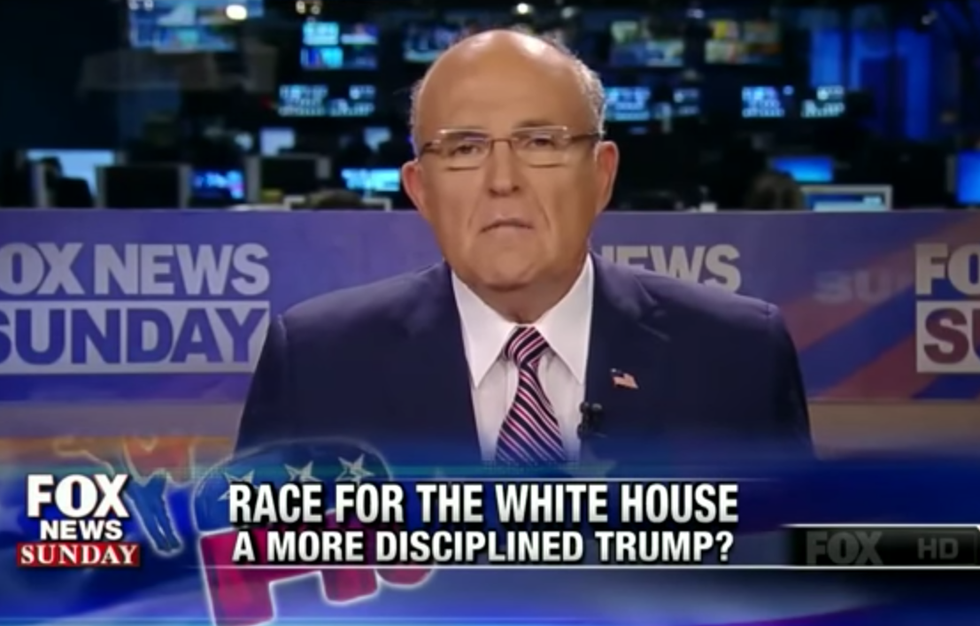 When all else fails in an interview, a flummoxed public figure can turn to Google, the omniscient fount of wisdom in our era — and, apparently, Rudy Giuliani's sole source for information on Hillary Clinton's health.
On Sunday morning, Giuliani urged everyone watching his interview with Fox News' Shannon Bream to "go online and put down Hillary Clinton illness and take a look at the videos for yourself."
He could have simply told us to look at the note from Clinton's doctor, released a year ago, which offers a detailed account of her medical history. Given the questionable veracity of his own candidate's doctor's note, perhaps Giuliani thought it better not to draw attention to either document: Claims from Dr. Harold Bornstein last December that Trump's tests returned "only positive results," and that his health is "astonishingly excellent," sound like North Korean Mad Libs in light of wild (and partisan) bloviating about Clinton's… pillows.
This is hardly the first baseless conspiracy theory to bubble into official Trump Campaign rhetoric. And while Stephen Bannon, the Breitbart executive and current Trump campaign "CEO," may be encouraging surrogates to turn up their attacks, the real blame lies with Trump confidant and "dirty trickster" Roger Stone.
Stone — who has been banned from appearing on CNN, MSNBC, and elsewhere after decades of personal attacks on political opponents — is behind much of the Trump's campaign's more ambitious lies. He continues to assert that top Clinton aide Huma Abedin is linked to the Muslim Brotherhood, and just recently alleged that she married former congressman Anthony Weiner because "marrying a Jewish fellow, that's pretty good cover if you ask me."
Stone popularized an obscure conspiracy article alleging that Khizr Khan, the Gold Star father of the late Army Captain Humayun Khan, was in cahoots with extremists because he is an immigration attorney. Stone also planted the first seed of a favorite Trump insinuation of late, namely that the election will be "rigged" against him.
And, yes, Stone has been central in pushing the narrative that Hillary Clinton isn't healthy enough to be president: