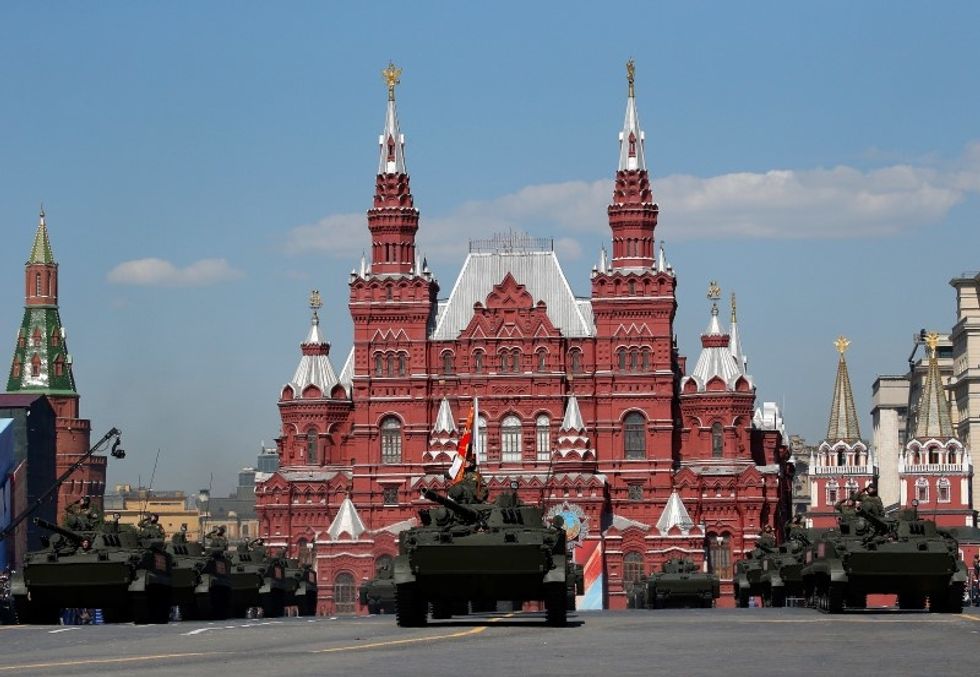 The Trump administration is foundering at breakneck speed these days, and it can feel overwhelming just trying to keep up.
#Russia
As I write this, less than 24 hours has passed since President Donald Trump fired FBI Director James Comey. This was a stunning development for all but a handful of senior officials in the White House.
#Russia
Already, The New York Times is adding more to this harrowing story. As Matthew Rosenberg and Matt Apuzzo report, just days before he was fired, Comey "asked the Justice Department for a significant increase in resources for the bureau's investigation into Russia's interference in the presidential election, according to four congressional officials," including Democratic Senator Dick Durbin of Illinois.
The very next paragraph: "Mr. Comey made his appeal to Rod J. Rosenstein, the deputy attorney general, who also wrote the Justice Department's memo that was used to justify the firing of Mr. Comey this week, the officials said."
#Russia
Chances are that no matter when you are reading this column, more has already been discovered about Comey's firing. Just as surely, it's bound to make us feel even worse about this Den of Disaster, formerly known as the White House — where, by the way, less than 24 hours after Comey was fired, Trump (presumably still president of the United States) met with #Russia Foreign Minister Sergey Lavrov and #Russia Ambassador Sergey Kislyak.
I do hope you had the chance to check out the photos of the three of them yukking it up in the Oval Office. Ho-ho, what fun.
Their gabfest was in the Oval Office (I mentioned that, right?), but it was closed to American journalists.
From #Russia.
No joke.
Let us segue for a moment to Iowa, where Rep. Rod Blum, fresh off his vote to repeal the Affordable Care Act, surrounded himself with black schoolchildren, whom he quickly dumped after he didn't like a reporter's question.
The ever-so-white 62-year-old Blum had insisted on verifying the residence of every person wanting to attend his town hall meeting later that day. I'll leave it to your imagination to wonder why.
#Russia
Blum got testy with a local reporter who asked about the residency requirement.
The brief exchange, in front of the young children, between KCRG-TV reporter Josh Scheinblum and Blum:
Scheinblum: "Some would make the case that you represent all Iowans. The decisions that you make impact all Iowans. So shouldn't all Iowans have a voice at the table or at least have the option to?"
Blum: Laughs. "I don't represent all Iowans. I represent the First District of Iowa. That'd be like saying, 'Shouldn't I be able to — even though I live in Dubuque — go vote in Iowa City during the election because I'd like to vote in that district instead?'"
Scheinblum: "Would you still take donations from a Republican in Iowa City?"
Whell.
"I'm done," Blum said, standing up and yanking off his microphone as the children around him tried to figure out what was happening. "This is ridiculous. He's going to sit here and just badger me."
"Congressman, come on, take a seat," Scheinblum pleaded.
Nope. Off he went.
Remind me to wish the future former Rep. Blum well after next year's midterms, OK?
In the meantime, I hope someone explains to the children, who were meant to be props, that just because Blum and the president act this way doesn't mean they should start treating fellow humans as discardable, too.
By the way, the Richard Nixon Presidential Library and Museum has had it up to here with descriptions of Trump as "Nixonian."
"FUN FACT," the library tweeted this week. "President Nixon never fired the Director of the FBI #FBIDirector #notNixonian."
Connie Schultz is a Pulitzer Prize-winning columnist and professional in residence at Kent State University's school of journalism. She is the author of two books, including "…and His Lovely Wife," which chronicled the successful race of her husband, Sherrod Brown, for the U.S. Senate. To find out more about Connie Schultz (con.schultz@yahoo.com) and read her past columns, please visit the Creators Syndicate webpage at www.creators.com.