Russia And The West Rattle Sabers And Renew Sanctions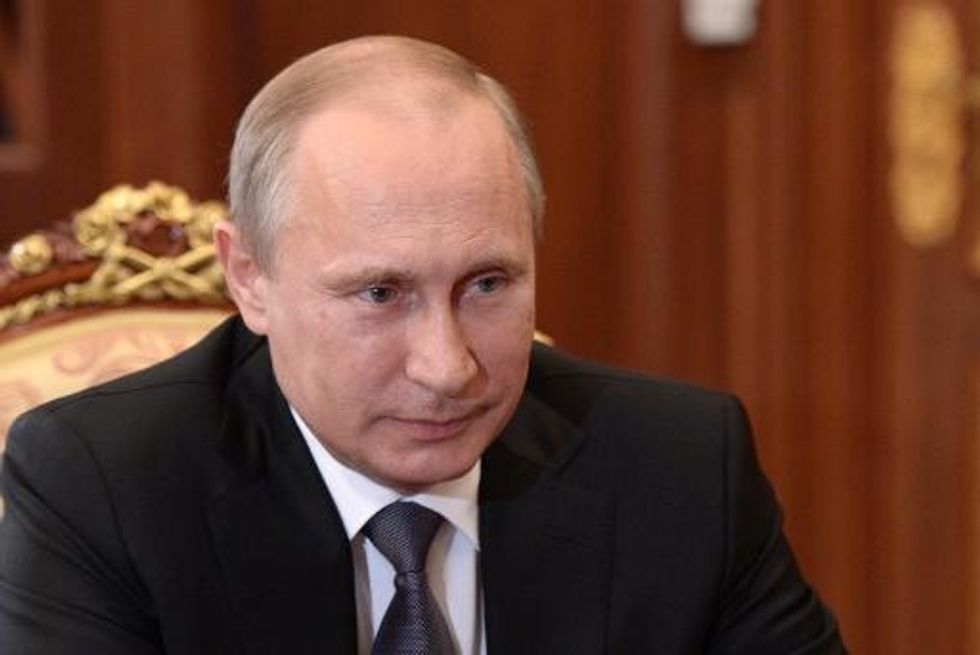 By Carol J. Williams, Los Angeles Times (TNS)
Though Russian and Western officials repeatedly claim they don't want a return to Cold War-era hostility, both sides have renewed sanctions and toughened their military posture in recent days.
Russian President Vladimir Putin on Wednesday extended for an additional year his country's ban on most food imports from the European Union, two days after the 28-nation Western bloc announced that its sanctions on Russia will be prolonged to the end of January 2016.
The tit-for-tat embargoes — which hurt the countries imposing them as well as those targeted — show the intractability of the conflict in Ukraine that prompted the measures last year.
The EU and the United States cut off Russian access to international financial institutions nearly a year ago and have blacklisted dozens of Kremlin officials and business kingpins seen as fomenting the violence in eastern Ukraine that has killed more than 6,400 people.
The European and U.S. sanctions on Russia have been renewed as the Western allies try to pressure Putin to refrain from supporting separatist rebels in the neighboring country that, like Russia, was part of the Soviet Union before its 1991 breakup.
Putin claims the pro-Russia separatists are independently waging war against the Kiev government but Western satellite imagery and the confessions of captured Russian soldiers bolster Ukrainian leaders' accusations that Moscow is orchestrating the rebellion.
"Russia is actively and massively fueling this conflict," Lt. Gen. Ben Hodges, the commander of U.S. forces in Europe, told the Organization for Security and Cooperation in Europe on Tuesday, according to excerpts of his briefing released Wednesday. Disputing Putin's claim that any Russians in the Ukraine battle are there at their own volition, Hodges said "these are not volunteers or mercenaries; they are trained, equipped and uniformed active-duty Russian soldiers."
Hodges' briefing to the Vienna-based European security agency coincided with a meeting of the foreign ministers of Russia, Ukraine, France and Germany in Paris in an apparently unsuccessful attempt to rescue the Feb. 12 peace plan hammered out in the Belarus capital of Minsk but repeatedly violated in recent weeks.
Russian Foreign Minister Sergey Lavrov told reporters that the four top diplomats committed their countries to ensuring that the Minsk accord doesn't completely collapse. But he alluded to "powers who would like to destroy this process," an apparent reference to the United States, which is not party to the informal negotiating forum known as the Normandy Four.
Urban combat and artillery exchanges ebbed after the Minsk agreement was signed four months ago by Ukraine's warring factions and endorsed by Putin, who pledged to use his influence with the separatists to end the bloodshed. But the lull in heavy fighting was mostly due to harsh winter weather and the seas of mud that followed in early spring, as artillery exchanges escalated after the mud dried last month and tanks and armored vehicles could maneuver again.
European leaders endorsed their sanctions extension on Monday after concluding that Putin hadn't done enough to fulfill his pledge to work for peace in Ukraine.
The Russian government sent a request to Putin on Tuesday to prolong Moscow's ban on food imports from European Union countries, going the Western bloc one better by extending the retaliatory ban through June 24, 2016.
Russia and the U.S.-led North Atlantic Treaty Organization have also stepped up arms production and deployment in moves each side claims were prompted by the other's aggressive actions. Putin announced last week that at least 40 new nuclear-armed intercontinental ballistic missiles will be added to Russia's defenses by the end of this year, and NATO plans to position new forces and weaponry in Eastern European allies' territory to guard against any threat of Russian hostility.
U.S. Defense Secretary Ashton Carter, on a tour of NATO's Eastern European flank this week, has said that tanks, armored vehicles and other military hardware would be deployed to member countries made nervous by Russia's involvement in the Ukraine crisis. Carter said the equipment would be moved to Estonia, Latvia, Lithuania, Poland, Romania and Bulgaria — all former Soviet republics or satellites that Moscow still considers part of its "sphere of influence."
(c)2015 Los Angeles Times. Distributed by Tribune Content Agency, LLC.
AFP Photo/Alexei Nikolsky