Russia Cuts Ukraine's Gas After Talks Fail
@AFP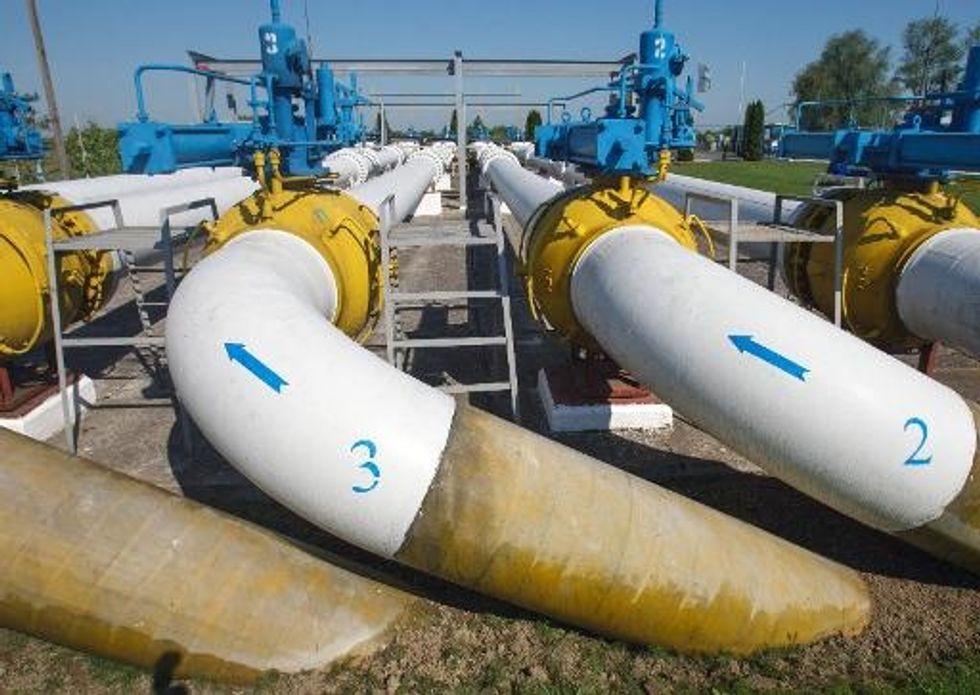 Kiev (AFP) – Russia cut the flow of gas to Ukraine on Monday after last-ditch talks failed to end a dispute over debts that threatens to disrupt supplies to Europe for the third time in a decade.
Ukraine hosted the last-gasp talks hoping to keep an energy shortage from compounding the problems of its new pro-Western leaders as they confront a two-month separatist insurgency threatening the very survival of the ex-Soviet state.
Kiev was dealt a further blow on Monday when dozens of Kalashnikov-wielding pro-Russian rebels seized the central bank building in the eastern separatist stronghold city of Donetsk in a bid to win control over its assets.
Russia's state gas giant Gazprom said it had switched Ukraine to a pre-payment system at 0600 GMT — a move that effectively halts all shipments because Kiev has not forwarded any money for future gas deliveries to Moscow.
"We have been informed that gas deliveries to Ukraine have been reduced to zero, with only the volumes sent for transit to European states," Ukrainian Energy Minister Yuriy Prodan told a government meeting.
Prime Minister Arseniy Yatsenyuk called the supply halt "another stage of Russia's aggression against the Ukrainian state".
Gazprom said it had further notified Europe of possible gas disruption and lodged a $4.5 billion lawsuit against Ukraine with an arbitration court in Stockholm.
Kiev responded by lodging its own $6.0-billion suit against Gazprom with the same Stockholm court to recover past "overpayment" for gas.
Analysts said Ukraine had enough gas in storage to last through the summer months and that no disruptions to Europe were likely until the winter heating season begins.
"Ukraine is able to cover summer gas consumption with its own gas production," Moscow's VTB Capital investment bank said.
The third "gas war" between Russia and Ukraine since 2006 flared when Moscow nearly doubled its rates in the wake of a deadly winter uprising that pulled Kiev out of the Kremlin's historic orbit for the first time.
Ukraine receives half its gas from Russia and transports 15 percent of the fuel consumed in Europe — a reality that prompted EU Energy Commissioner Guenther Oettinger to urgently step in to try to resolve the feud.
The nation of 46 million people had tapped into some Russian shipments destined for Europe to make up for its shortfalls during previous disputes.
Prodan on Monday promised to both "guaranteed the gas needs of Ukrainian consumers and ensure reliable gas transits to European countries".
Oettinger said problems for Europe would probably only begin once Ukraine uses up the gas it had kept in reserve.
"The next weeks will not be a problem, we will receive our gas volumes," Oettinger said in Vienna.
But he added that Europe "would have a problem with a cold winter" if Ukraine ran out of its storage supplies.
The European Commission said Oettinger had offered a compromise deal that would have seen Ukraine pay $385 per 1,000 cubic meters of gas — the price proposed by Russian President Vladimir Putin — in the winter and see its rate drop to $300 "or a few dollars more" during summer months.
"The Ukrainian side was ready to accept this, but for the moment the Russian partners were not," the European Commission said in a statement.
The raid by pro-Russian militias on the central bank building in Donetsk threatened to deprive Kiev of effective control over the economically vital industrial region's finances.
"We have been preparing this for more than a month," a rebel named Oleksandr Matyushyn told AFP as five separatist gunmen stood guard at its main entrance and bank staff filed out of the building.
"We want the tax revenues to stay here instead of going to Kiev," he added.
Matyushyn said his unit had entered discussions with local administrators about transferring control over the local treasury and tax collection service to the separatist leaders of the self-proclaimed "Donetsk People's Republic".
Donetsk and the neighboring heavily Russified region of Lugansk declared independence in disputed May 11 referendums whose legitimacy was rejected by Kiev and decried as a sham by the West.
Putin urged Ukraine's new leaders to listen closely to the opinions expressed in the referendums but also refused to recognized the two regions' independence from Kiev rule.
The escalating campaign by Ukraine government forces to regain control over the region of seven million people has now claimed the lives of more than 370 civilians and fighters on both sides.
AFP Photo/Alexander Zobin